These Healthy Homemade Strawberry Popsicles are made with just 4 ingredients! They are naturally sweetened, bursting with fresh berry flavor, and are an absolute cinch to make. Learn how to make homemade creamy fruit ice pops with this quick and recipe.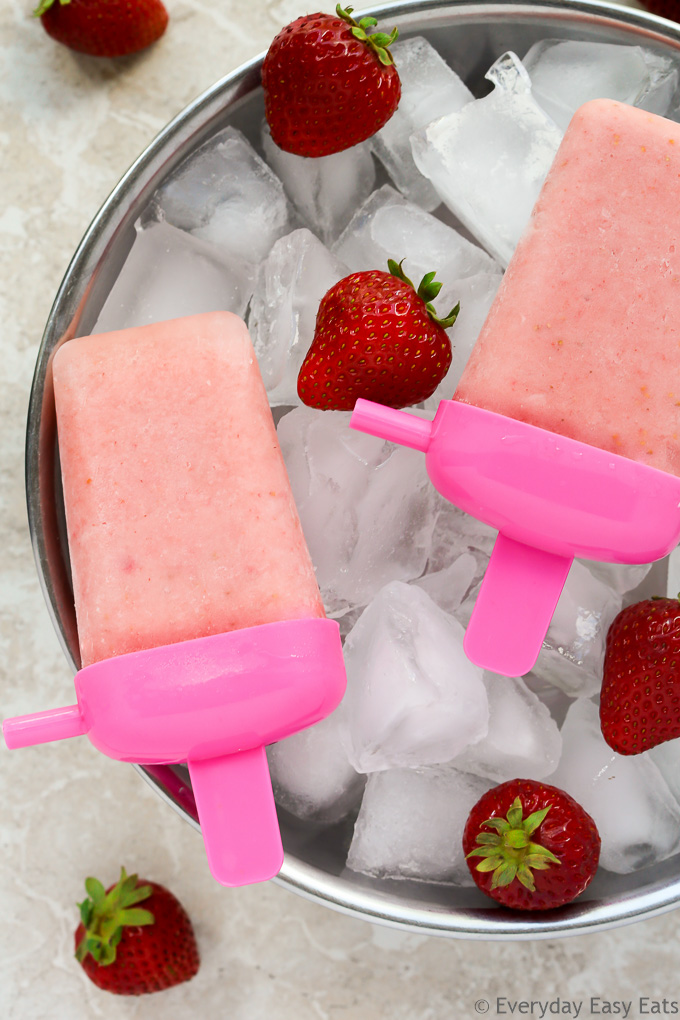 UPDATE: This post was originally published in July 2018 and has been updated to reflect new information and helpful content.
Homemade Strawberry Popsicles: An Easy Frozen Treat
There is seriously nothing better than an ice-cold popsicle on a hot summer day. I used to always keep my freezer loaded with store-bought popsicles during the summertime. However, those usually contain a lot of sugar and additives. So I developed a nourishing, refined sugar-free recipe for ice pops featuring one of my favorite fruits – strawberries!
You are going to love this simple recipe, because it requires only 4 ingredients and 5 minutes of prep time to make. It is one that both you and your kids will be able to enjoy (guilt-free) all summer long! ♡
Healthy Strawberry Ice Pops Ingredients
To make strawberry popsicles at home, you will need:
How To Make Strawberry Popsicles
To make your own healthy strawberry popsicles, simply:
Blend the ingredients: Add the strawberries, honey, milk, and lemon juice to a blender. Blend until smooth.
Fill up the molds: Pour the mixture into your popsicle molds. (Most blenders have a pour spout, so you fill them up straight from your blender.)
Freeze until solid: Pop the filled molds into your freezer and freeze for a few hours, until completely solid.
That's it! 🙂
Don't miss out! Click here to get exclusive discounts on my favorite healthy products and services!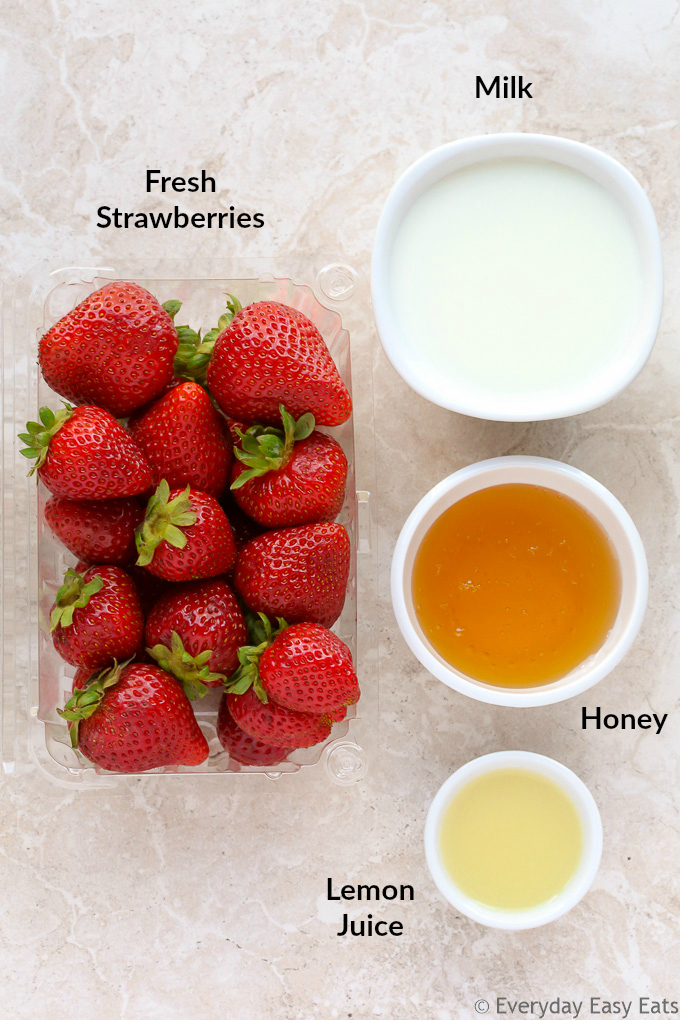 Homemade Strawberry Popsicle FAQs
Here are some common questions (with answers!) that you might have about homemade strawberry popsicles:
Can I use frozen strawberries instead of fresh?
Yes, when strawberries aren't in season, frozen berries are the way to go! You can use either frozen whole or sliced strawberries. I prefer sliced strawberries because they thaw a bit quicker and are easier to blend, but either one will work. I recommend letting the frozen berries thaw a bit before blending, just to make blending a bit easier.
How long does it take for homemade popsicles to freeze?
I have found that homemade fruit popsicles need at least 4 hours to freeze completely. Don't be tempted to dig in earlier than that, because even though the outside may look frozen, the inside might still be a bit juicy.
Can I substitute another fruit for the strawberries?
Yes! I make this popsicle recipe a lot using other fresh fruit. Mangoes, blueberries, raspberries, and peaches are all great substitutes for fresh strawberries.
What can I use to make popsicles?
I like to use popsicle molds, because they give your ice pops that iconic popsicle shape. However, you can easily use paper Dixie cups instead, which are usually sold near the paper plates in grocery stores. Wrap the tops in foil and make a small hole to hold the sticks in place. You can buy popsicle sticks online or at the store in the arts and crafts section.
Tip: These plastic popsicle molds are similar to the ones I used in the pictures for this recipe post. They are inexpensive, sturdy, and have a built-in drip guard to keep your hands and clothes clean!
How do I unmold popsicles?
If you use plastic popsicle molds (which I do), be sure to hold the popsicle molds under warm running water for about 30 seconds before removing the popsicles. This loosens the frozen popsicles, so that they release easily when pulled out of the molds.
If you use paper cups, simply cut the cups to unmold the ice pops.
More Healthy Strawberry Recipes
Craving more wholesome strawberry recipes? Here are some of my favorite ones:
For this Healthy Strawberry Popsicles Recipe, I Recommend:
Here are a couple of pantry items that I suggest using to ensure this strawberry popsicle recipe turns out perfect. All of these ingredients can be ordered online from Thrive Market, which is an online retailer that sells healthy, organic food at wholesale prices. I like to think of it like Amazon (online marketplace) meets Costco (wholesale prices) meets Whole Foods (all wholesome, junk-free foods).
If you're interested in purchasing any of the above items, you'll need to get a Thrive Market membership. However, if you're a reader of my website, you will get an exclusive bonus when you sign up:
Click here to get a FREE gift, up to $22 value, when you purchase a 1-month or 1-year risk-free Thrive Market membership!
If you make this Strawberry Popsicles recipe, let me know! Leave a comment with a star rating ★ below, because I love hearing from you! ♡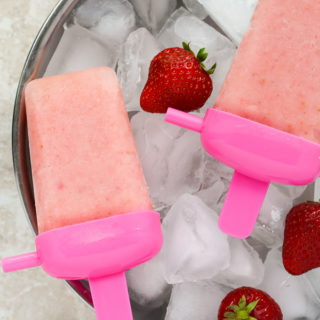 Healthy Homemade Strawberry Popsicles (4 Ingredients!)
This Healthy Homemade Strawberry Popsicles recipe is made with just 4 ingredients! Learn how to make fruit ice pops with this easy recipe.
Ingredients
3

cups

fresh strawberries,

hulled

1

cup

milk,

of choice

1/4

cup

honey

1

tablespoon

lemon juice
Instructions
Add all ingredients to a blender. Blend until smooth.

Freeze for at least 4 hours until completely frozen.
Notes
Leftover ice pops can be stored in the freezer for up to six months.
To make this recipe vegan, use any non-dairy milk (such as almond, coconut, oat, or cashew milk) and substitute the honey with maple syrup.
Nutrition
Nutrition Facts
Healthy Homemade Strawberry Popsicles (4 Ingredients!)
Amount per Serving
% Daily Value*
* Percent Daily Values are based on a 2000 calorie diet.
© Everyday Easy Eats. All photos and content are copyright protected. Please do not use any of my recipes, text or images without prior permission.