Wondering where to buy healthy, high-quality seafood online? To help you out, I have rounded-up the best wild-caught, sustainable seafood delivery services online. You can order everything from the comfort of your own home and the food gets delivered straight to your front door. Special deals and discounts included!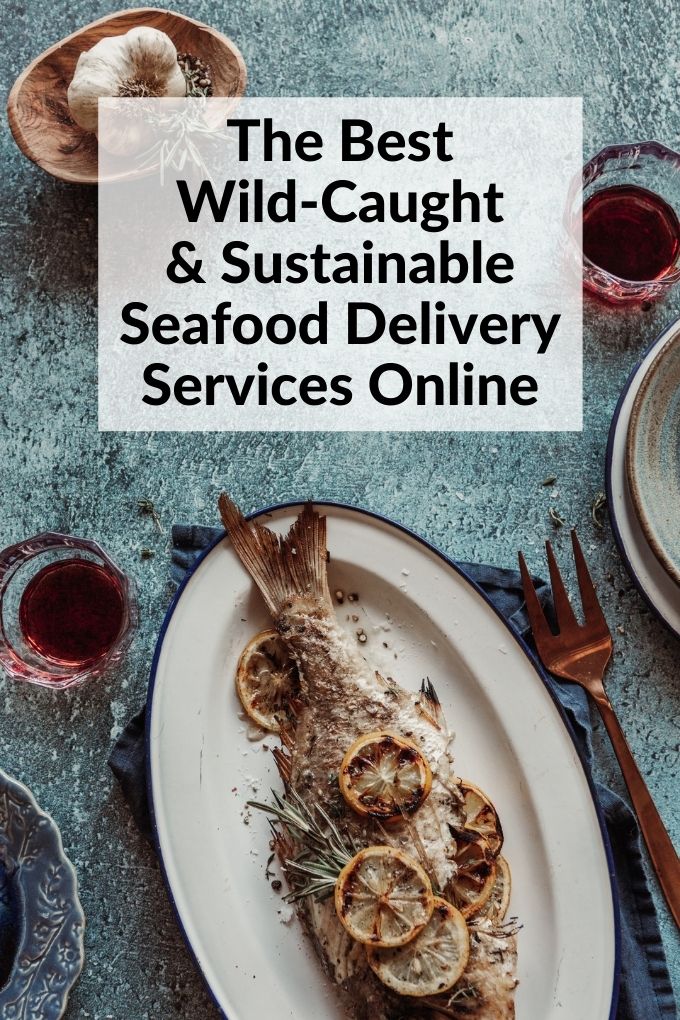 UPDATE: This post was originally published in May 2020. It has been updated to include new delivery services, helpful information, and exclusive offers.
I am a big believer in only consuming wild-caught seafood, because it is much more healthy, flavorful, and sustainable than conventional, farmed seafood. However, finding high-quality, sustainably-sourced seafood isn't always easy. Even if you do have access to a reliable seafood market or grocery store seafood department, most people are always pressed for time. That means staying on top of household tasks, like grocery shopping, can be a real challenge.
Fortunately, there are a number of online seafood retailers that can deliver healthy, wild-caught seafood straight to your door, for less than you might think. These online-order delivery companies offer a variety of seafood such as salmon, whitefish, shrimp, mussels, clams, oysters, lobster and crab. The seafood is expertly packaged and then gets delivered right to your door as a one-time order or recurring subscription. Keep reading to learn more about my top choices and to get some amazing discounts that are exclusive to my readers!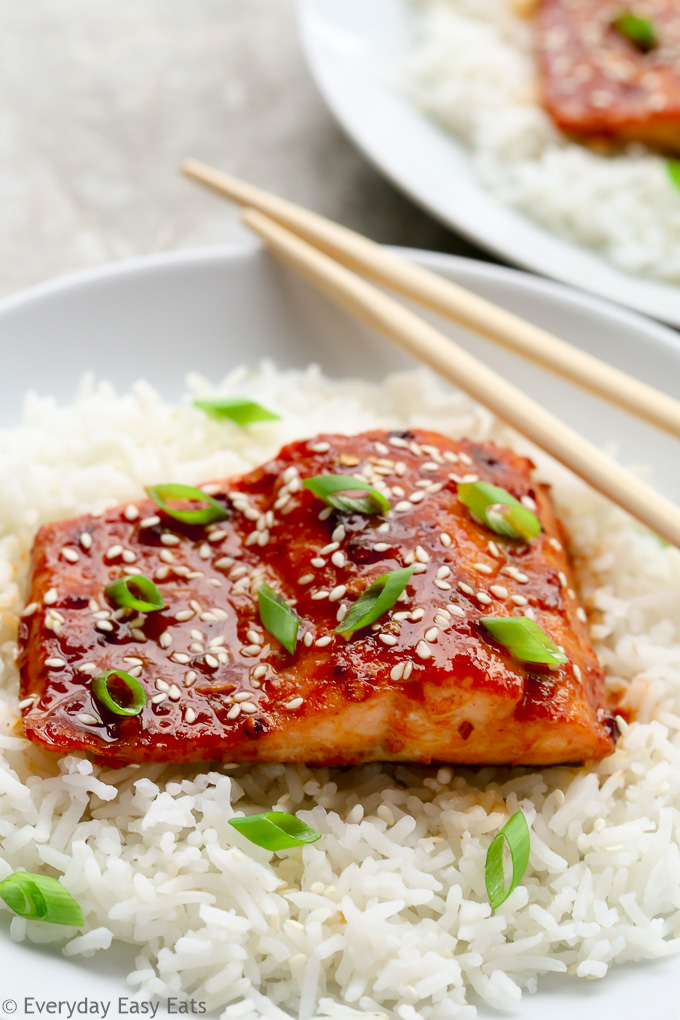 Pictured: Honey Sriracha Salmon
1. Wild-Caught, Sustainable Seafood Delivery: ButcherBox
ButcherBox is a popular monthly meat and seafood delivery service that delivers high quality, organic, and sustainable cuts straight to your front door. ButcherBox's seafood selection includes wild-caught and sustainably-harvested Alaskan sockeye salmon, halibut, cod and lobster.
ButcherBox has partnered with fishermen who uphold strict fishing and handling practices to guarantee an unprecedented level of quality and sustainability. All of their seafood contains absolutely no artificial coloring, additives, hormones or antibiotics.
The main reason why I love ButcherBox so much is because of the high quality of their meat and seafood. ButcherBox sells the cleanest, healthiest meat and seafood possible and it always tastes amazing. The seafood arrives frozen and individually vacuum-packed in an insulated, eco-friendly box. The price works out to less than $6 per meal and shipping is free to the continental 48 states!
Based on ButcherBox's outstanding quality, affordability, reliability, and convenience, it is my top choice for wild-caught and sustainable seafood delivery. Finally, here is an incredible deal that ButcherBox is offering right now, which you don't want to miss:
FOR A LIMITED TIME ONLY, until November 17, 2021: You will get a Free Thanksgiving Turkey! That means if you sign up for ButcherBox today, you will receive one all-natural, 10-14 lb turkey for FREE in your first box. Click here to get the offer for yourself!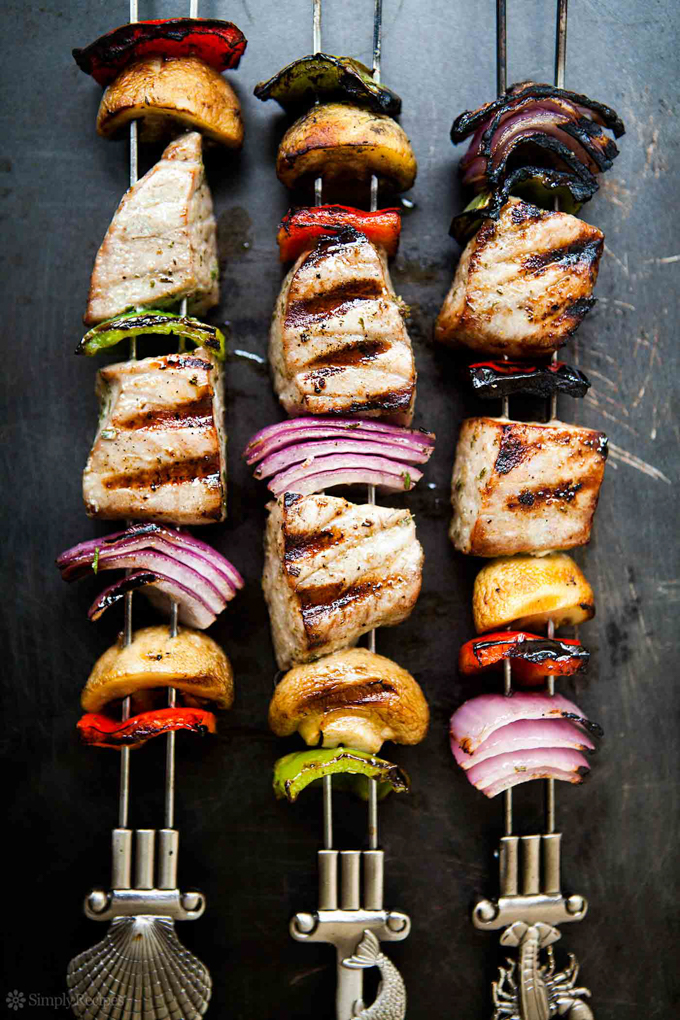 Pictured: Grilled Tuna Kebabs from Simply Recipes
2. Wild & Sustainable Seafood Delivery: Thrive Market
Thrive Market is an online retailer that sells healthy, organic food at wholesale prices. I like to think of it like Amazon (online retailer) meets Costco (wholesale prices) meets Whole Foods (all wholesome, junk-free foods).
Thrive Market's seafood delivery options include several bundled seafood boxes, which feature both wild-caught and responsibly-farmed seafood like Alaskan sockeye salmon, ahi tuna, cod, barramundi, shrimp, scallops, and lobster tails. The company only works with ethical partners that support marine habitats with humane fishing practices. Their seafood is packed and frozen shortly after catch, to preserve that fresh-off-the-boat taste.
You can select single-fish boxes, like the Wild-Caught Sockeye Salmon Box, or variety packs, like the Wild & Sustainable Seafood Box (which contains wild scallops, sockeye salmon, barramundi and more), and you can also customize your own meat and seafood box if you prefer to pick and choose items.
If you want to order any type of seafood or groceries from Thrive Market, you will need to sign up for a Thrive Market membership. And if you use the link below, you will get an exclusive bonus when you join:
Click here to get a FREE gift, up to $22 value, when you purchase a 1-month or 1-year risk-free Thrive Market membership!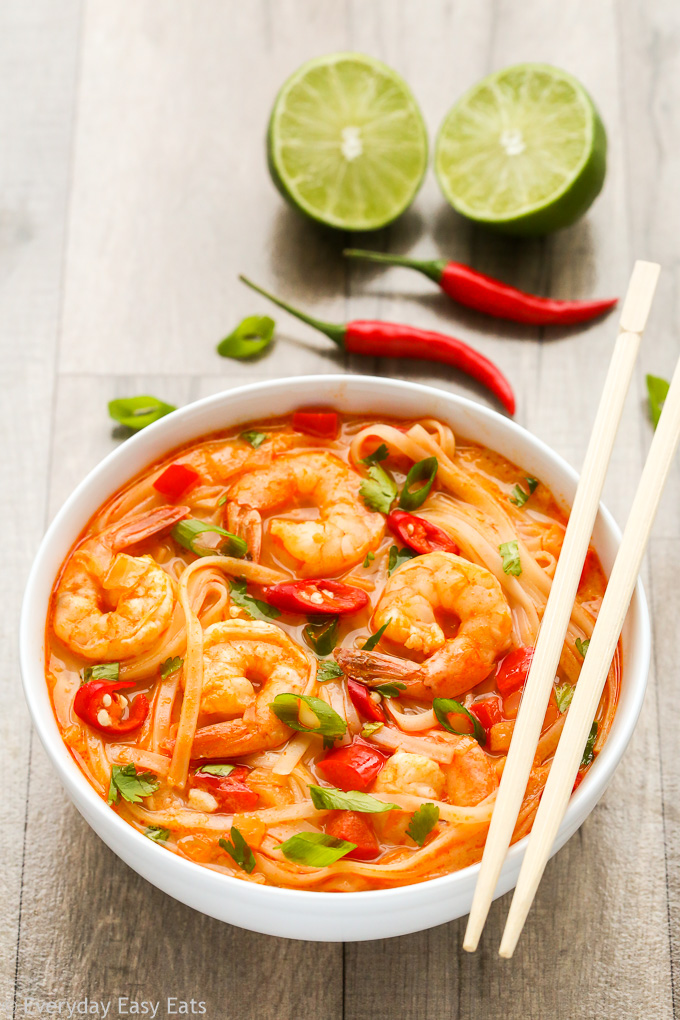 Pictured: Thai Shrimp Noodle Soup
3. Sustainable Fish & Shellfish Delivery: Sizzlefish
Sizzlefish delivers high-quality, all-natural fish and shellfish directly to your doorstep. They offer a wide variety of seafood including salmon, cod, rockfish, shrimp, calamari, soft-shell crab, sea scallops, clams, and more. They work closely with their suppliers to source only the finest sustainable seafood. Most of their seafood is wild-caught, although their Atlantic salmon, rainbow trout, and catfish are farmed.
The seafood is carefully packed in a recyclable cooler containing plenty of dry ice. Each box contains 14 vacuum-sealed, perfectly-portioned cuts of seafood. Your seafood should arrive hard-frozen, so all you need to do is transfer the items into your freezer.
Their subscription service allows you to choose the type of seafood you would like to receive and how often you want to receive it. There is no commitment, so you can pause or cancel your delivery at any time, with no hidden fees.
Click here to get free shipping on all orders from Sizzlefish!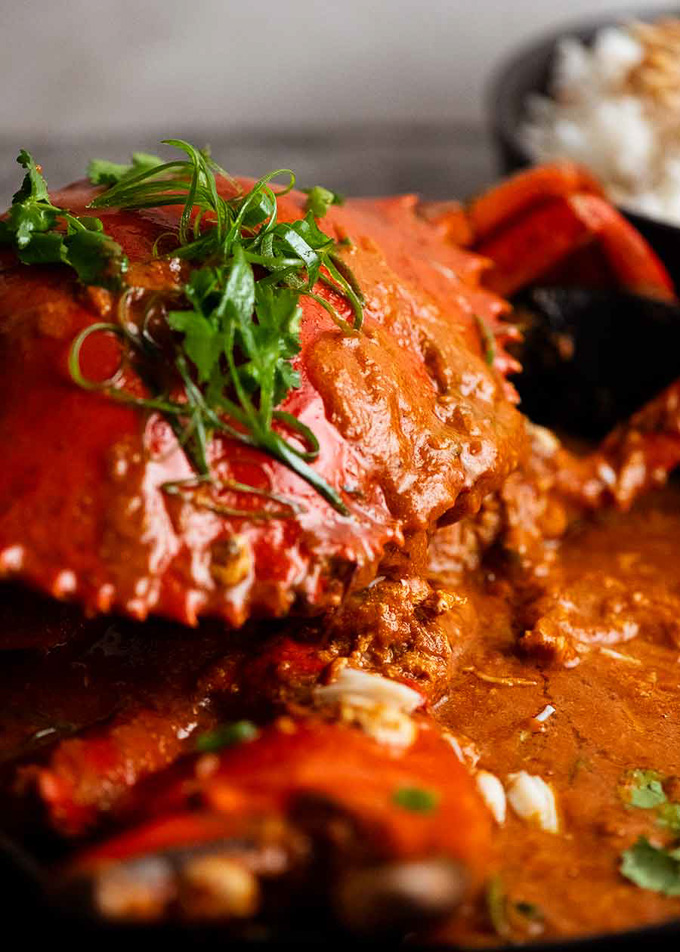 Pictured: Singapore Chilli Crab from RecipeTin Eats
Fulton Fish Market started as a physical fish market in New York City, and has grown to become the second largest fish market in the world (after Tokyo). They now have an online store, which makes it easy for anyone in the contiguous United States to access one of the biggest selections of fresh seafood anywhere.
They offer both wild-caught and farmed seafood, and every product page clearly specifies if the product is wild or farmed in the product description. In addition, their seafood sources are reviewed daily for sustainability. You can purchase almost any variety of fish from salmon to swordfish, halibut, and a few harder-to-find species. They also have a wide selection of shellfish including oysters, lobsters, soft shell crabs, mussels, scallops and clams.
At Fulton Fish Market, you can order fish a la carte by the piece, box or curated bundle. You can also sign up for a regular subscription to get a monthly, bimonthly or weekly curated box of fish delivered to your front door. Their seafood boxes contain a thermal-insulated liner and food-safe, frozen gel packs to keep your seafood cold when it arrives.
Click here to get free 2-day shipping on orders over $99 at Fulton Fish Market!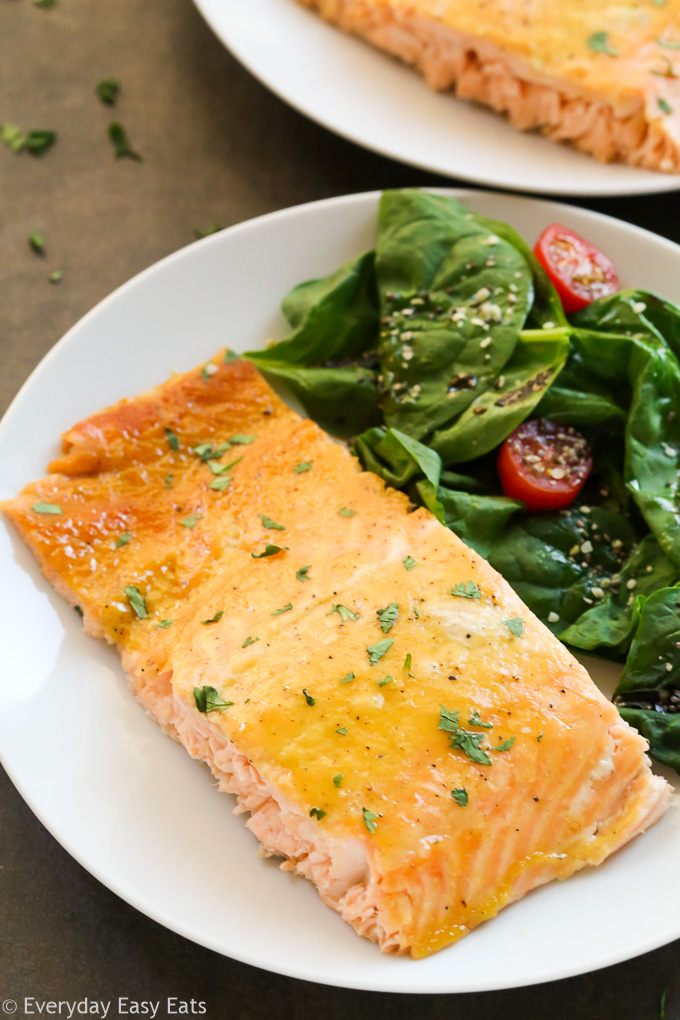 Pictured: Baked Honey Mustard Salmon
5. Wild-Caught Seafood Delivery: Vital Choice
If you struggle to find sustainable seafood at your grocery store, Vital Choice is a fantastic option. Vital Choice is an online purveyor that sells wild-caught, sustainably-harvested seafood, like Alaskan salmon and northwest Pacific halibut, tuna, shrimp, and lobster. They also sell live shellfish, such as Pacific blue mussels, clams, and oysters.
The owners and executive staff at Vital Choice have decades of experience as professional fishermen. Their seafood is certified sustainable either by the Marine Stewardship Council (MSC), the State of Alaska or Monterey Bay Aquarium's SeafoodWatch program.
Their seafood is frozen at peak freshness and gets delivered right to your door. And if you're not satisfied for any reason, they will replace your product or refund your money.
Click here to get 10% off your first order at Vital Choice with the discount code VCAF10!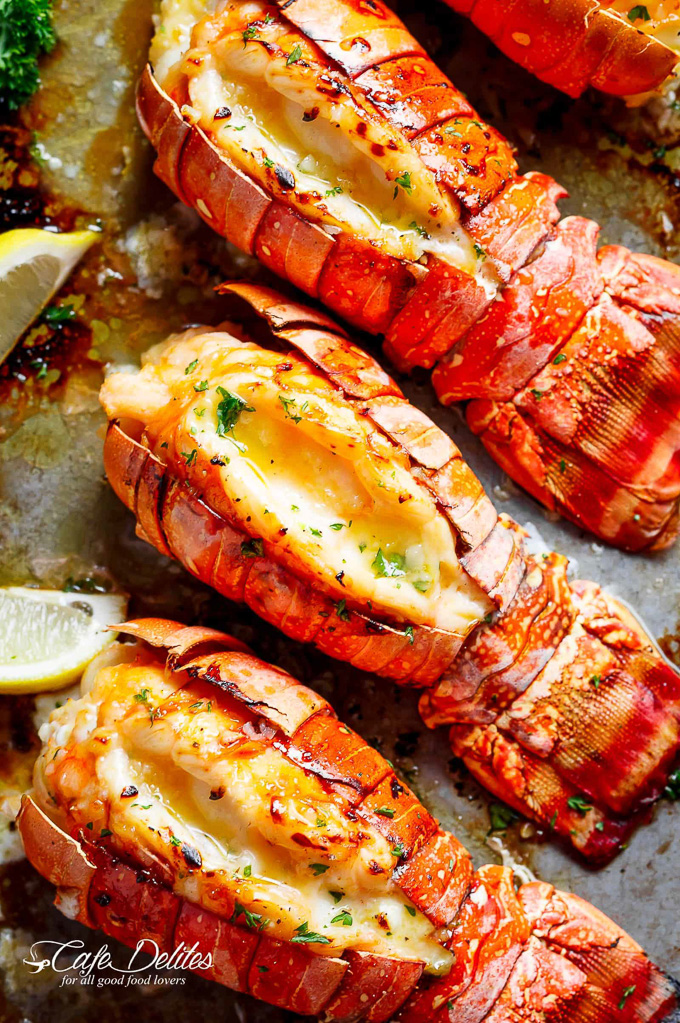 Pictured: Broiled Lobster Tails from Cafe Delites
6. Wild & Sustainable Lobster Delivery: LobsterAnywhere
As you can guess from the name, LobsterAnywhere specializes in the flavorful crustaceans and ships them direct from Maine, the lobster capital of the US. They sell only hard-shelled lobsters, which are more expensive than soft-shell, but are also considered to be the best.
You might be able to find cheaper lobsters in your grocery store, but LobsterAnywhere guarantees the absolute best in quality. Due to market fluctuation, the company's prices also fluctuate, but are generally very competitive.
Shrimp and scallops are also available for sale, but lobster is definitely the main attraction here. You can order whole live lobsters, frozen lobster tails, or shelled lobster meat by the pound. LobsterAnywhere is not a subscription service, so you can place an order one-time and it will ship in about two days.
Click here to try out LobsterAnywhere for yourself!
To conclude, although high-quality seafood can be hard to find, there truly are dependable seafood delivery services available. By using one that suits your preferences, you can have easy access to wild and sustainable seafood, no matter where you live!
Looking for more at-home delivery services?
Check out these useful posts on the blog:
Have you tried any of these online seafood delivery services? Let me know in the comments below!