Wondering where to buy healthy, high-quality fish and seafood online? To help you out, I have rounded-up the best sustainable, wild-caught seafood delivery services online. You can order everything from the comfort of your own home and it gets delivered straight to your front door. Special deals and discounts are also included!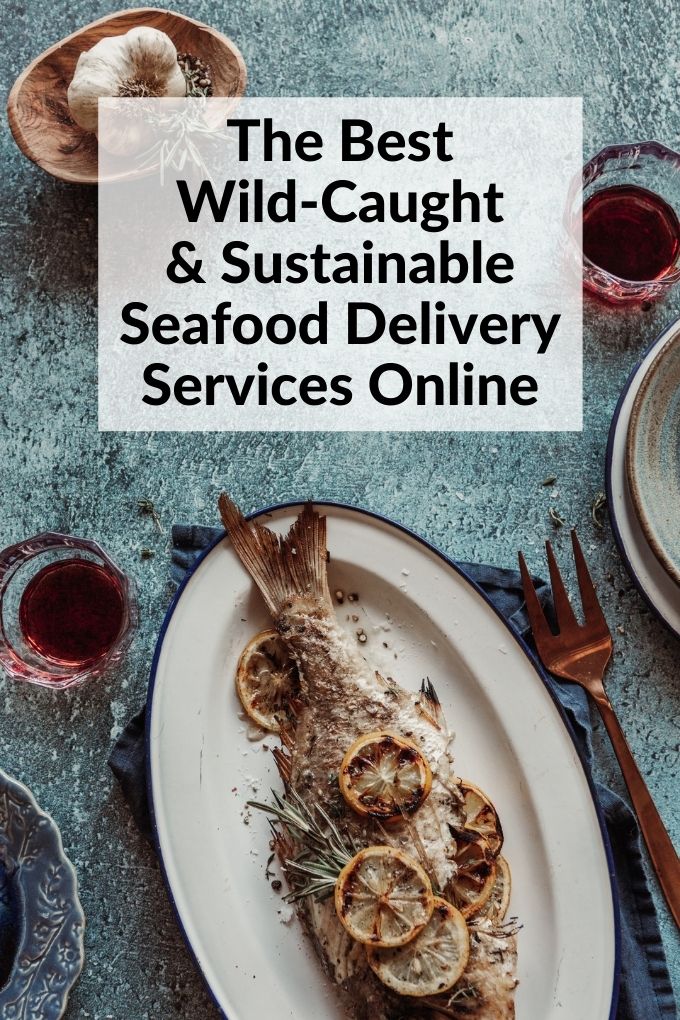 I am a big believer in only consuming wild-caught seafood. It is so much more healthy, flavorful, and sustainable than conventional, farmed seafood.
However, finding high-quality, sustainably-sourced fish and seafood isn't always easy. Even if you do have access to a reliable seafood market or grocery store seafood department, you're likely always pressed for time. That means staying on top of household tasks, like grocery shopping, can be very challenging.
Fortunately, there are a number of online retailers that can deliver wild seafood straight to your home, for less than you might think. These online-order delivery companies offer a variety of fish and seafood such as salmon, whitefish, shrimp, lobster, crab, and more.
The seafood is expertly packaged and then gets delivered right to your door as a one-time order or recurring subscription. Keep reading to learn more about my top choices, along with some exclusive discounts!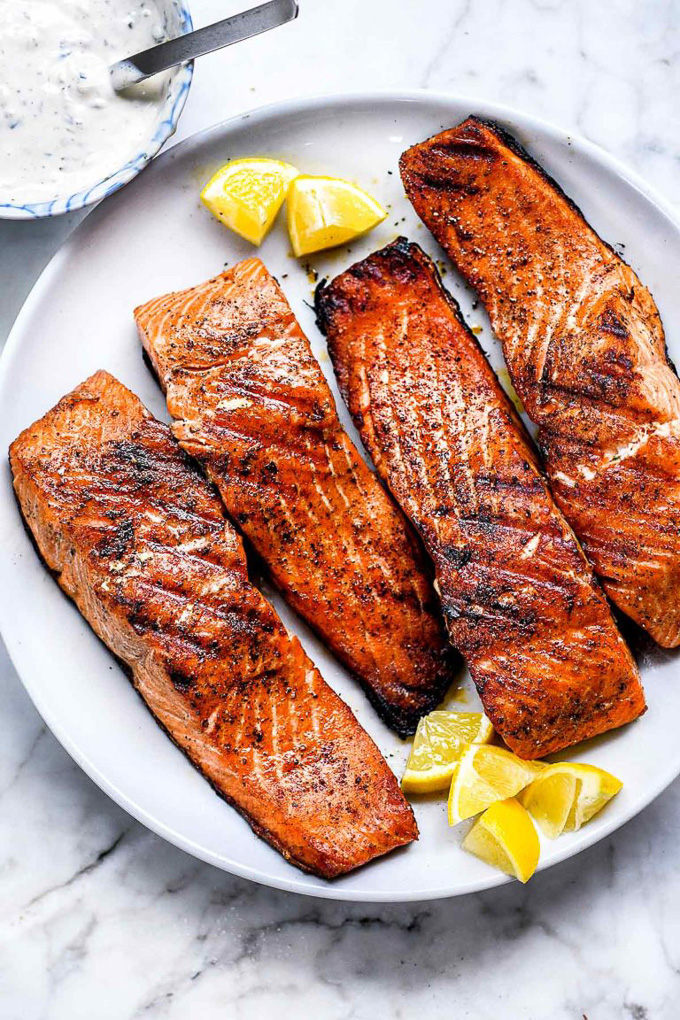 Pictured: Easy Grilled Salmon
1. Wild-Caught, Sustainable Seafood Delivery: ButcherBox
ButcherBox is an incredible meat and seafood delivery service that sends high-quality and sustainable cuts straight to your door. Their seafood selection includes wild-caught and sustainably-harvested Alaskan sockeye salmon, halibut, cod, lobster, sea scallops, and shrimp. Their meat selection includes 100% grass-fed beef, heritage-breed pork, and free-range organic chicken.
ButcherBox has partnered with fishermen who uphold strict fishing and handling practices. This guarantees an unprecedented level of quality and sustainability. All of their seafood contains absolutely no artificial coloring, additives, hormones, or antibiotics.
The main reason why I love ButcherBox so much is because of the high-quality of their meat and seafood. ButcherBox sells the cleanest, healthiest meat and seafood possible. The meat and seafood arrives frozen and individually vacuum-packed in an insulated, eco-friendly box. The price works out to less than $6 per meal and shipping is free to the continental 48 states!
You may order a custom box, where you get to pick the exact items that you want. Or, you may order a curated box, where ButcherBox pre-selects a special mix of cuts for you. You can pause your delivery or cancel your membership any time before your next billing date, with no hidden fees or penalties. If you're not completely satisfied with your order, they will either send you a replacement, offer you credit towards your next delivery, or give you a refund.
Based on ButcherBox's outstanding quality, reliability, and value, it is my top choice for wild-caught seafood delivery. If you would like to try ButcherBox, then be sure to take advantage of this unbelievable deal that they are offering right now:
For a limited time only, until January 31, 2024: You can Choose Your Free Offer! That means if you sign up for ButcherBox today, you will receive your choice of either free chicken wings for a year, free premium steak tips for a year, or free ground beef for a year. Click here to get this amazing offer for yourself!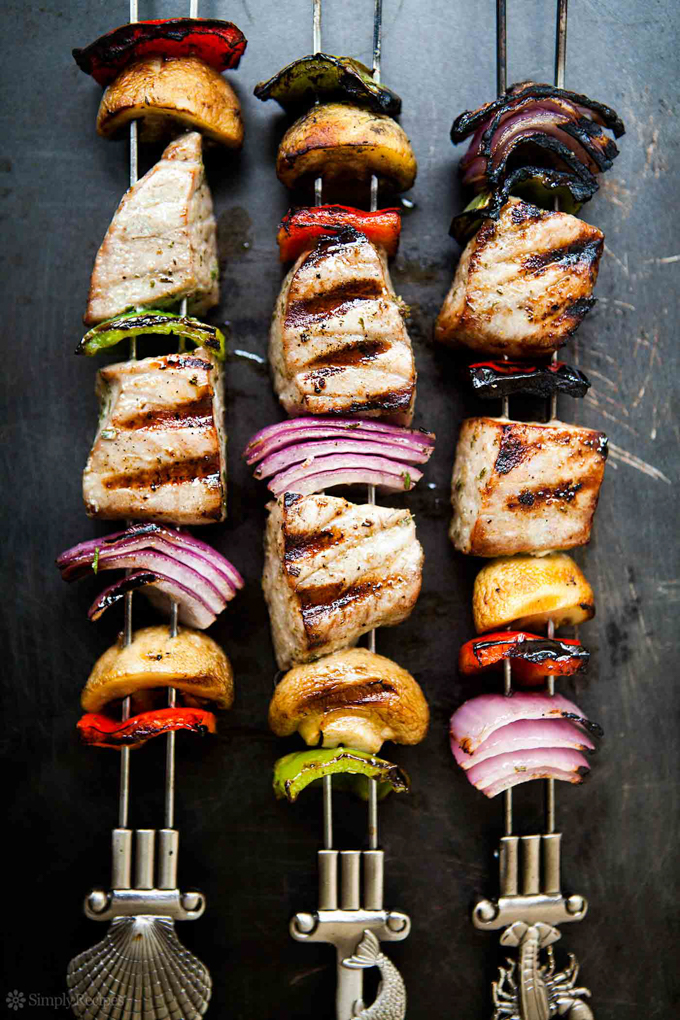 Pictured: Marinated Tuna Kebabs
2. Sustainable & Wild-Caught Seafood Delivery: Good Chop
Good Chop delivers top-quality American meat and seafood to your doorstep. All of their meat and seafood is sustainably-sourced from domestic family farms and fisheries. Their cuts contain no artificial ingredients, added hormones, growth stimulants, antibiotics, or preservatives.
Good Chop sells fish and seafood that is wild-caught off U.S. coasts or responsibly-raised in U.S. farms. You can choose from wild-caught Alaskan salmon, rockfish, sea scallops, Pacific cod and coldwater shrimp. Just like the rest of their meats, their seafood is completely free of any antibiotics, additives, or coloring.
Overfishing is a serious threat to our oceans. For that reason, the company only partners with responsible fisheries that carry the blue Marine Stewardship Council (MSC) label. The MSC is a global nonprofit organization that works to end overfishing around the world. It ensures that stocks are fished in a way that does not threaten the population's long-term health. Additionally, it minimizes the damaging effects of fishing to the surrounding wildlife and ecosystem.
Aside from their wild-caught selection, Good Chop also offers sustainably-farmed fish that is approved by the Aquaculture Stewardship Council (ASC). The ASC promotes sustainable farming techniques. This includes testing water quality, responsibly sourcing feed, preventing disease, and promoting animal welfare.
You can customize each box you receive with delicious cuts of seafood, chicken, pork, and/or beef. You may pause or cancel your delivery at any time. Lastly, if you're not 100% satisfied with your order, they will either credit your account or issue a refund.
Click here to get $100 off your first three boxes when you join Good Chop!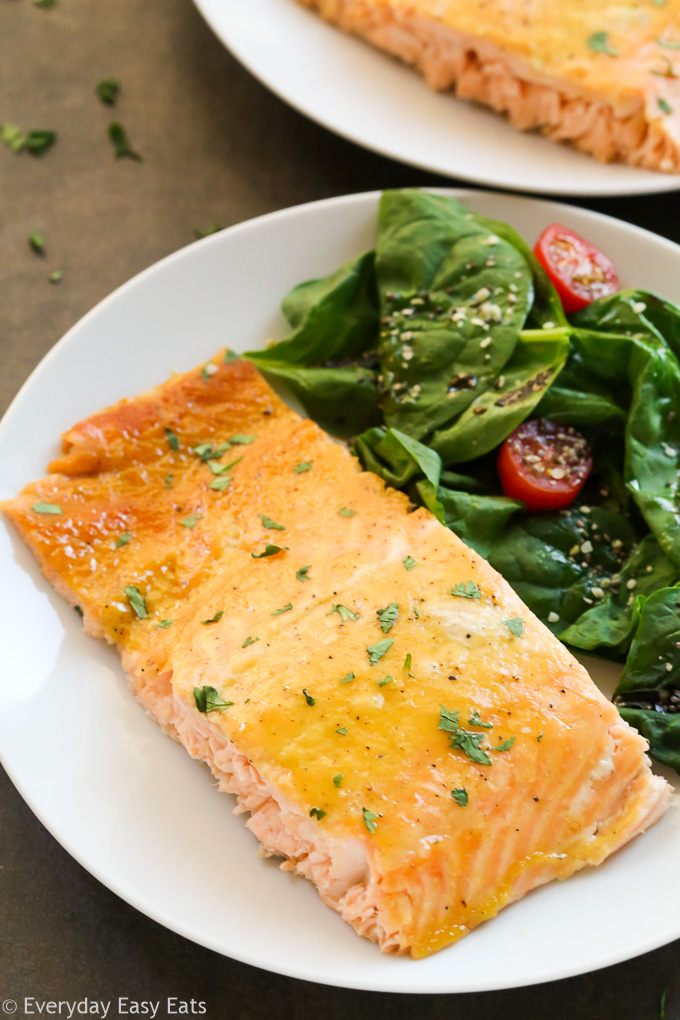 Pictured: Baked Honey Mustard Fish
Farm Foods Market is an online vendor that features grass-fed meats, pasture-raised chicken, heritage pork, and wild seafood. All of their seafood is sustainable and wild-caught by small-scale family fishermen. The company does not sell any farmed fish.
Their fish and seafood is completely free of any chemicals, antibiotics, hormones, GMOs, artificial colorings, and preservatives. Their seafood choices include wild-caught Alaskan sockeye salmon, Alaskan halibut, Pacific cod, swordfish, and New Zealand greenshell mussels.
You can browse through their user-friendly website to see what kinds of seafood and/or meat you would like to purchase. You may also read about each different farm/fishery they source their meat and seafood from, to learn more their practices.
All of their meat and seafood cuts are vacuum-sealed and delivered to you in a reusable Styrofoam cooler. The meat and seafood is kept frozen using enough dry ice for it to last more than 12 hours after delivery. That way, it's not a problem if you're not at home when it arrives. In addition, you will get free shipping on all orders over $125. Lastly, if your package gets delayed and/or arrives in a poor condition, they will refund your money.
Click here to get 10% off your first order at Farm Foods Market with the discount code EATS10!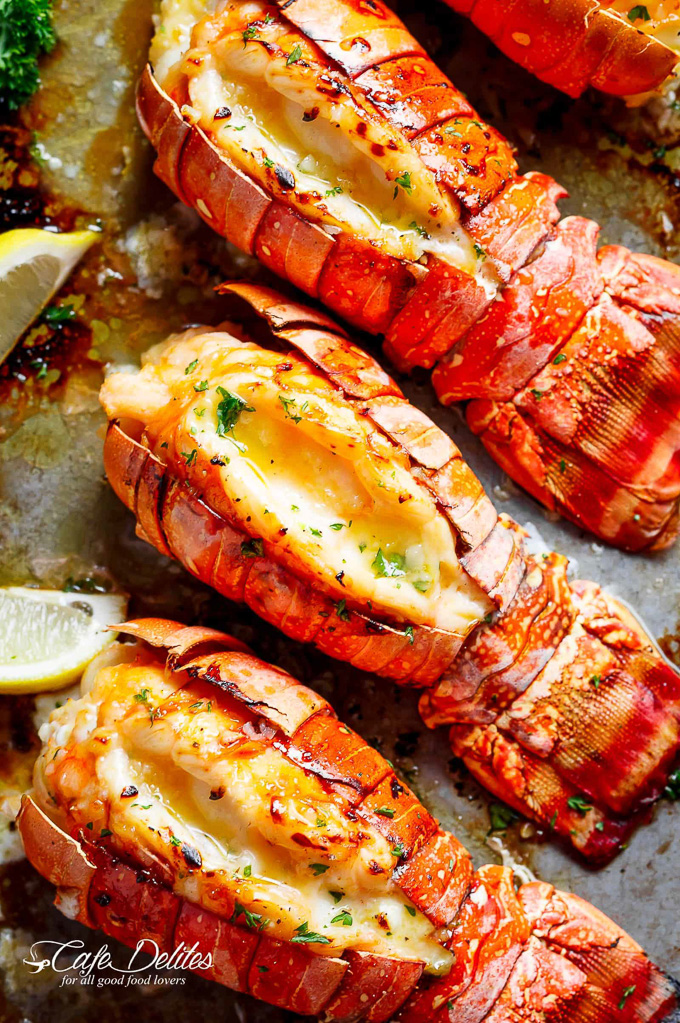 Pictured: Broiled Lobster Tails
4. Wild & Sustainable Seafood Delivery: Thrive Market
Thrive Market is an online retailer that sells healthy, organic food at wholesale prices. I like to think of it like Amazon (online retailer) meets Costco (wholesale prices) meets Whole Foods (all wholesome, junk-free foods).
The company sells both wild-caught and responsibly-farmed seafood. Their fish and seafood collection features Alaskan sockeye salmon, ahi tuna, cod, barramundi, shrimp, scallops, lobster tails, and more. Thrive Market only works with ethical partners that support marine habitats with humane fishing practices. Their seafood is packed and frozen shortly after catch, to preserve that fresh-off-the-boat taste.
Thrive Market's seafood delivery options include several bundled fish and seafood boxes. You can select single-fish boxes, like the Wild-Caught Sockeye Salmon Box. Or you can order variety boxes, like the Wild & Sustainable Seafood Box, which contains wild scallops, sockeye salmon, barramundi, and more. You can also customize your own meat and seafood box, if you prefer to pick and choose items.
To order any type of seafood or groceries from Thrive Market, simply sign up for a Thrive Market membership. You can cancel your membership at any time, so it is completely risk-free. If you use the link below, you will get this fantastic limited-time bonus when you join:
Click here to get a free grocery gift worth $60, when you purchase a Thrive Market membership!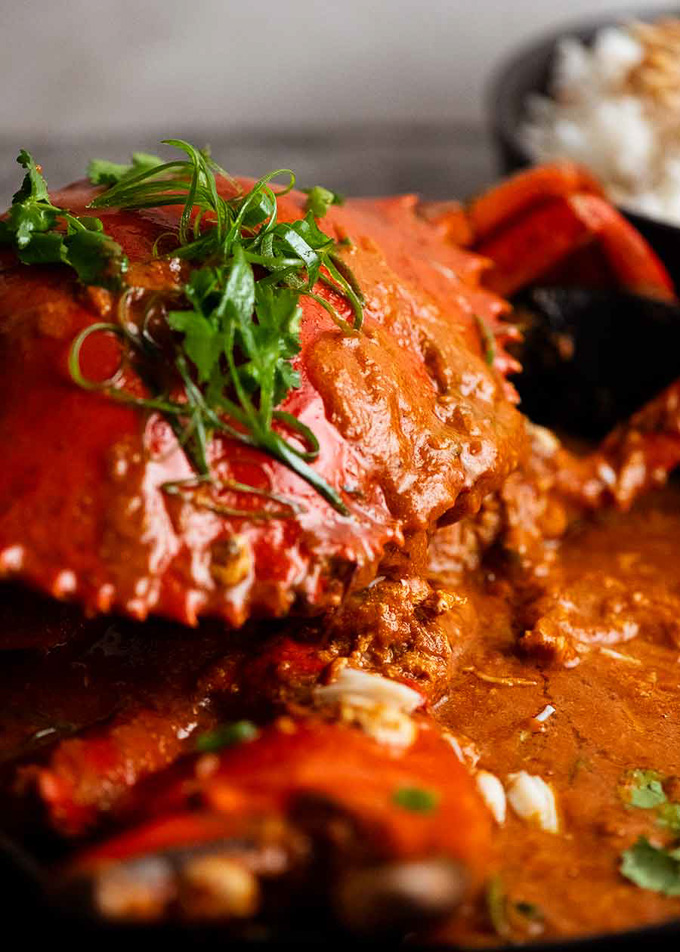 Pictured: Singapore Chilli Crab
5. Sustainable Fish & Shellfish Delivery: Sizzlefish
Sizzlefish delivers premium, all-natural fish and shellfish directly to your doorstep. They offer a broad range of seafood including salmon, cod, rockfish, shrimp, calamari, soft-shell crab, sea scallops, clams, and more. They work closely with their suppliers to source only the finest sustainable seafood. Most of their seafood is wild-caught, although their Atlantic salmon, rainbow trout, and catfish are farmed.
The seafood is carefully packed in a reusable, recyclable cooler containing plenty of dry ice. Each box contains 14 vacuum-sealed, perfectly-portioned cuts of seafood. Your seafood should arrive hard-frozen, so all you need to do is transfer the items into your freezer.
You can order a hand-curated seafood box à la carte or sign-up for a subscription. Their subscription service allows you to build your own seafood box, or let Sizzlefish choose the items in your box for you. Lastly, if you're not completely satisfied with the quality of your seafood, they will replace your products free of charge.
Click here to get free shipping on orders over $100 at Sizzlefish!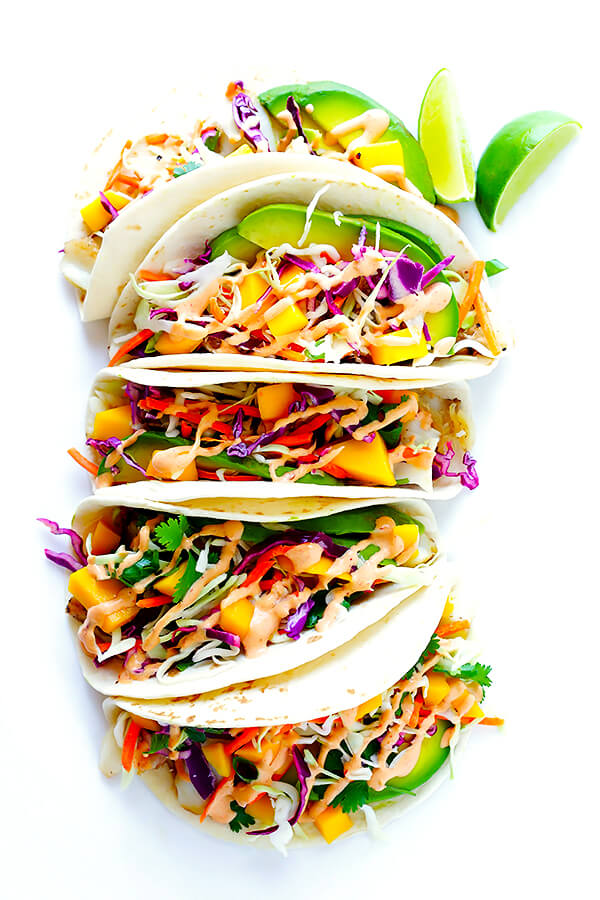 Pictured: Mango Chipotle Fish Tacos
6. Sustainable Fish & Seafood Delivery: Fulton Fish Market
Fulton Fish Market started as a physical fish market in New York City. It has grown to become the second largest fish market in the world (after Tokyo). They now have an online store, which makes it easy for anyone in the contiguous United States to access one of the biggest assortments of fresh seafood anywhere.
The company offers both wild-caught and farmed seafood. Every product page on their website clearly specifies if the seafood is wild or farmed in the product description. In addition, their seafood sources are reviewed daily for sustainability.
You can purchase almost any variety of fish from salmon to swordfish, halibut, and a few harder-to-find species. Additionally, the company sells a wide range of shellfish including oysters, lobsters, soft shell crabs, mussels, scallops and clams.
Their seafood boxes contain a thermal-insulated liner and food-safe, frozen gel packs to keep your seafood cold when it arrives. You can order fish à la carte by the piece, box, or curated bundle. You can also sign up for a subscription to get a monthly, bimonthly, or weekly curated box of fish regularly delivered to your front door.
Click here to check out Fulton Fish Market!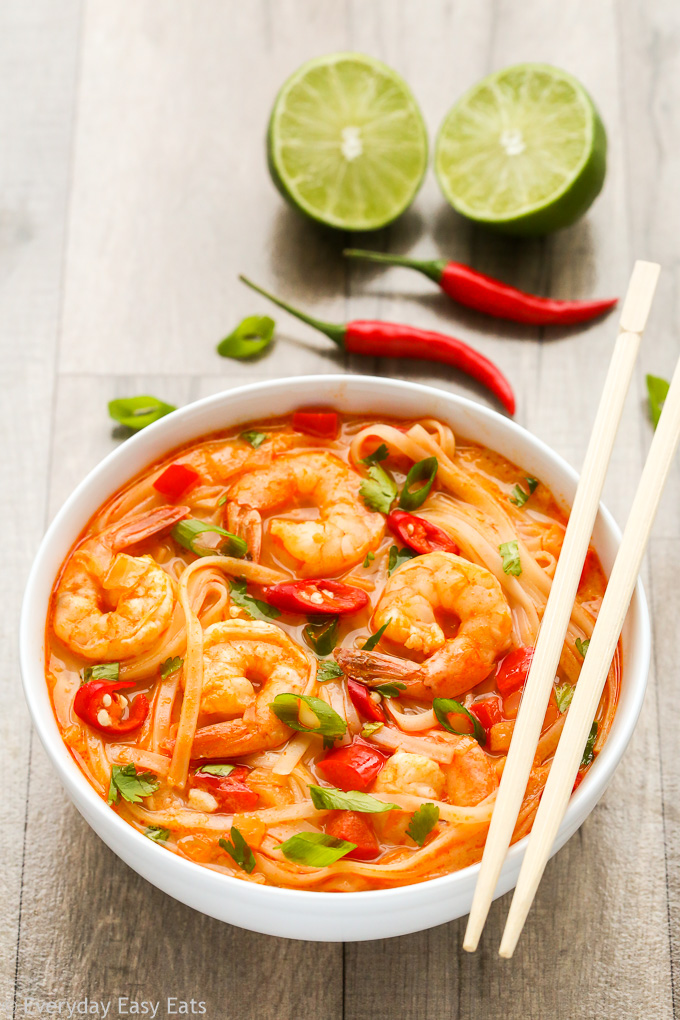 Pictured: Thai Shrimp Noodle Soup
7. Wild-Caught Seafood Delivery: Vital Choice
Vital Choice is an online purveyor that sells wild-caught and sustainably-harvested seafood. If you struggle to find premium seafood at your grocery store, this delivery service is another great option.
Vital Choice's seafood options include flash-frozen Alaskan salmon and halibut, Chilean sea bass, ahi tuna, and more. In addition, they sell live shellfish, such as Pacific blue mussels, clams, and oysters. They have an assortment of canned and pouched seafood available for purchase as well. Additionally, the company offers an array of marine supplements such as omega-3 capsules, salmon and cod liver oils, and daily immune support packets.
The owners and executive staff at Vital Choice have decades of experience as professional fishermen. Their seafood is certified sustainable either by the MSC, the State of Alaska, or Monterey Bay Aquarium's SeafoodWatch program.
You can make a one-time order of any of their products. You can also sign-up for a monthly seafood subscription box, which contains a pre-selected mix of fish and shellfish. Finally, if you're not satisfied with your purchase, the company will either replace your product or refund your money.
Click here to try out Vital Choice for yourself!
Final Thoughts
To conclude, although high-quality seafood can be hard to find, there truly are excellent seafood delivery services available. All you have to do is sign-up for one that suits your budget and preferences. That way you can have easy access to wild and sustainable seafood, no matter where you live!
More At-Home Delivery Services
If you would like to learn about other healthy food and drink delivery services, check out these helpful articles:
Have you tried any of these sustainable and wild-caught seafood delivery services? Let me know in the comments below!
This article was originally published on May 16, 2020. It has been updated throughout to include new delivery services, helpful information, and exclusive offers.