If you are like me and you prefer to eat high-quality, sustainably-raised meat, then ButcherBox might be an ideal service for you. But what exactly is ButcherBox, how does it work, and is it worth signing up for? In this ButcherBox Review, I will take a closer look at the service and all it has to offer.
ButcherBox Review: What is ButcherBox?
ButcherBox is a subscription-based service that delivers premium meat straight to your doorstep. The company was founded in 2015 with the mission of making top-quality meat more accessible to everyone, with an emphasis on animal welfare, the environment, and supporting farmers and fisherman.
The company works directly with farmers to ensure that their animals are raised in a humane, natural environment, without the use of antibiotics or hormones. ButcherBox offers a variety of prime meat options and cuts, including the following:
100% Grass-Fed and Grass-Finished Beef
The cattle are allowed to graze freely in pastures for their entire lives and eat a natural diet of grass. This results in beef that is leaner and more flavorful than conventionally-raised beef. The cuts ButcherBox typically carries are ground, bottom round roast, coulotte, flat iron, filet mignon, ribeye, and steak tips.
Free-Range and Organic Chicken
The chickens have the freedom to roam and forage outside. They are naturally-fed and have plenty of space to engage in natural behaviors. The cuts of meat that ButcherBox sells are breasts, drumsticks, tenders, thighs (boneless and bone-in), and whole chickens.
Heritage-Breed Pork
The pork is either pastured or meets the standards of being raised in open barns with lots of room to move around. The hogs are fed an all-vegetarian diet (except for milk proteins) and are raised crate-free with traditional, sustainable farming methods. Cuts available for purchase are bacon, pork chops, ground, butt, ribs (St. Louis and baby back), and tenderloin.
Wild-Caught Seafood
The fish and shellfish are sustainably harvested in their natural habitat, rather than being farmed. In addition, the seafood cuts contain absolutely no artificial coloring or additives. ButcherBox's seafood assortment includes Alaskan sockeye salmon, cod, halibut, cold-cracked lobster and lobster tails, shrimp, and sea scallops.
Prepared and Seasonal Meats
Additionally, ButcherBox sells a range of prepared meats, such as nitrate-free hot dogs, grass-fed beef burger patties, and more. The company also offers some seasonal items, including 100% grass-fed ground bison and whole turkeys during Thanksgiving.
ButcherBox Review: How Does ButcherBox Work?
To get started with ButcherBox, you will need to sign up for a subscription plan. They offer several options to choose from, including curated boxes and customizable boxes.
Curated Boxes: ButcherBox Chooses the Meat for You
With the curated boxes, ButcherBox takes the guesswork out of selecting your meat by offering pre-selected assortments. The choices include the Mixed Box, Beef & Chicken Box, and Beef & Pork Box. ButcherBox offers different box sizes to cater to different household and consumption needs. The curated boxes come in the following sizes:
Curated Classic Box: Each box contains 8-11 lbs of meat, which is enough for 24 meals. The cost per box is $146.
Curated Big Box: Each box contains 16-22 lbs of meat, which is enough for 48 meals. The cost per box is $269.
You will get the best value with the big box, but just be sure that you need that amount of meat! If you are a family of four or more who eats meat every week, then the big box size will work great. For households of two to three people, I recommend going with the classic box size.
Customized Boxes: You Choose the Meat Yourself
If you prefer more control over your selections, ButcherBox offers customizable boxes. With this option, you can create your own perfect box by selecting the specific cuts and types of meat that you desire. You can select from more than 25 cuts and can update them in every order. This is ideal for individuals with dietary restrictions or those who have specific preferences. The custom boxes come in come in the following sizes:
Custom Classic Box: Each box contains 9-14 lbs of meat, which is enough for 30 meals. The cost per box is $169.
Custom Big Box: Each box contains 18-26 lbs of meat, which is enough for 60 meals. The cost per box is $306.
With the custom boxes, you will receive 20% more meat than ButcherBox's curated boxes. Just like with the curated boxes, you will get the best value with the big box size. I recommend choosing a box size that suits your household size and needs.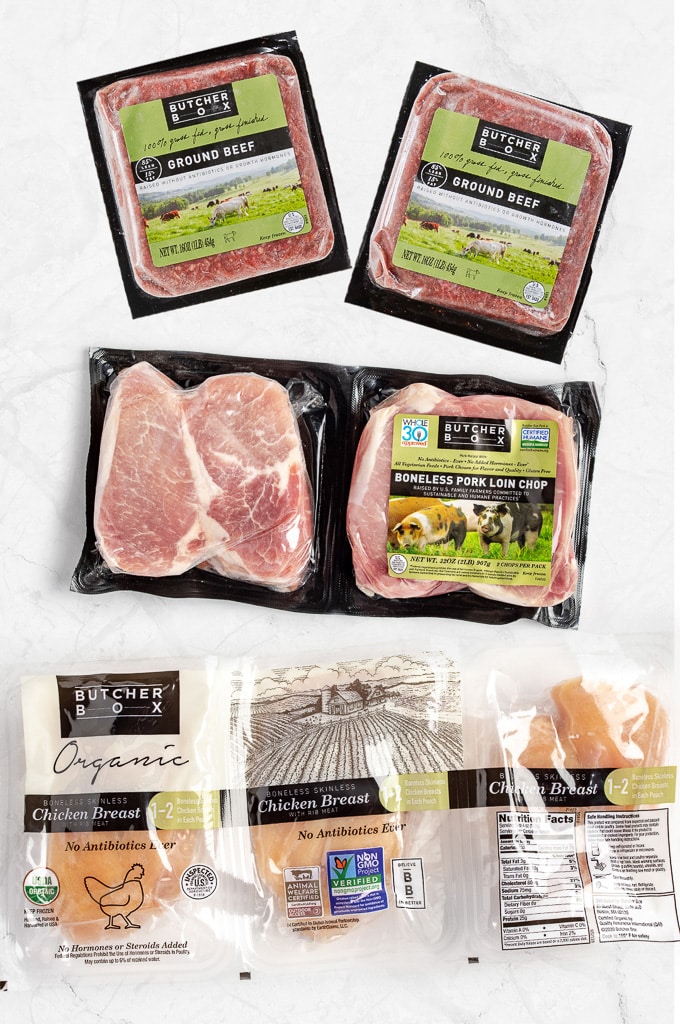 ButcherBox Delivery and Packaging
Once you have chosen your box type and size, you can select the frequency of your deliveries. After initially signing up, ButcherBox members are automatically set to receive a box every four weeks (which is once a month). However, you can change your subscription frequency to every two, six, or eight weeks. Additionally, the shipping is always free (to the continental 48 states)!
The meat is carefully packed in an insulated box with dry ice, to ensure it stays frozen during transit. Once the meat arrives, you can just place it in your freezer and defrost it as needed. The packaging is not only effective at preserving the quality of the meat, but also eco-friendly, as it is made from recyclable and biodegradable materials.
You can pause your delivery or cancel your membership any time before your next billing date, with no hidden fees or penalties. If you are not fully satisfied with your delivery, they will either send you a replacement, offer you credit towards your next order, or give you a refund.
ButcherBox Review: Is ButcherBox Worth It?
If you are someone who values top-quality meat and the convenience of having it delivered right to your home, then ButcherBox may be the perfect solution for you. Here are just a few reasons why ButcherBox is worth signing up for:
1. High-Quality Meat Selection
ButcherBox's commitment to providing superior-quality meat sets them apart. Their sourcing practices ensure that the meat you receive is ethically-raised and free from antibiotics, hormones, and other additives commonly found in factory-farmed meat. ButcherBox sells the cleanest meat possible and it always tastes amazing.
2. Increased Health Benefits
Not only is the meat from ButcherBox tastier than conventional meat, it is also healthier for you. For example, grass-fed beef is leaner and contains higher levels of beneficial nutrients like omega-3 fatty acids, vitamin E, and conjugated linoleic acid (CLA). Free-range organic chicken has higher levels of omega-3 fatty acids and antioxidants compared to factory-farmed chicken. By incorporating more nutrient-dense meat into your diet, you are making a positive impact on your overall health and well-being.
3. Time-Saving Convenience
Another one of the key advantages of ButcherBox is the convenience it offers. With meat delivered right to your front door, you can skip the time-consuming trips to the grocery store and enjoy the convenience of having high-grade meat readily available.
4. Flexibility & Customization
Whether you opt for curated boxes or customize your own, ButcherBox offers flexibility to suit your wants and lifestyle. The ability to select types of meat you desire allows you to cater to your specific dietary needs and cooking preferences.
5. Cost-Effectiveness
While the cost of ButcherBox may be slightly higher compared to conventionally-raised grocery store meat, the value lies in the quality and convenience it offers. When you consider the top-tier, humanely-raised nature of the meat, the convenience of home delivery, and the elimination of time spent searching for top-quality options, the cost becomes justified.
6. Excellent Customer Service
ButcherBox values its customers and strives to provide exceptional service. Their customer support team is very helpful and addresses any concerns or inquiries promptly. They also offer a satisfaction guarantee, ensuring that you are completely pleased with your orders.
7. Environmental & Community Support
ButcherBox is committed to supporting local farmers and responsible agriculture practices. They work with a network of small-scale farmers who prioritize animal welfare and environmental stewardship. By choosing ButcherBox, you are also supporting these small farmers and helping to create a more sustainable food system.
In my opinion, ButcherBox is absolutely worth joining. Based on the outstanding taste and quality of its meat, convenience, and reasonable pricing, ButcherBox is a terrific delivery service that I think you will be very happy with.
ButcherBox Review: Final Thoughts
Overall, ButcherBox offers a convenient and reliable solution for those seeking superior-quality and ethically-raised meat. With curated and customizable box choices, flexible delivery schedules, and a commitment to sourcing from trusted farmers, ButcherBox delivers on its promise of providing premium meat straight to your doorstep.
While the cost may be slightly higher than conventional options, the benefits in terms of quality, convenience, health, and ethical considerations make ButcherBox a worthwhile investment. So, if you prioritize high-quality, sustainably-sourced meat, ButcherBox is definitely worth considering. If you would like to give ButcherBox a try, then be sure to take advantage of this incredible deal that they are offering right now:
For a limited time only, until January 31, 2024, you can Choose Your Free Offer! That means if you sign up for ButcherBox today, you will receive your choice of either free chicken wings for a year, free premium steak tips for a year, or free ground beef for a year. Click here to get this fantastic offer for yourself!
ButcherBox Review: More Meat-Related Posts
Interested in learning about ordering meat online, different types of meat, other meat delivery companies, or getting some healthy meat recipes? Check out these helpful articles to find out more:
I hope that after reading this ButcherBox Review, you have a better understanding of how ButcherBox works. If you have any additional questions, let me know in the comments below!
This article was originally published on November 30, 2019. It has been updated throughout to include useful information and new content.