Here are some delicious BBQ meat ideas for large groups! These grilled meat recipes are quick, easy, healthy and taste incredible. I've also included tips and recommendations for where to buy the best grass-fed and organic meat online.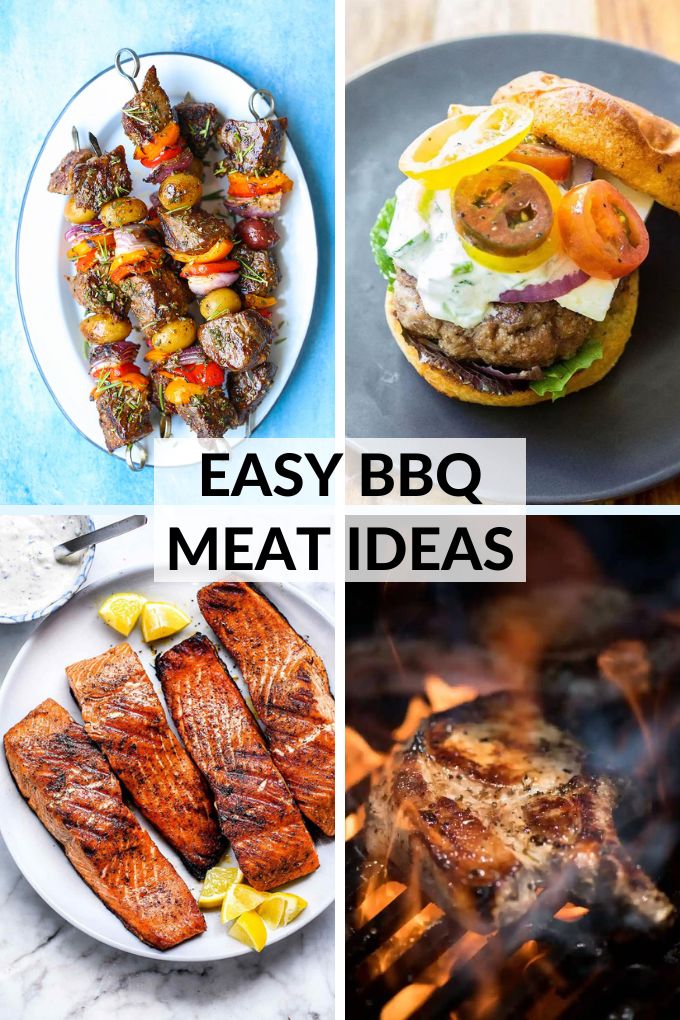 The outdoor grill is one of the best tools for making summer dinners. It is super simple to use and cooks full meals in a flash. Grilling food also has a great nutritional advantage, because excess fat melts and drips off of meat as you grill it. If you want to make any grilled meat recipes in the absence of warm weather, just use a grill pan in your kitchen instead.
Use these sizzling BBQ meat ideas as inspiration for your meals and gatherings this summer. All of the grilled meat recipes on this list can easily be doubled or tripled to serve larger crowds.
Where to Get Grass-Fed & Organic Meat
I am a huge advocate of eating grass-fed, no-hormones-added and humanely-raised meat. It is just so much more healthy, ethical, sustainable and flavorful than conventional factory-farmed meat. If you prefer organic and grass-fed meat as well, I highly recommend checking out ButcherBox.
ButcherBox is a popular monthly meat delivery service that delivers organic, antibiotic-free and hormone-free cuts directly to your door. Their meat selection includes 100% grass-fed and grass-finished beef, grass-fed and pasture-raised bison, free-range chicken, and heritage breed pork. In addition, ButcherBox offers wild-caught and sustainably-harvested seafood, such as Alaskan sockeye salmon, halibut, lobster, and more.
ButcherBox's meat arrives frozen and individually vacuum-packed in an insulated, eco-friendly box. The price works out to less than $6 per meal, with free shipping (to the continental 48 states)!
If you're interested, you can sign up for ButcherBox here. But if you want to know more about why I recommend ButcherBox, I wrote a detailed ButcherBox Review here. And if you want learn more about my other favorite places to get high-quality beef, poultry and seafood from online, check out this post I wrote: The Top Grass-Fed, Sustainable & Organic Meat Delivery Companies Online.
Alright, without further ado, here are some amazing, flavor-packed BBQ meat ideas that you are going to want to cook all summer long!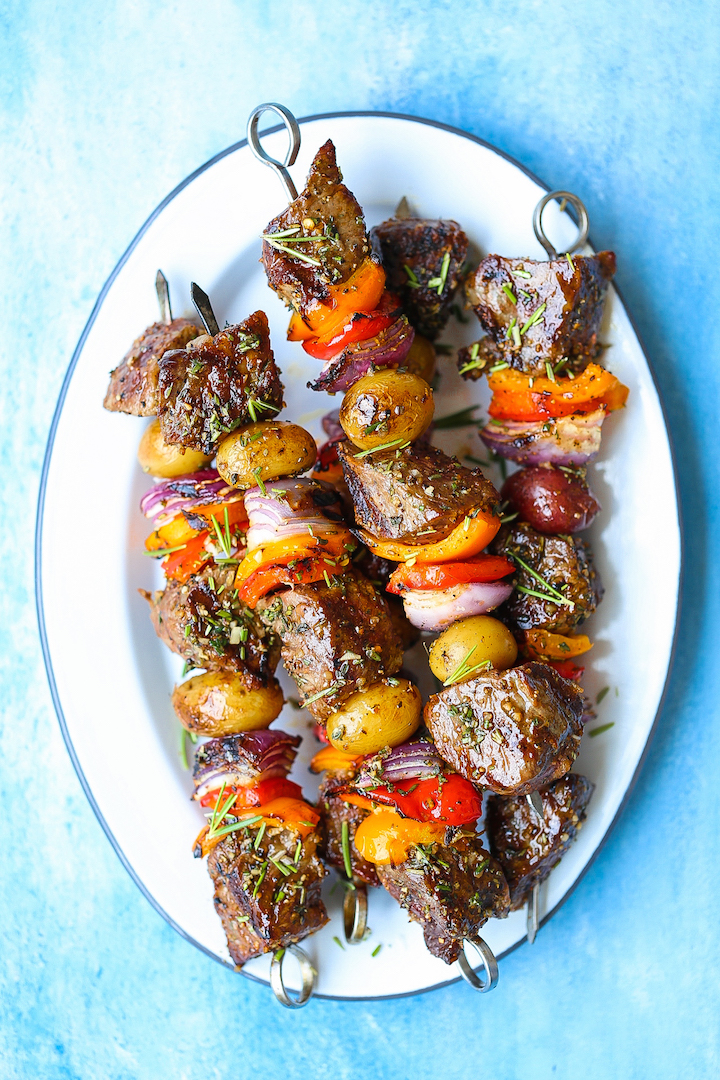 1. BBQ Meat Ideas: Steak and Potato Kabobs
These Steak and Potato Kabobs from Damn Delicious make a fantastic summer BBQ meal. The meat comes out so amazingly tender and is bursting with fresh garlicky-herb flavor. I love this recipe because it is packed with protein, well-balanced, and super simple to make.
2. Easy Grilled Meat Recipes: Barbecue Chicken
Chef John's Barbecue Chicken recipe is a classic and a keeper. It features a whole chicken that gets prepped, marinated, and grilled to perfection.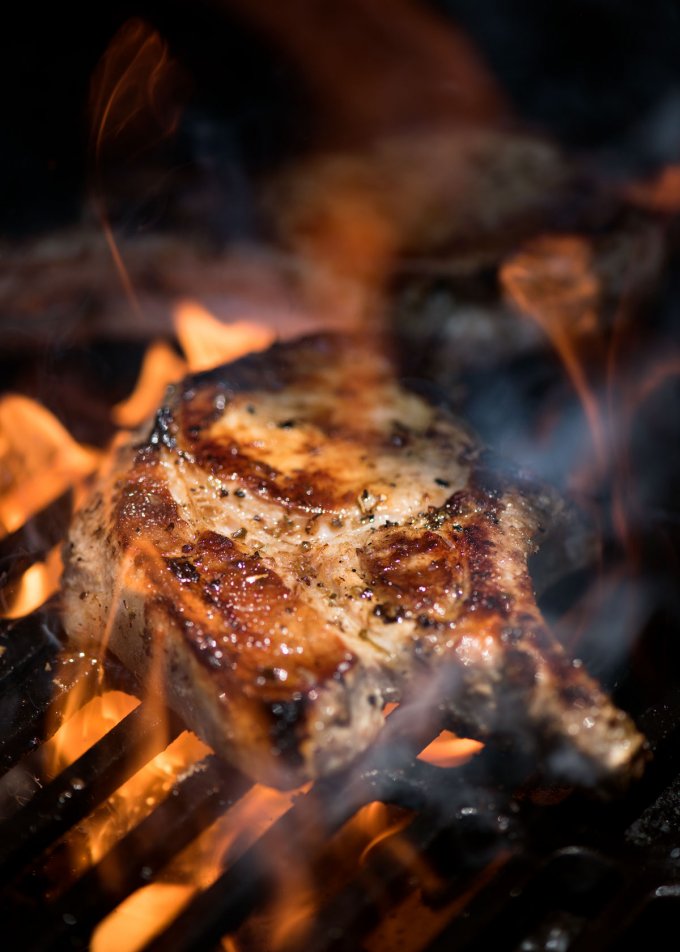 3. BBQ Meat Ideas: Marinated Grilled Pork Chops
These Lemon Garlic Marinated Grilled Pork Chops from RecipeTin Eats are terrific to throw on the BBQ. They brown nicely on the outside and are extra juicy on the inside, thanks to its delicious marinade that is infused with bright lemon flavours and plenty of garlic.
4. Grilled Meat Recipes: Bistro Burgers
Use this Bistro Burger recipe from Martha Stewart to elevate a backyard hamburger to steak-house status. if you're entertaining this summer, be sure to also use her guide to making a big batch of burgers all at once.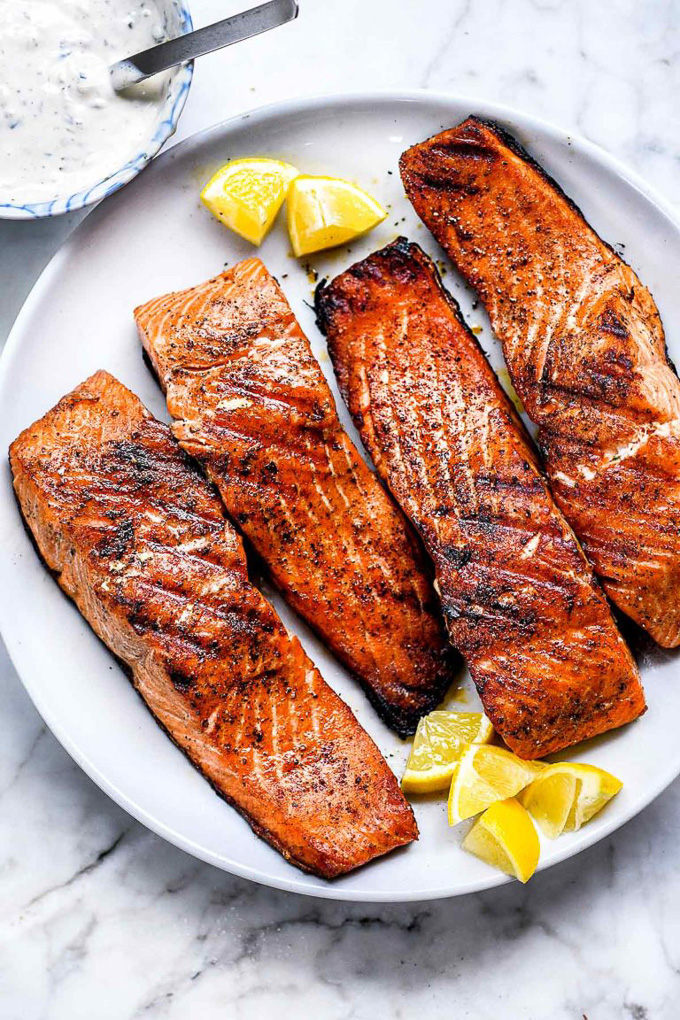 5. Healthy Grilling Recipe: Grilled Salmon
Learn how to make the best Grilled Salmon with this easy recipe (which also includes lots of useful grilling tips) from Foodie Crush. I recommend using wild-caught salmon for maximum health benefits and the best flavor.
6. BBQ Meat Ideas: Perfectly Grilled Steak
This Perfectly Grilled Steak from Bobby Flay is one of those "go-to recipes" that make summertime living so easy! It is simple, crowd-pleasing dish that you will want to add to your regular summer dinner rotation.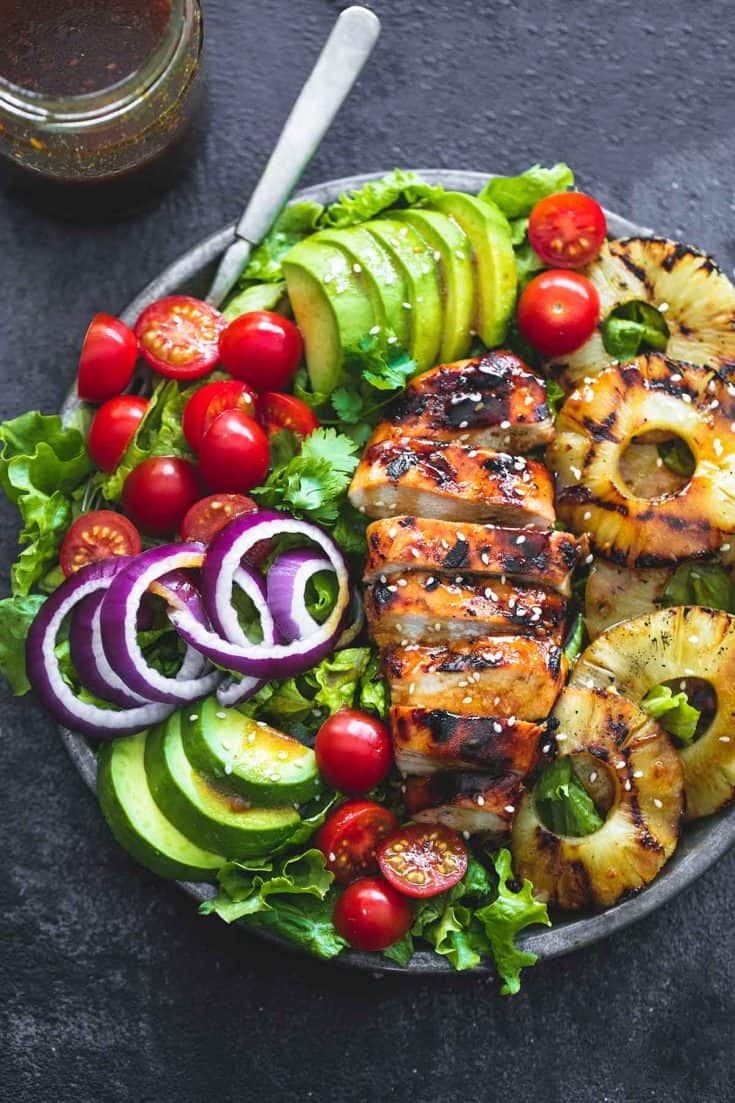 7. Healthy Grilling Recipe: Teriyaki Chicken Salad
This Grilled Teriyaki Chicken Salad from Creme de la Crumb is made with grilled chicken breast, grilled pineapple, fresh vegetables and a delectable teriyaki vinaigrette. It makes a fresh, colorful, hearty and satisfying meal that is ideal for warm weather.
8. BBQ Meat Ideas: Garlic Grilled Shrimp
This Garlic Grilled Shrimp from Spend with Pennies is a perfect summer staple on the grill. It stands alone as a kabob or tucked into a zesty shrimp taco. Serve as a main dish or even as a snack for guests to eat alongside mojitos on the deck.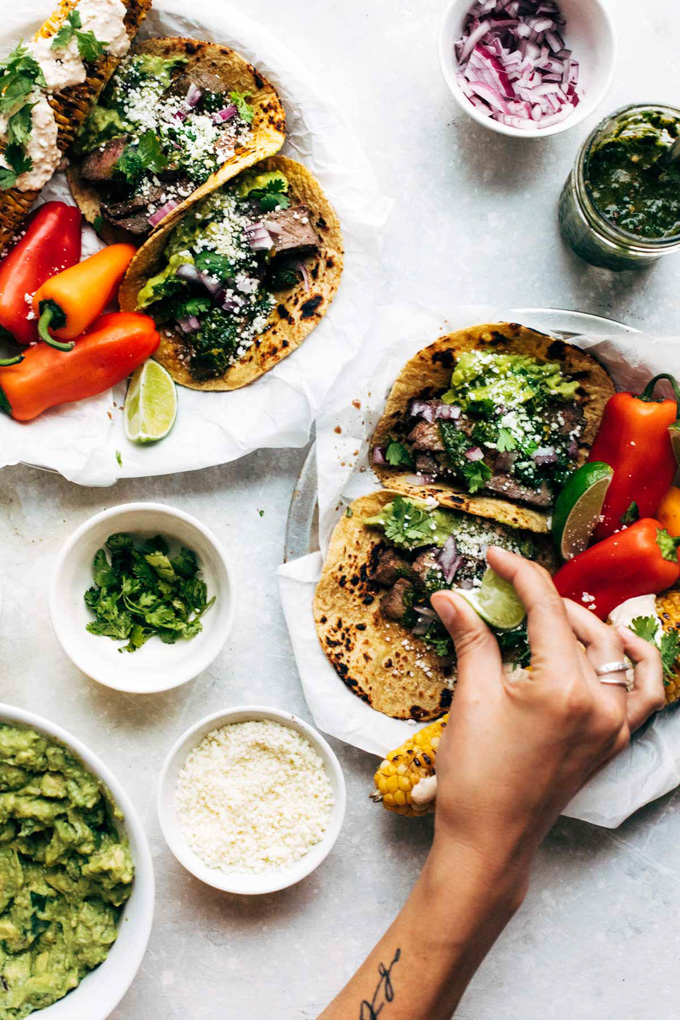 9. Grilled Meat Recipe: Chimichurri Steak Tacos
These Rockin' Chimichurri Steak Tacos from Pinch of Yum are made with spicy marinated grilled steak, chimichurri sauce and any toppings you like. Perfect for summer BBQs and entertaining!
10. Easy BBQ Idea: Grilled Fish in Foil Packets
This super-easy method for Grilled Fish in Foil Packets from Skinnytaste is pretty much foolproof. You can use any fresh fish that is available to you in your area.
11. BBQ Meat Ideas: Burger Bowls
These healthy, bun-less Burger Bowls from Feasting at Home are loaded with seasonal vegetables and greens. They can be made with veggie burgers, or grass-fed beef, lamb, chicken, bison or turkey! This recipe is ideal for low-carb/keto diets and is also paleo and gluten-free. Be sure to double or triple this recipe to serve a large group.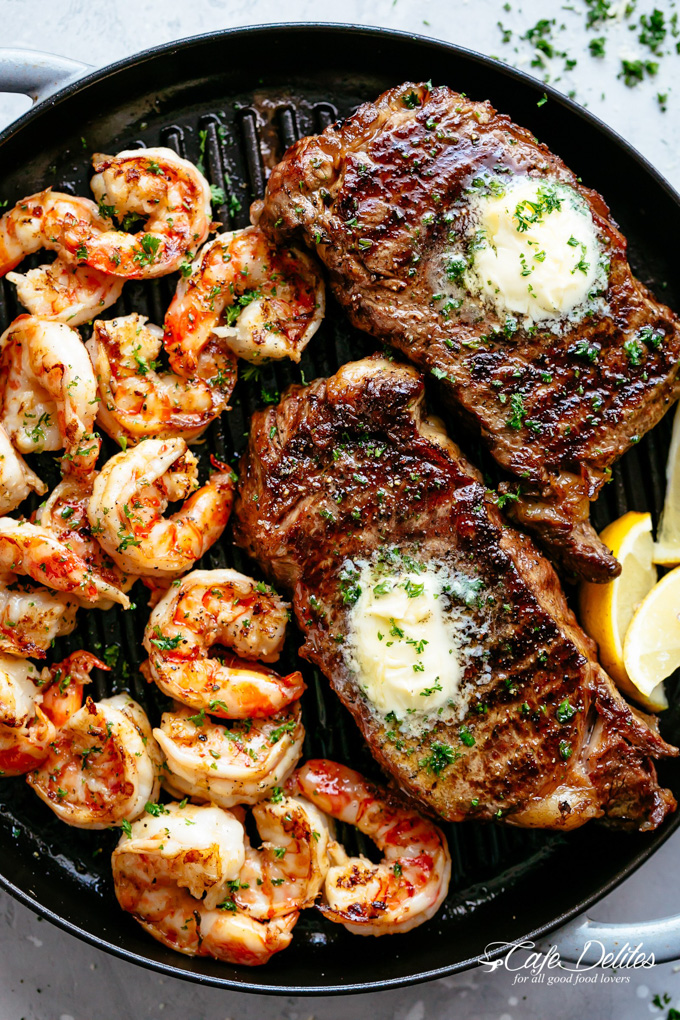 12. Grilling Recipe: Garlic Butter Steak & Shrimp
This recipe for Garlic Butter Grilled Steak & Shrimp from Café Delights makes a gourmet steak dinner that tastes like something out of a restaurant. Perhaps best of all, it is ready to eat in less than 15 minutes! I recommend using grass-fed butter for maximum health benefits.
13. BBQ Idea: Swordfish with Tomatoes and Oregano
This Grilled Swordfish with Tomatoes and Oregano recipe advises you to grill the swordfish steaks first, and then marinate them in a dressing of red wine vinegar, oregano, and capers. It's a method you'll come back to again and again, and it's a perfect dish for an outdoor dinner party.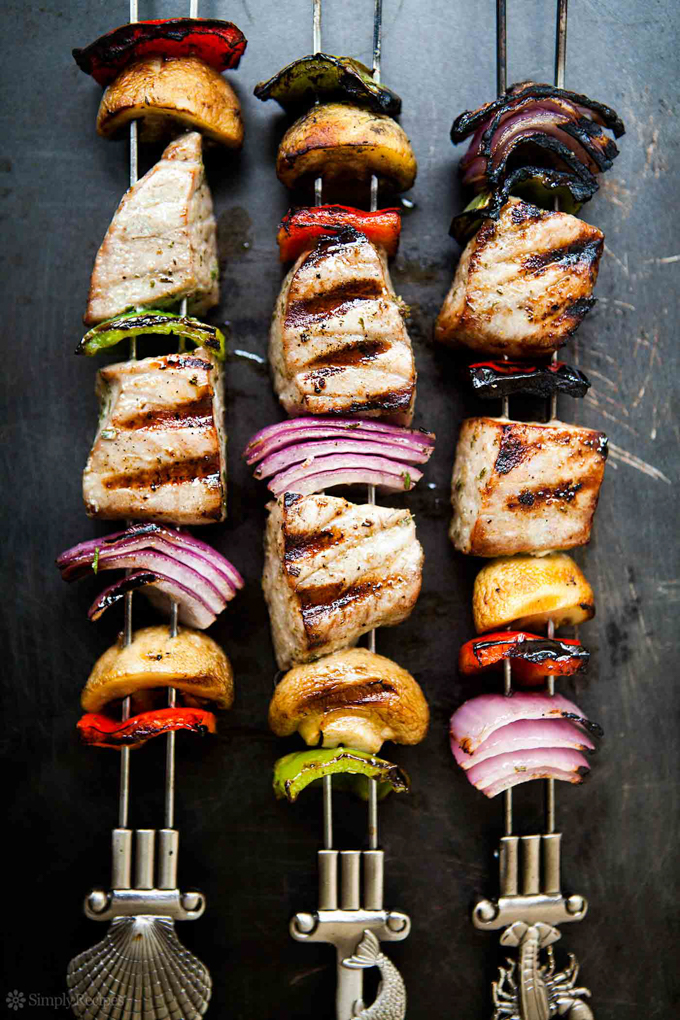 14. Healthy Grilled Meat Recipe: Grilled Tuna Kebabs
These Grilled Tuna Kebabs from Simply Recipes feature skewers of marinated fresh tuna, onions, bell peppers, and mushrooms. This recipe makes a healthy, colorful summer dinner that is perfect for entertaining.
15. Grilling Recipe: Korean-Style Hasselback Short Ribs
These Korean-Style Hasselback Short Ribs are ideal for home grilling. This recipe features scored and marinated boneless short ribs that get cooked right on the grill grate.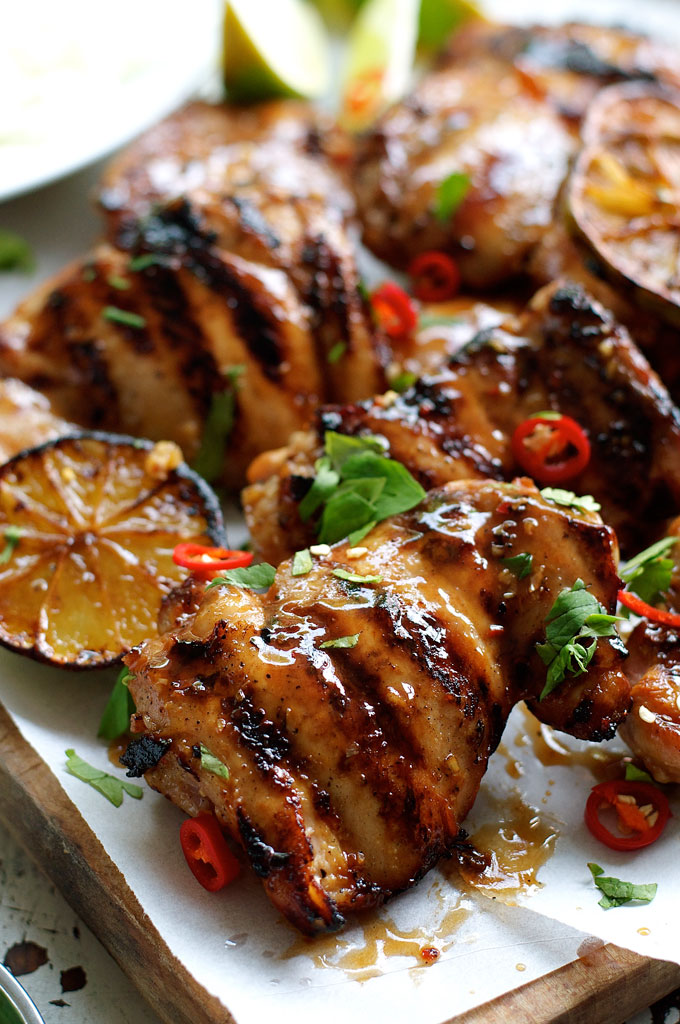 16. Healthy BBQ Idea: Grilled Marinated Thai Chicken (Gai Yang)
This Grilled Marinated Thai Chicken (Gai Yang) from RecipeTin Eats brings classic Thai street food right to your kitchen table. Made using the most delicious marinade!
17. BBQ Meat Ideas: Grilled Scallops
Cooking scallops might seem fancy or intimidating, but they are extremely easy to make at home. Though you usually see scallops pan-seared, grilling them adds a different dimension of flavor and a slight smokiness. When seasoned with a bit of salt, pepper, and chili flakes, they are pure gold. Check out this recipe for Grilled Scallops to learn how to do it perfectly yourself.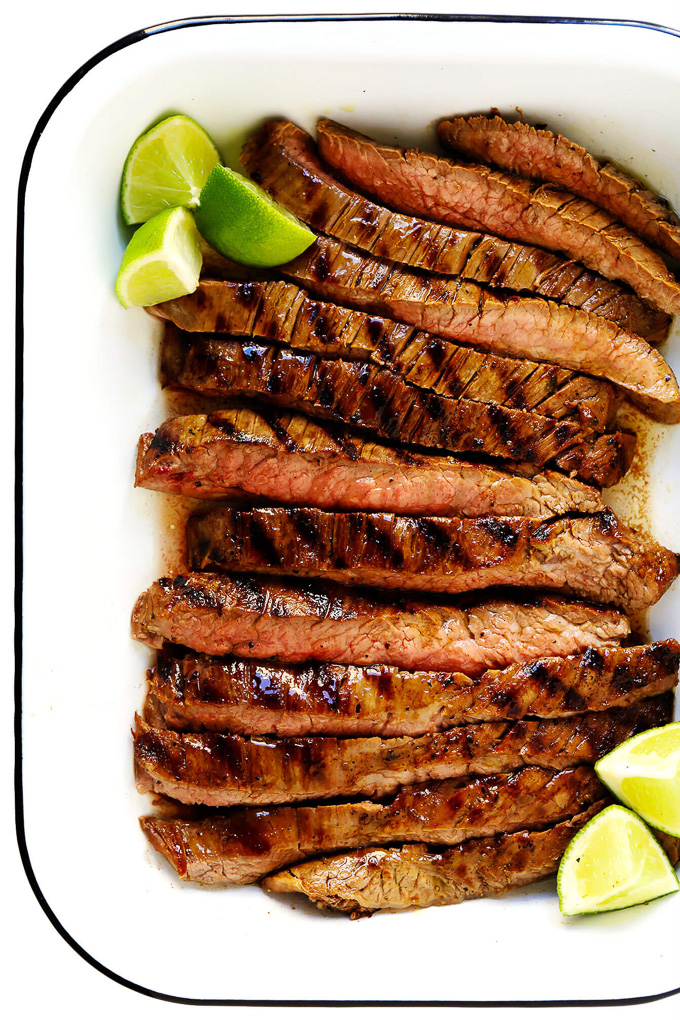 18. Grilled Meat Idea: Mexican Carne Asada
This Mexican Carne Asada recipe from Gimme Some Oven is made with a simple and flavor-packed carne asada marinade. It is easy to cook on an outdoor grill or on the stovetop and is perfect for tacos, burritos, nachos, fries and more!
19. Summer Grilling Recipe: Tandoori Chicken with Rice
This recipe for Grilled Tandoori Chicken with Indian-Style Rice from The Woks of Life is juicy and exploding with flavor. It is a perfect BBQ dinner recipe for times when you're in the mood for something spicy and exotic.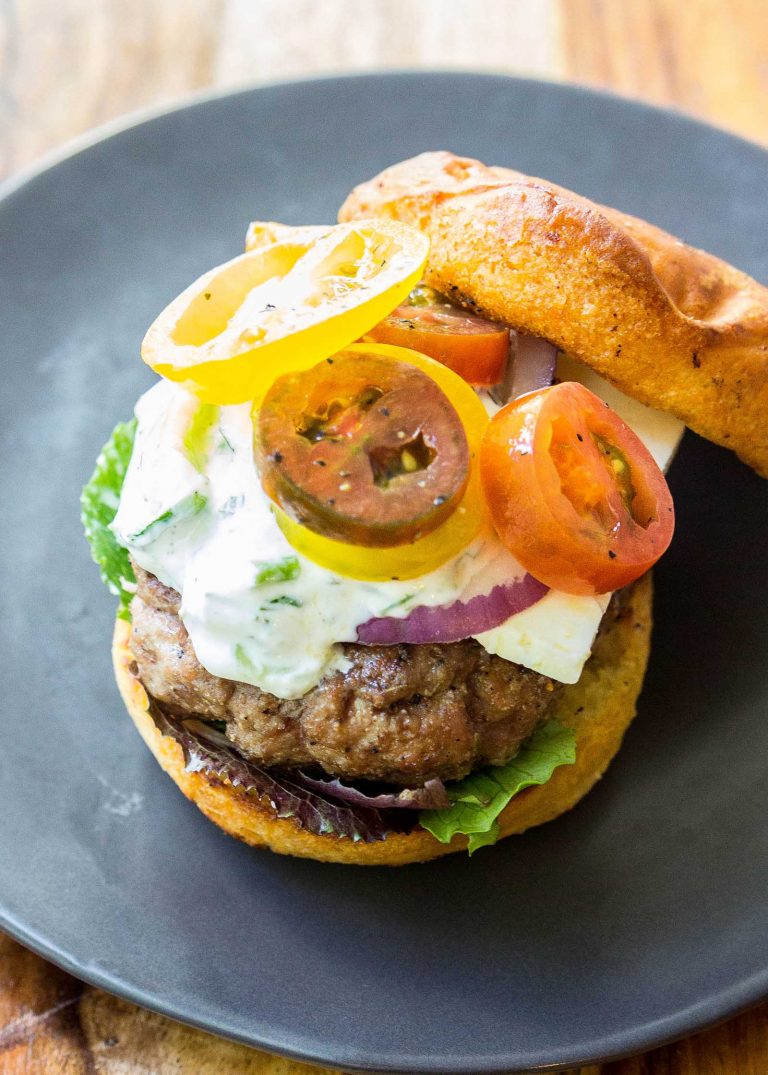 20. Easy BBQ Meat Idea: Greek Lamb Burgers
These Grilled Lamb Burgers with with Tzatziki Sauce from Simply Recipes are seasoned with Greece's most-loved flavors, including garlic, dried lemon peel and oregano. Up your burger game and be the hero of your next barbecue with these unique Mediterranean-style burgers!
What are your favorite easy BBQ meat ideas or grilling recipes? Let me know in the comments below!
This article was originally published on July 28, 2018. It has been updated throughout to include new recipes and helpful information.