Here are the best organic meat delivery services online. They send grass-fed beef, free-range poultry, wild-caught seafood, and other organic meats straight to your front door. Special deals and discounts included!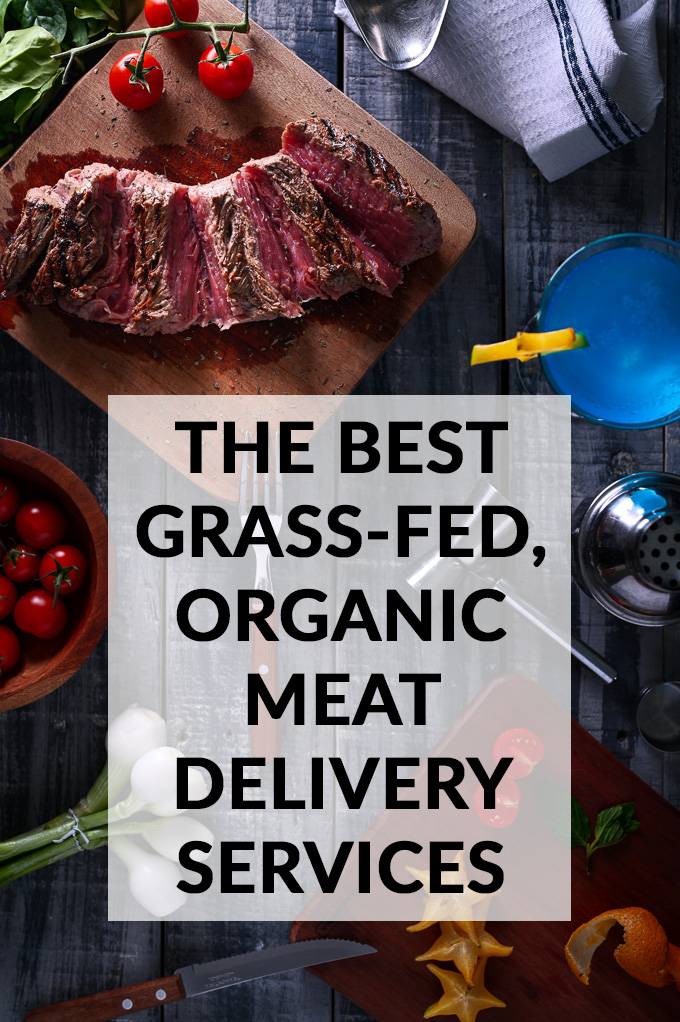 I am a huge advocate of only eating grass-fed, hormone-free, antibiotic-free and humanely-raised meat. This is because naturally-fed, organic meat is so much more healthy, ethical, sustainable and flavorful than conventional, factory-farmed meat.
However, it can be difficult to find high-quality organic meat. Even if you do have access to a reliable butcher or grocery store meat department, many people are constantly pressed for time. That means it can be very challenging to get household errands (like grocery shopping) done.
Fortunately, there are some truly amazing organic meat delivery services online. These companies sell grass-fed beef, naturally-raised chicken, sustainable seafood, and much more. You can shop from the comfort of your own home and get your meat delivered straight to your doorstep. Keep reading to learn more about my top choices!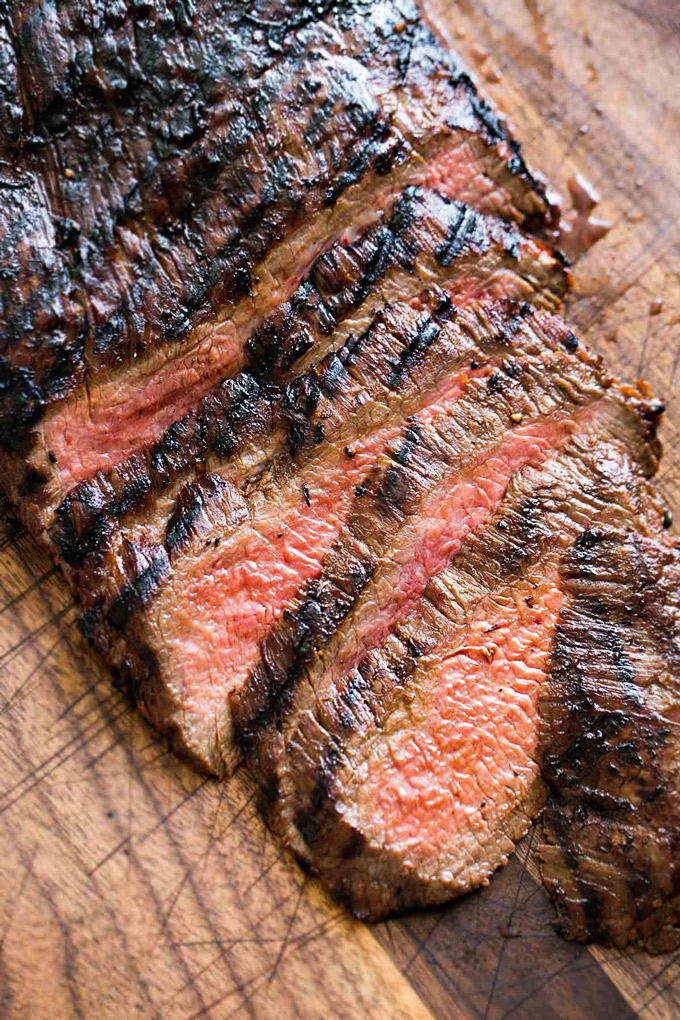 Pictured: Grilled Marinated Flank Steak from Simply Recipes
1. Grass-Fed, Organic Meat Delivery: ButcherBox
ButcherBox is a popular meat delivery service that sends organic, antibiotic-free and hormone-free cuts directly to your front door. Their meat selection includes 100% grass-fed and grass-finished beef, grass-fed and pasture-raised bison, free-range chicken, and heritage-breed pork.
In addition, ButcherBox sells wild-caught and sustainably-harvested seafood, such as Alaskan sockeye salmon, halibut, cod, lobster, sea scallops, and shrimp. They also offer pre-made foods such as grass-fed beef burger patties, wild-caught salmon burgers, and nitrate-free hot dogs.
The main reason why I love ButcherBox is because of the high quality of their meat. ButcherBox sells the cleanest, healthiest meat possible and it always tastes amazing. The meat arrives frozen and individually vacuum-packed in an insulated, eco-friendly box. The price works out to less than $6 per meal and shipping is always free!
You may pause your delivery or cancel your membership any time before your next billing date, with no hidden fees or penalties. If you're not completely satisfied with your order, they will either send you a replacement, offer you credit towards your next delivery, or give you a refund.
Based on ButcherBox's outstanding quality, affordability, reliability and convenience, it is my top choice for grass-fed and organic meat delivery. Now, here is an unbelievable deal that ButcherBox is offering right now, which you don't want to miss:
FOR A LIMITED TIME ONLY, until November 30, 2022: You will get Free Wings For Life! That means if you sign up for ButcherBox today, you will get 3 lbs of free-range, organic chicken wings for FREE in every box you receive for the entire lifetime of your membership. Click here to get this incredible offer for yourself!

Pictured: Baked Honey Mustard Salmon
2. Grass-Fed Beef & Sustainable Seafood Delivery: Good Chop
Good Chop delivers top-quality American meat and seafood to your doorstep. All of their meat and seafood is responsibly-raised and sustainably-sourced from domestic family farms and fisheries. Their cuts are completely free of any artificial ingredients, added hormones, growth stimulants, antibiotics, or preservatives.
The company works with family farmers and independent ranchers who share their concern for animal welfare and sustainable practices. These farmers and ranchers handle their animals humanely, with sufficient space, shelter, water, and food. By only sourcing meat from American farms, it reduces pollution from international transportation and also supports local economies.
Good chop offers 100% grass-fed beef from family farmers in Iowa, Nebraska, and South Dakota. They also sell poultry that is fed an entirely vegetarian diet, consisting of corn and soybean meal. Their free-roam chickens are housed in climate-controlled barns and are never caged or confined. Pork that is born and bred in the U.S. is also available for purchase. Their hogs are fed an entirely vegetarian diet without animal byproducts.
Good Chop offers seafood that is wild-caught off U.S. coasts or responsibly-raised in U.S. farms. Just like the rest of their meat selection, their seafood contains no antibiotics, additives, or coloring. All of their seafood is certified sustainable either by the Marine Stewardship Council (MSC) or the Aquaculture Stewardship Council (ASC).
You can customize each box you receive with delicious cuts of beef, chicken, pork, and seafood. You may pause or cancel your delivery at any time. Finally, if you're not 100% satisfied with your order, they will either credit your account or issue a refund.
Click here to get $100 off your first three boxes when you join Good Chop!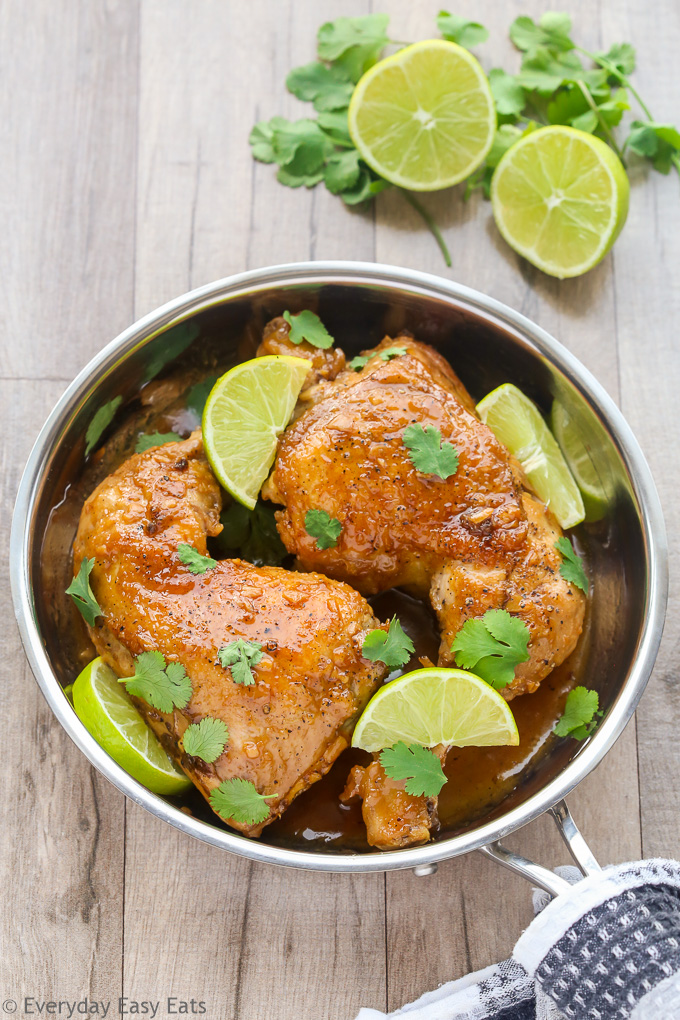 Pictured: Skillet Honey Lime Chicken
3. Grass-Fed & Pastured Meat Delivery: Farm Foods Market
Farm Foods Market is an online vendor that features hormone-free and antibiotic-free 100% grass-fed and grass-finished beef, pasture-raised chicken, pastured heritage pork, and wild-caught seafood. They also sell grass-fed bison, grass-fed lamb, heritage duck, heritage pheasant and elk.
An assortment of pre-made foods are also available for purchase. These items include grass-fed beef snack sticks, heritage pork meatballs, wild salmon burgers, smoked duck sausage links, and more.
The company sources their meat from small, non-GMO family farms and family-run butchers. You can browse through their user-friendly website to see what type of meat you would like to purchase. You may also read about each different farm that they source their meat from, to learn more about their values and practices.
All of their meat products get vacuum-sealed and are conveniently delivered to you in a reusable Styrofoam cooler. The meat is kept frozen using enough dry ice for it to last more than 12 hours after delivery. That way, it's not a problem if you're not at home when it arrives. Lastly, if your package gets delayed and/or arrives in a poor condition, they will refund your money.
Click here to get 10% off your first order at Farm Foods Market when you use the code EATS10 at checkout!

Pictured: Garlic Butter Steak & Shrimp from Café Delights
4. Organic Meat & Wild Seafood Delivery: Thrive Market
Thrive Market is an impressive online retailer that sells healthy, organic food at wholesale prices. I like to think of it like Amazon (online marketplace) meets Costco (wholesale prices) meets Whole Foods (all wholesome foods).
Thrive Market's organic meat selection includes 100% grass-fed beef, certified free-range chicken and pasture-raised pork. All of their meat is directly sourced from family-owned farms and is completely free of antibiotics and hormones. Their seafood selection includes sustainable, wild-caught seafood like fish, shrimp, sea scallops, crab and lobster.
Their meat and seafood gets delivered to you in a bundled box, which you have many different options for. For example, you can get a single-animal protein box, such as the Thrive Market Free-Range Organic Chicken Breasts Box. You may order a curated variety pack, such as the Thrive Market Meat Sampler, which contains chicken, beef, and pork. You can also customize your own meat and/or seafood box, if you would rather pick and choose items yourself.
To order anything from Thrive Market, all you have to do is sign up for a Thrive Market membership. You can cancel your membership at any time, so it is completely risk-free. If you use the link below, you will get this limited-time bonus and discount when you join:
Click here to get a free gift, up to $43 value, plus 40% off your first order when you purchase a 1-month or 1-year Thrive Market membership!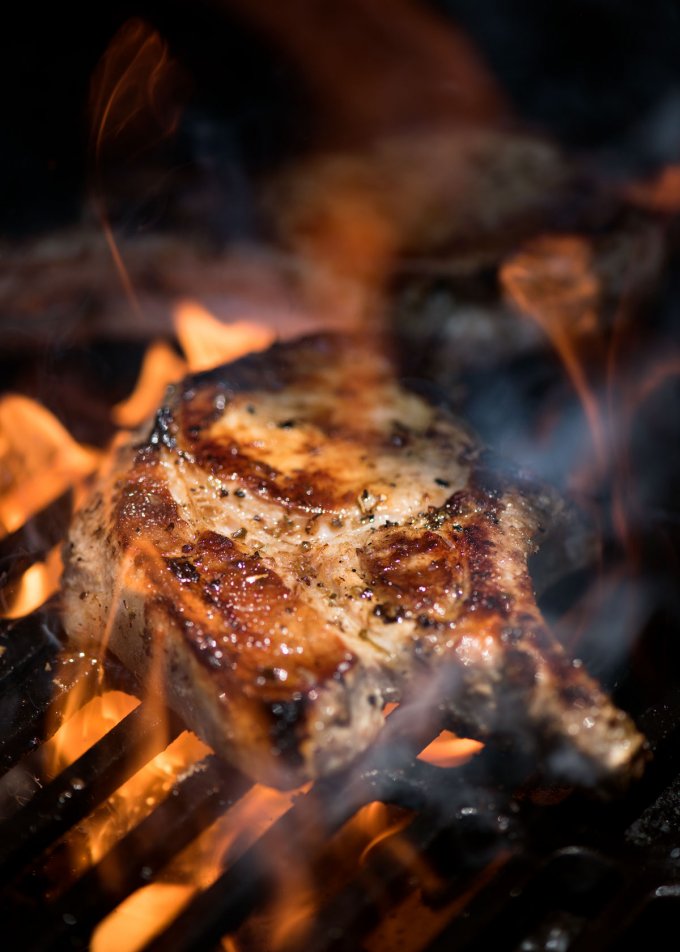 Pictured: Lemon Garlic Grilled Pork Chops from RecipeTin Eats
5. Organic Meat & Wild Seafood Delivery: Crowd Cow
Crowd Cow is another online service that delivers 100% grass-fed beef, grass-fed bison, heritage breed pork, free-range organic chicken and truly pasture-raised chicken. The company also sells wild-caught seafood, including salmon, cod, halibut, shrimp, lobster and arctic char.
All of Crowd Cow's meat is free of hormones and is raised without any unnecessary antibiotics. The company sources their meat and seafood from only ethical partners. These range from independent family farms to co-ops, who raise their animals in ways that benefit the land and environment.
Additionally, Crowd Cow offsets the carbon impact of every shipment. Each delivery box is shipped in 100% recyclable and compostable materials. You can set up a subscription, where you will save 5% on every box that gets sent to you. You can also choose to have a one-time shipment, if you do not want to commit to a subscription.
Click here to try out Crowd Cow for yourself!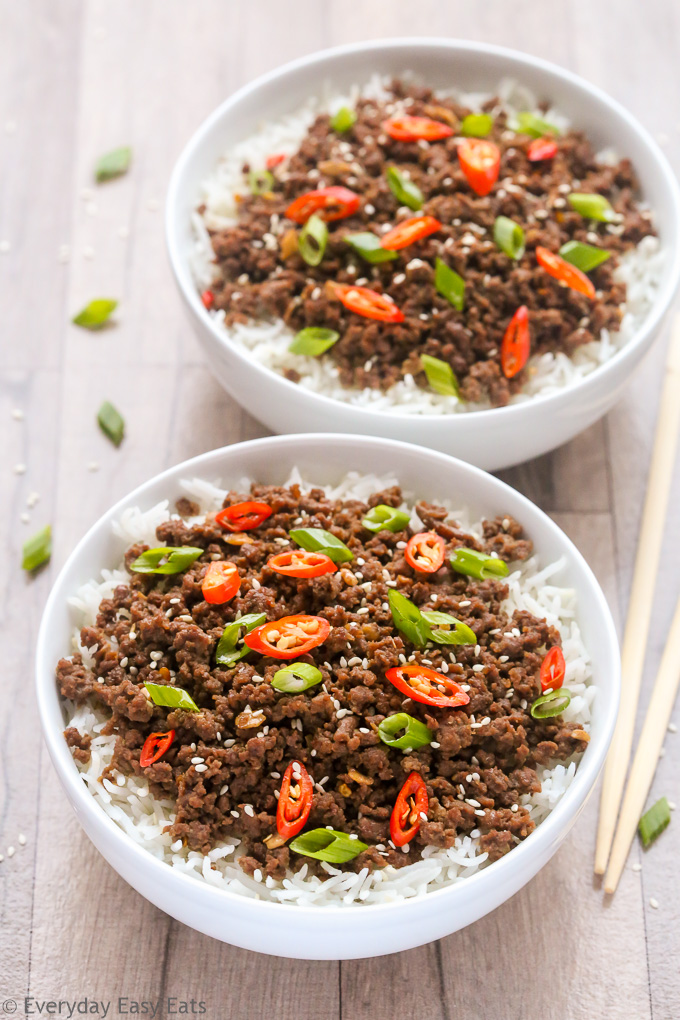 Pictured: Korean Ground Beef Bulgogi
6. Pasture-Raised, Organic Meat Delivery: Porter Road
All of Porter Road's animals are 100% pasture-raised – never in a concentrated animal feed operation or feedlot. The company sources all of their meat directly from select, sustainable, family-owned and operated farms in Kentucky, Tennessee and Pennsylvania.
Porter Road vets their partners against the highest possible standards. They regularly visit their farms to make sure the animals are ethically-raised outside and given proper attention. All of their animals are fed vegetarian, non-GMO feed and are not given any added hormones or antibiotics.
Porter Road offers a variety of cuts of beef, chicken, pork and lamb. Every piece of meat is meticulously hand-cut at their facility in Kentucky, to ensure nothing good ever goes to waste. You can order a curated butcher's choice box or build your own customized box.
Click here to get free shipping on orders over $100 at Porter Road!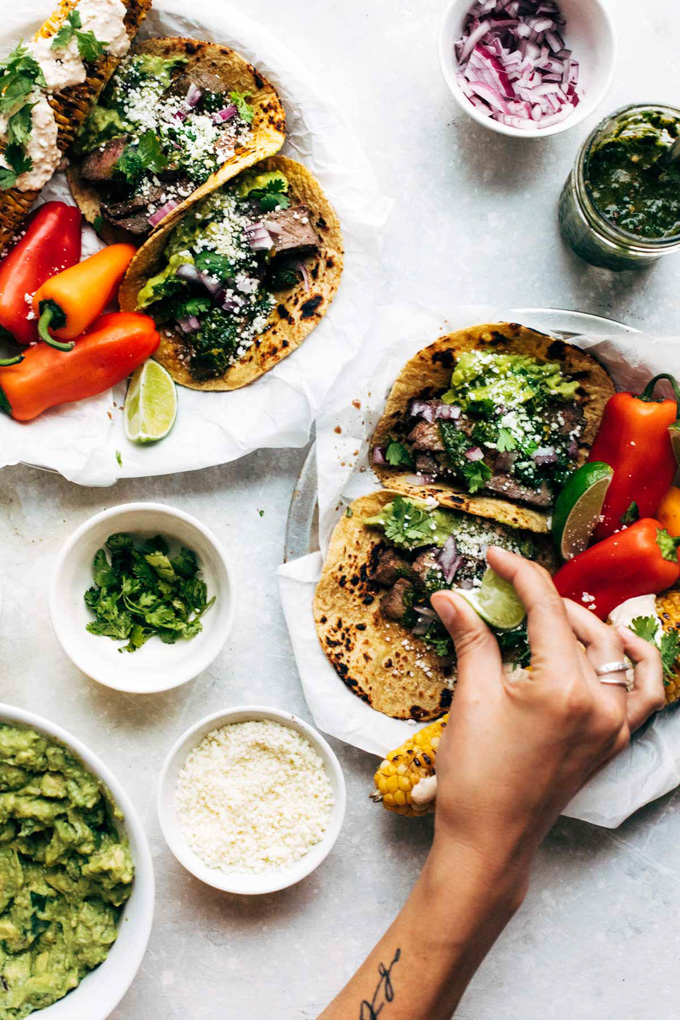 Pictured: Chimichurri Steak Tacos from Pinch of Yum
U.S. Wellness Meats is an online purveyor that specializes in all-natural, farm-fresh, whole foods that are raised the way nature intended. The company believes in going back to the original roots of farming. For this reason, all of their products are sourced from small, sustainable family farms. Doing so helps to eliminate big-business farming practices that have a harmful impact on animals, the environment, and our health.
U.S. Wellness Meats sells grass-fed beef, bison, and lamb. They also offer pasture-raised heritage pork, certified sustainable and wild-harvested seafood, and pastured poultry. Their animals are never given GMO feed, antibiotics, or growth hormones. Other specialty items that are available for purchase include raw honey, grass-fed butter, cheese, bone broth, marrow bones, and gelatin.
The company also sells a number of ready-to-eat meals. These include pre-cooked items such as barbecue pulled pork, lamb baby back ribs, and slow-roasted shredded beef. In addition, they offer keto-friendly, sugar-free meats such as bacon, meatballs, jerky, and sausage.
Click here check out U.S. Wellness Meats!
Final Thoughts
To conclude, although grass-fed and organic meat can be hard to find, there truly are top-notch meat delivery services available. You just have to do a bit of research and then sign up for one that suits your preferences. This will enable you to have easy access to high-quality meat, no matter where you live!
More Healthy Delivery Services
If you're interested in learning more about other at-home delivery services, check out these other helpful articles:
Have you tried any of these online delivery services for grass-fed, organic meat and wild-caught, sustainable seafood? Let me know in the comments below!
This article was originally published in August 2018. It has been updated throughout to include new delivery services, helpful information, and exclusive offers.