Finding high-quality, organic and healthy meat isn't always easy. To help you out, I have rounded-up the best sources for delivery of grass-fed, organic meat and wild caught, sustainable seafood. Best of all, you order everything online and it gets delivered straight to your front door!
I am a big believer in using grass-fed, no-hormones-added and ethically-raised meat instead of conventional, factory-farmed meat. It's more humane, sustainable and it's higher in quality – which means its healthier to consume and also tastes better.
However, it can be difficult to find organic, grass-fed meat and/or wild-caught, sustainable seafood. Even if you do have access to a reliable butcher or a good grocery store meat department, many people are constantly pressed for time and struggle to get household errands (like grocery shopping) done.
Fortunately, there are a few amazing online meat delivery services that sell healthy, grass-fed meat, sustainable seafood and more. You can shop from the comfort of your own home and get your food delivered straight to your front door. Keep reading to learn more about my top choices!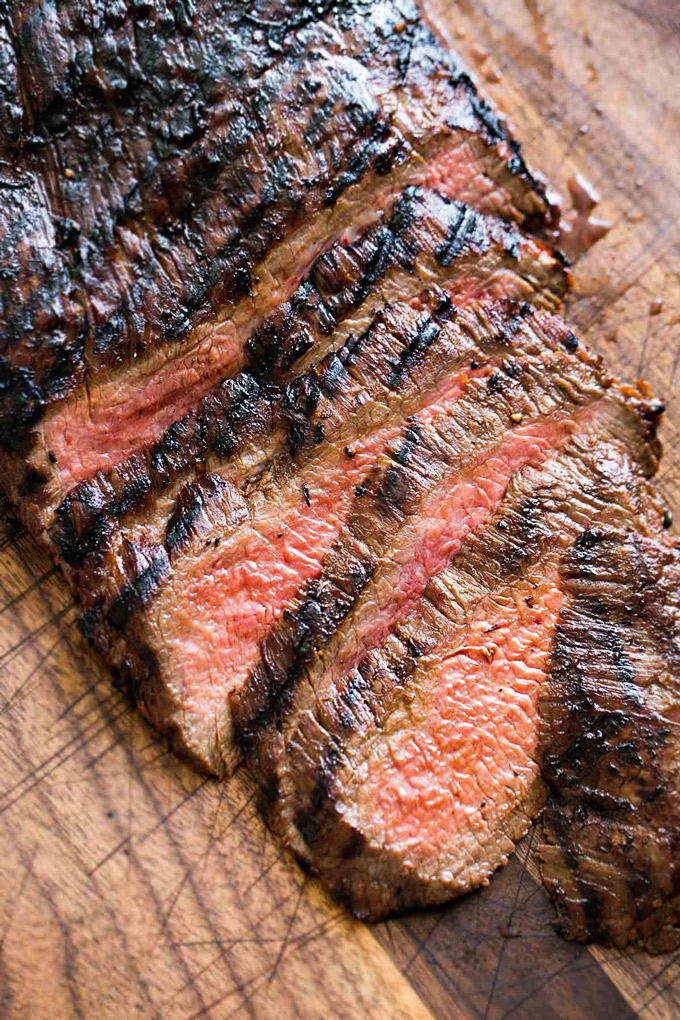 Pictured above: Grilled Marinated Flank Steak from Simply Recipes
1. Grass-Fed, Organic Meat Delivery: ButcherBox
ButcherBox is a popular monthly meat delivery service that delivers organic, antibiotic- and hormone-free cuts directly to your door. Their meat selection includes 100% grass-fed and grass-finished beef, free-range chicken, heritage breed pork, and wild-caught Alaskan sockeye salmon.
The main reason why I love ButcherBox is because of the high quality of their meat. ButcherBox's meat always tastes DELICIOUS and all of their animals are ethically-raised and naturally-fed.
The meat arrives frozen and individually vacuum-packed in an insulated, eco-friendly box. The price works out to less than $6 per meal and the shipping is always free!
To see how ButcherBox actually arrives to your house, check out this 1-minute video:
If you are having a hard time finding grass-fed, organic meat near you, then ButcherBox is your answer! Now, here is a special deal that ButcherBox is offering exclusively for my readers:
If you sign up for your first box today, you will get $20 off, plus an extra 2 lbs of ground beef, and 2 packs of bacon for FREE! Click here to redeem!
In case you're wondering, ButcherBox's bacon is uncured, applewood-smoked, and free of added sugar and nitrates. It is also Keto, Paleo, and Whole30-approved. If you're looking for high-quality bacon, you've found it. 🙂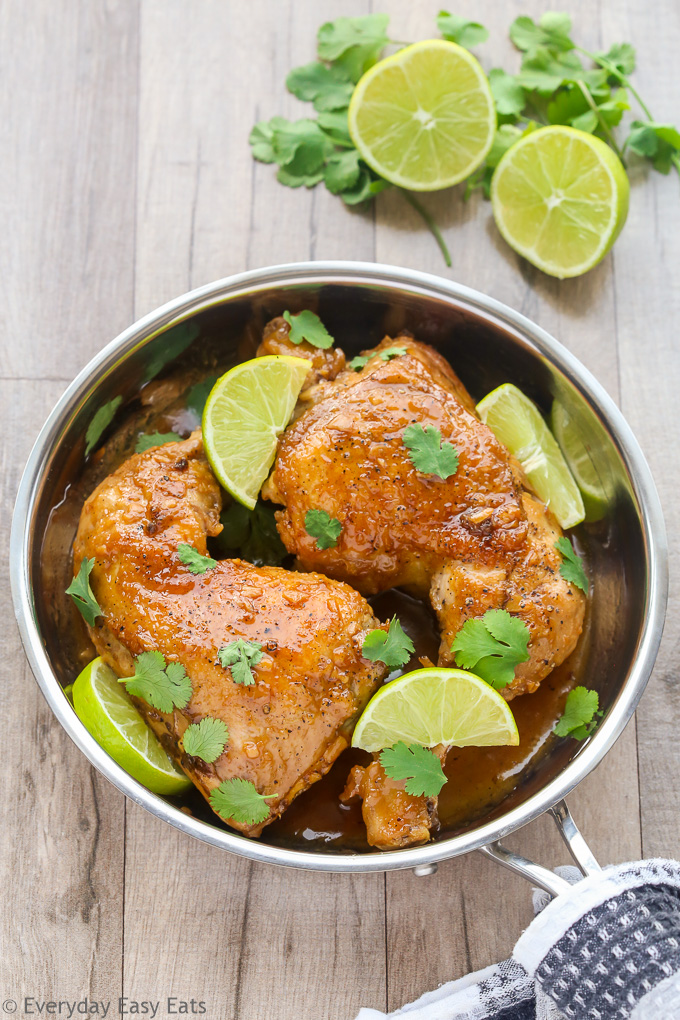 Pictured above: Honey Lime Chicken
2. Grass-Fed Meat and Wild Seafood Delivery: U.S. Wellness Meats
If you would rather skip the monthly subscription and shop à la carte, U.S. Wellness Meats is a great alternative to ButcherBox. U.S. Wellness Meats is an online vendor that sells grass-fed, humanely-raised beef, lamb, bison, free-range poultry, wild-caught seafood, plus more.
All of the products from U.S. Wellness Meats are sourced from sustainable and small family farms. Other items that are available for purchase from the online store include raw honey, butter, bone broth and organic produce.
To quote their website: "Our animals don't need antibiotics or growth hormones to grow big and healthy. Our land doesn't need pesticides or artificial irrigation systems to develop rich, fertile biodiversity."
Click here check out U.S. Wellness Meats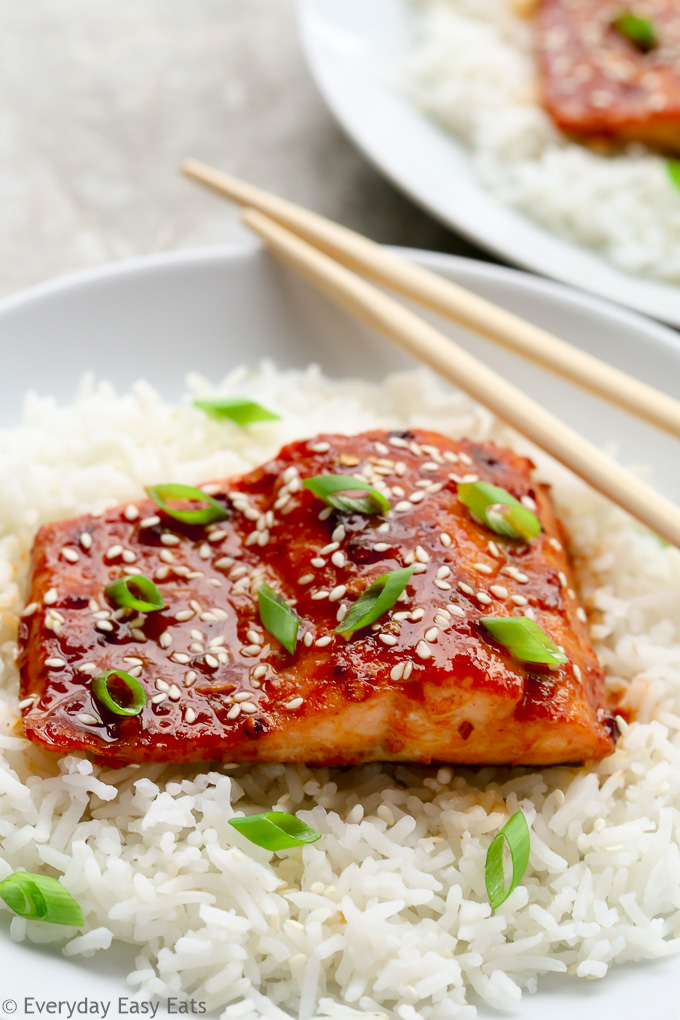 Pictured above: Honey Sriracha Salmon
3. Organic Meat and Sustainable Seafood Delivery: Thrive Market
Thrive Market is an online retailer that sells healthy, organic food at wholesale prices. I like to think of it like Amazon (online retailer) meets Costco (wholesale prices) meets Whole Foods (all wholesome, junk-free foods).
Thrive Market's meat and seafood delivery options include several bundled boxes, which feature 100% grass-fed beef, certified free-range and organic chicken, pasture-raised pork (all from family-owned farms and free of antibiotics and hormones) and both wild-caught and sustainably-farmed seafood like fish, shrimp, and scallops.
You can select single-animal protein boxes, like the Thrive Market Free-Range Organic Chicken Breasts Box, or variety packs, like the Thrive Market Meat Sampler (which contains chicken, beef, and pork), and you can also customize your own meat and/or seafood box if you prefer to pick and choose items.
Click here to get a free 30-day Thrive Market trial membership! (You can cancel your membership anytime, so it is risk-free.)

Pictured above: Zucchini Noodles with Garlic Shrimp
4. Wild-Caught, Sustainable Seafood Delivery: Vital Choice
If you struggle to find sustainable seafood at your grocery store, Vital Choice is a fantastic option. Vital Choice is an online retailer that sells wild-caught, sustainably-harvested seafood, like Alaskan salmon and northwest Pacific halibut, tuna, shrimp, and lobster. You will find some of the best seafood money can buy, and they have an outstanding mail order system.
The owners and executive staff at Vital Choice have decades of experience as professional fishermen. Their seafood is certified sustainable either by the Marine Stewardship Council (MSC), the State of Alaska or Monterey Bay Aquarium's SeafoodWatch program.
Their seafood is frozen at peak freshness and gets delivered right to your door. And if you're not satisfied for any reason, they will replace your product or refund your money.
For clean, sustainable seafood, I recommend Vital Choice. And of course, I have a special deal just for my readers:
Click here to get 10% off your first order at Vital Choice with the discount code VCAF10!
In summary, although grass-fed, organic, and sustainable animal protein can be hard to find, there are top-notch, reliable, and affordable meat delivery services out there. By educating yourself about them and signing up for one that suits your preferences, you can have easy access to healthy, high quality meat, no matter where you live!
Do you prefer buying organic, grass-fed meat and sustainable seafood too? Let me know in the comments below!
More Product and Service Recommendation Articles: