This easy Rolo Cookies recipe makes rich, soft chocolate cookies stuffed with Rolo candies. It is the BEST cookie recipe for the holidays, Christmas, and Valentine's day! Keep reading to learn how to make homemade chocolate rolo cookies with this simple recipe.
Rolo Cookies: The Best Cookies Ever
These little sweet treats are such a favorite among family and friends, and are loved by both children and adults alike. On the outside they look like ordinary chocolate cookies, but inside there is a chocolate caramel surprise that everyone is going to love!
If you're a regular reader of my blog, you know that I generally like to keep things as healthy as possible. However, I've said before that pleasure and health go hand in hand. Healthy eating can definitely include partaking in a reasonable amount of desserts and calories. So this is one of those recipes for times when you feel like indulging. Portion size and frequency are important concepts to keep in mind, so enjoy recipes like this one in moderation.
This recipe begins by whipping up a simple chocolate cookie dough, which gets wrapped around Rolo candies into cookie dough balls. I like to roll the cookie dough balls in a mixture of sugar and chopped pecans to make them look prettier and more presentable. However, if you want to skip this step (in case of a nut allergy or otherwise), that is totally fine.
While the cookies are baking in the oven, the dough balls spread and the Rolos melt and create a chocolate caramel center that is absolutely divine. The cookies are best served fresh and warm from the oven, while the caramel center is still ooey and gooey.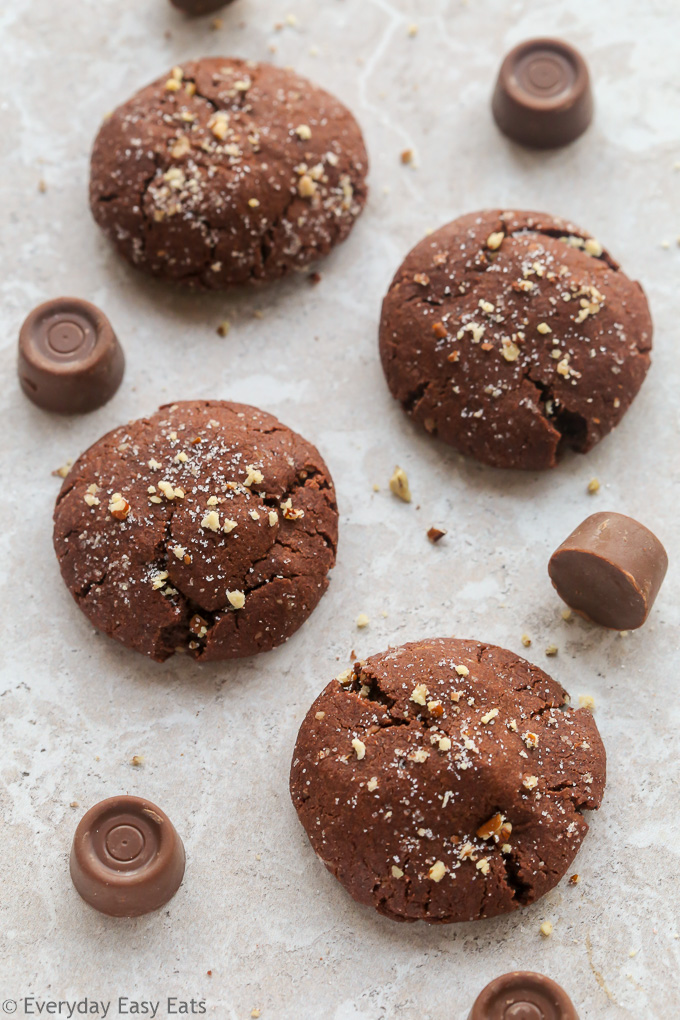 Rolo Cookie Storage and Make-Ahead Tips
These Rolo Cookies will stay fresh stored at room temperature in an airtight container for up to a week. If you want to make these cookies in advance, you can freeze the cookies after baking them and they will be good for up to three months.
Unbaked cookie dough balls also freeze well and will last up to three months. Bake the dough balls in their frozen state for an extra minute or two in the oven (do not thaw them prior to baking).
Another good make-ahead tip is to freeze the unbaked cookie dough balls, which will last up to three months in your freezer. To do this, roll your cookie dough into balls and then place them on a baking sheet. Place the baking sheet in the fridge for 1 hour to chill (this solidifies them so that they don't stick together in the freezer).
Then put the dough balls in a ziplock bag and store it in your freezer. When you are ready to eat them, just remove the cookie dough balls from the freezer and allow them to thaw on the counter for 20 minutes before baking. By preparing and freezing your dough in advance, you can enjoy freshly-baked cookies on the spot whenever you want!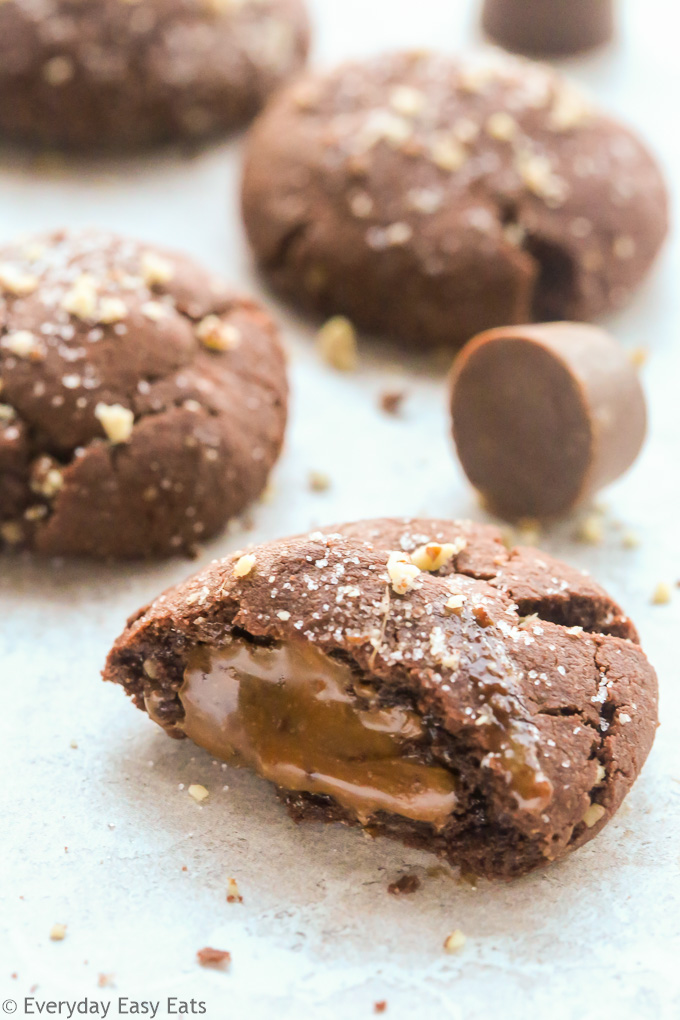 More Easy Cookie Recipes to Try
Craving more cookie inspiration? Here are some more recipes on the blog:
For this Rolo Cookies Recipe, I Recommend:
Here are some kitchen tools I suggest using to ensure this recipe turns out perfect:
Hand Mixer – For a simple baking job like this, a small hand-held mixer is really all you need. It costs a fraction of the price of a traditional stand mixer and it works great for making cookies and cakes.
Mixing Bowls – This is a 3-piece set that is great for combining ingredients. I love how easy they are to store and clean.
If you make this easy Rolo Cookies recipe, let me know! Leave a comment with a star rating ★ below, because I love hearing from you! ♡
Rolo Cookies
This easy Rolo Cookies recipe makes rich, fudgy chocolate cookies stuffed with Rolo candies. If you love chocolate and caramel, this is the cookie recipe for you!
Instructions
Preheat oven to 375ºF (190ºC). Line two baking sheets with parchment paper.

In a large bowl, using a hand-held mixer or a stand mixer with paddle attachment, cream together the butter, granulated sugar, and brown sugar until combined. Beat in the egg and vanilla until smooth.

In a separate bowl, combine the flour, cocoa powder, baking soda, and salt.

Add the dry ingredients to the wet ingredients and slowly mix until combined.

Measure about 1 tablespoon of dough and wrap around a Rolo candy into a ball shape. Repeat with remaining dough and Rolo candies.

In a small bowl, combine the granulated sugar and crushed pecans. Roll each dough ball in the mixture until coated on all sides. Place dough balls on the prepared baking sheets.

Bake for 8 - 10 minutes until set and slightly cracked. Allow cookies to cool on the tray for 5 minutes, then transfer to a wire rack to cool slightly before serving.
Notes
These Rolo Cookies will stay fresh stored at room temperature in an airtight container for up to a week. You can also freeze the cookies after baking them and they will be good for up to three months.
Nutrition
Nutrition Facts
Rolo Cookies
Amount per Serving
% Daily Value*
* Percent Daily Values are based on a 2000 calorie diet.
© Everyday Easy Eats. All photos and content are copyright protected. Please do not use any of my recipes, text or images without prior permission.