This nutritious Chocolate Protein Shake recipe is made with clean, healthy ingredients like natural cocoa powder, milk, natural protein powder, banana, ice, vanilla, and honey. It makes an ideal post-workout shake or breakfast smoothie, because it is refined sugar-free and is so simple to make. Learn how to make a homemade protein shake with this quick and easy recipe!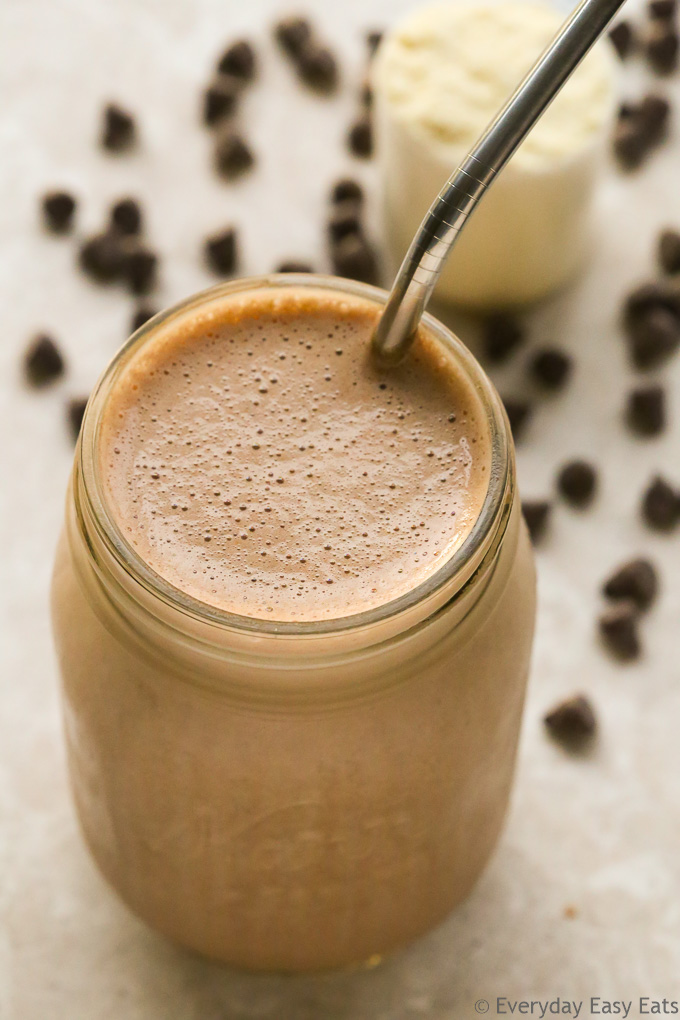 You are going to love this guilt-free chocolate smoothie recipe, because it is so effortless and is chock-full of nourishing ingredients. It makes a portable, protein-packed breakfast that will jump-start your day and will keep you feeling satiated all morning. It is also an ideal post-workout shake that will refuel your energy and help your muscles to heal after exercising.
Are Protein Shakes Good For You?
Yes! Protein shake are a great choice for breakfast, a snack, or meal replacement. All adults need around 46-56 grams of protein each day and protein shakes are a convenient way to meet that requirement. The best protein shake recipes, in my opinion, rely on protein powder to provide protein. Protein powder has many benefits, including the following:
Aids with weight loss
Repairs muscles from exercise
Functions as a appetite suppressant
Boosts metabolism
Helps build muscle and strength
It is important to read the ingredient list of any packaged products you add to your shakes, as some may have unhealthy additives. For that reason, I always recommend using natural, junk-free protein powder and unrefined sweeteners, like raw honey, in your protein shakes.
Don't miss out! Click here to get exclusive discounts on my favorite healthy products and resources!
Is it Better to Drink a Protein Shake Before or After a Workout?
A number of studies show that protein helps your muscles to repair and rebuild after exercise. For that reason, many people drink protein shakes after their workouts to aid this process.
However, recent research suggests the amount of protein you consume per day is more important than when you consume it for gaining muscle mass. Therefore, you can choose which time you prefer or is most convenient for you. Personally, I always opt to have a protein shake after hitting the gym, but that's just what works for me.
Are Protein Shakes Good for Weight Loss?
Absolutely! As long as protein shakes are made with clean, junk-free ingredients, they are superb for weight loss. Protein shakes are a rich source of protein (hence the name), which is an important nutrient for weight loss. As I stated earlier, getting an adequate amount of protein in your diet boosts your metabolism, reduces your appetite, and also helps you lose body fat without losing muscle.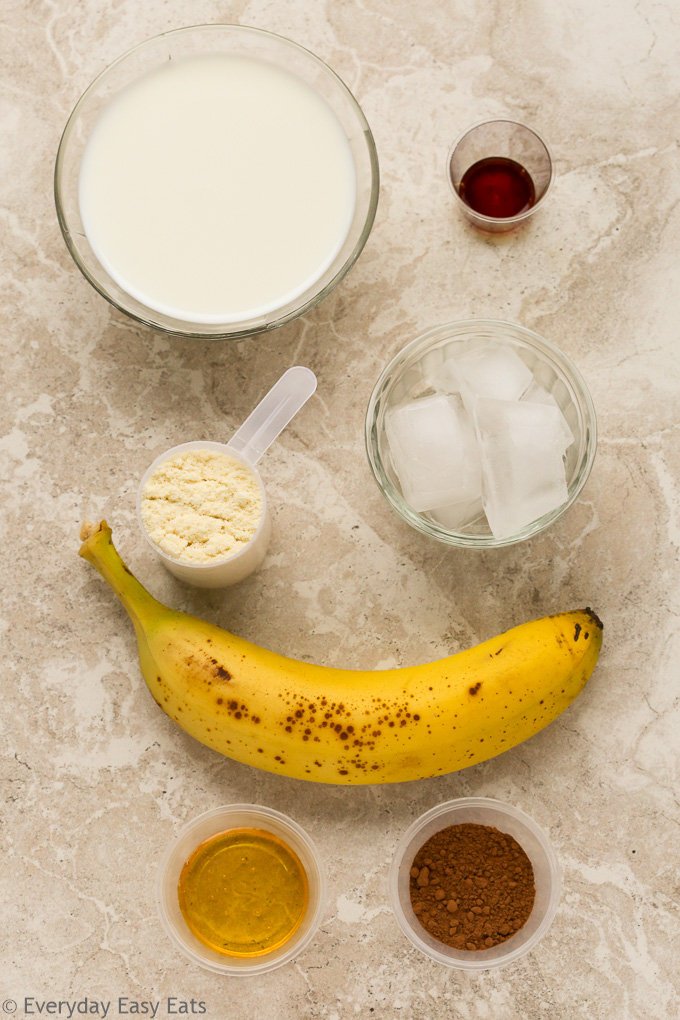 Chocolate Protein Shake Ingredients
Alright, so let's talk ingredients. To make this homemade chocolate protein shake, you will need:
Milk: This serves as the liquid base for the smoothie. I usually use low-fat dairy milk.
Protein Powder: This majorly boosts the protein content of your smoothie. If you can, use an organic and natural protein powder. Select one that is free of any additives, fillers, artificial colors, flavors, preservatives or sweeteners. I love and use this one from Thrive Market.
Banana: This gives your smoothie a luscious, creamy consistency. It is also a great source of potassium and dietary fiber.
Cocoa powder: This adds rich, natural chocolate flavor. Be sure to use unsweetened, natural cocoa powder in this recipe.
Honey: This adds natural and unrefined sweetness. Not all packaged honey is created equal, so I recommend using one that is 100% pure, raw, and unfiltered for optimal health benefits. I use this one from Thrive Market.
Ice: This helps thicken the shake. However, if I don't have any ice in the freezer, I just make my protein shake without it.
Vanilla extract: This adds just a hint of warm, sweet vanilla flavor. Make sure you use the real, natural stuff and not anything artificial.
The ingredients I've linked to above can be ordered from Thrive Market, which is an amazing online store that sells healthy, organic food and natural products at 25-50% below retail prices. I like to think of it like Amazon (online retailer) meets Costco (low, wholesale prices) meets Whole Foods (all nutritious, junk-free foods).
If you're interested in purchasing anything from them, you will need to sign up for a Thrive Market membership. However, if you're a reader of my website, you will get an exclusive bonus when you join:
Click here to get a FREE gift, up to $22 value, when you purchase a 1-month or 1-year risk-free Thrive Market membership!
How to Make a Chocolate Protein Shake
To make this homemade chocolate protein shake recipe, simply:
Add all of the ingredients – milk, banana, ice, honey, protein powder, cocoa powder, and vanilla – to a blender.
Blend until smooth and creamy. Serve immediately.
(Exact ingredient amounts are included in the full recipe below, as always.)
Pro Tip: When adding your ingredients to your blender, always add the liquid (in this case, the milk) first near the blades. Doing this will help your blender to run a bit more smoothly whenever you are making a shake.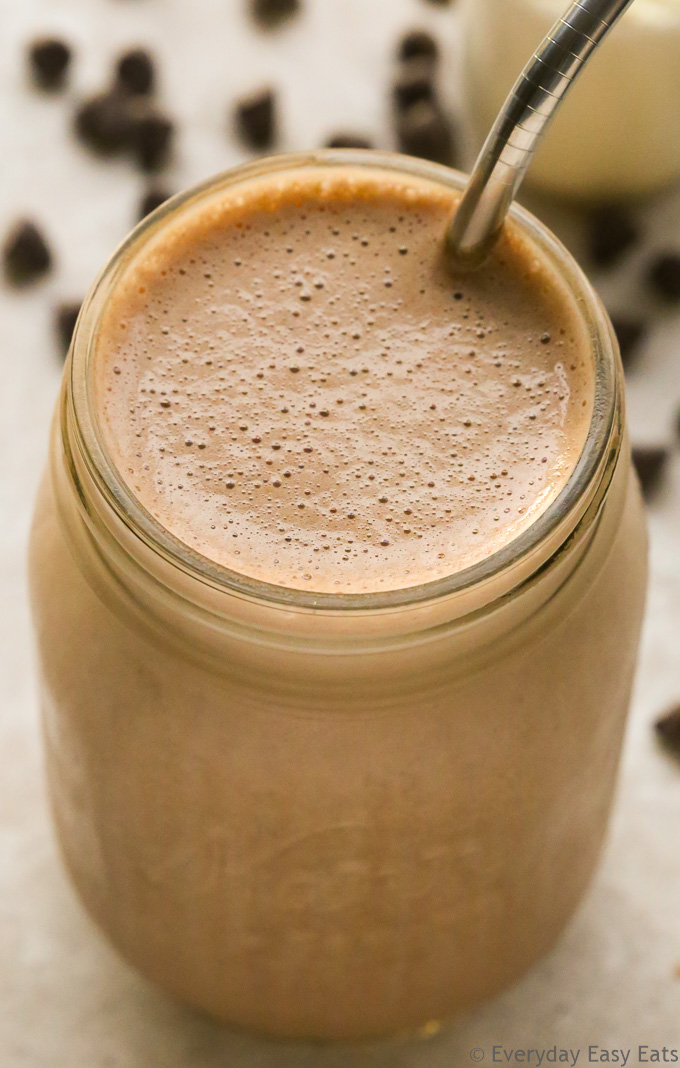 How to Make This Recipe with Chocolate Protein Powder
If you want to use chocolate protein powder instead of plain protein powder in this recipe, you definitely can. I recommend using a high-quality chocolate protein powder that is naturally flavored and sweetened, like this one from Thrive Market.
To make your shake, simply make the recipe as written below (using a scoop of chocolate protein powder instead of unflavored protein powder), but omit the cocoa powder and honey. If your protein shake is not sweet enough after you've blended it, then feel free to sweeten it to taste with honey or another natural sweetener.
Possible Recipe Variations
This homemade protein shake recipe is very flexible with regards to variations. For example, feel free to…
Use non-dairy milk: I generally use dairy milk when making smoothies, but you can use any kind of milk you like. Unsweetened almond, coconut, soy, hemp, oat, or any other type of plant-based milk are all excellent options.
Add some spice: A pinch of cinnamon or nutmeg tastes great in smoothies.
Swap in a different sweetener: Instead of honey, you can substitute another natural and unrefined sweetener, such as maple syrup or agave nectar. You can also throw in one or two pitted dates instead of a liquid sweetener.
Add some collagen: Stirring collagen peptides into shakes boosts their protein content even further. Collagen is also known to improve the condition of skin, hair, nails, joints, ligaments, and is great for gut health. I recommend using one that is all-natural, unflavored, and unsweetened. I use this one from Thrive Market.
Those are just a few suggestions, so feel free to experiment with whatever ingredient swaps or additions that you would like. 🙂
More Protein Shake Recipes to Try
Craving more homemade protein shake inspiration? Here are some of my favorites on blog:
The Most Convenient Way to Make Protein Shakes
If having a morning smoothie or protein shake is a part of your regular breakfast routine, I highly recommend checking out SmoothieBox. SmoothieBox is a monthly smoothie kit delivery service that is organic, nutrient-dense and free of added sugars.
SmoothieBox's Super Smoothies are packed with the balanced macronutrients you need to fuel your busy day and will keep you feeling full and energetic for hours. Each box comes with 20 smoothie packs that are filled with frozen fruits and vegetables, nuts, and optional grass-fed collagen protein powder. Each shake is ready in less than 3 minutes and tastes absolutely delicious! The cost is less than $2.50 per serving and shipping is always FREE.
You can choose during checkout if you wish to have a monthly subscription or a one-time order and you may customize your box with only the flavors you want. Your SmoothieBox should arrive within a week after you place your order (in a 100% recyclable cooler) and you can cancel your subscription at any time, so there is no risk. In addition, my readers get a discount on their order using the link and code below:
Click here to get $15 off your first SmoothieBox with the code EASYEATS!
If you make this Chocolate Protein Shake recipe, let me know! Leave a comment with a star rating ★ below, because I love hearing from you! ♡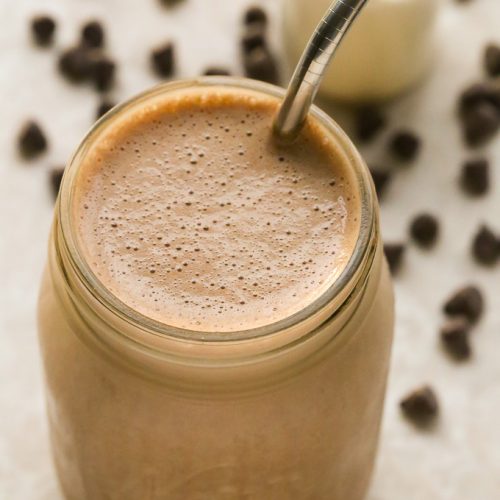 Chocolate Protein Shake
This Chocolate Protein Shake is perfect for both weight loss and muscle gain. Learn how to make a healthy homemade protein shake with this easy recipe!
Print
Pin
Rate
Instructions
Add all ingredients to a blender in the order listed.

Blend until smooth and serve immediately.
Notes
For easy blending, add the milk first near the blades when adding the ingredients to your blender.
Chocolate protein powder can be substituted for the plain protein powder. If you're going to do that though, omit the cocoa powder and honey from the recipe.
Nutrition
Calories:
267
kcal
|
Carbohydrates:
49
g
|
Protein:
18
g
|
Fat:
2
g
|
Saturated Fat:
1
g
|
Polyunsaturated Fat:
1
g
|
Monounsaturated Fat:
1
g
|
Trans Fat:
1
g
|
Cholesterol:
8
mg
|
Sodium:
83
mg
|
Potassium:
544
mg
|
Fiber:
4
g
|
Sugar:
39
g
|
Vitamin A:
269
IU
|
Vitamin C:
5
mg
|
Calcium:
160
mg
|
Iron:
2
mg
Craving More?
Join my email list and you will get a copy of my cookbook for FREE! Sign up here!
© Everyday Easy Eats. All photos and content are copyright protected. Please do not use any of my recipes, text or images without prior permission.