Finding clean, high-quality wine online isn't always easy. To help you out, I have rounded-up the best natural, biodynamic, sustainable and organic wine delivery services online in 2021. In this article, I will discuss my top choices, along with some exclusive deals and discounts!
Did you know that most wines on the market are highly processed and contain harmful chemicals and additives? These additives are what actually cause hangovers, headaches, and brain fog – NOT the wine itself.
In fact, there are 76 chemicals and additives approved by the FDA for use in winemaking. These chemicals and additives are used to improve the flavor, color, and texture of the wine being produced. This is done to mask the low-quality ingredients and winemaking techniques being used.
So how do you still have your wine without the negative side effects? Simple: Switch to low alcohol, organic, biodynamic or natural wine. It is truly the ideal alcohol choice to maximize the health benefits of wine and minimize any unwanted effects.
However, it can be difficult to find clean, healthy and additive-free wine. Even if you do have access to a reliable local wine shop or grocery store, there is good chance that you are constantly short on time. This makes it very difficult to get common errands (like shopping) done.
Fortunately, there are a few amazing online wine stores that sell organic, biodynamic, sustainable and/or natural wines. You can shop from the comfort of your own home and get your wine delivered straight to your front door. Keep reading to learn more about my top choices!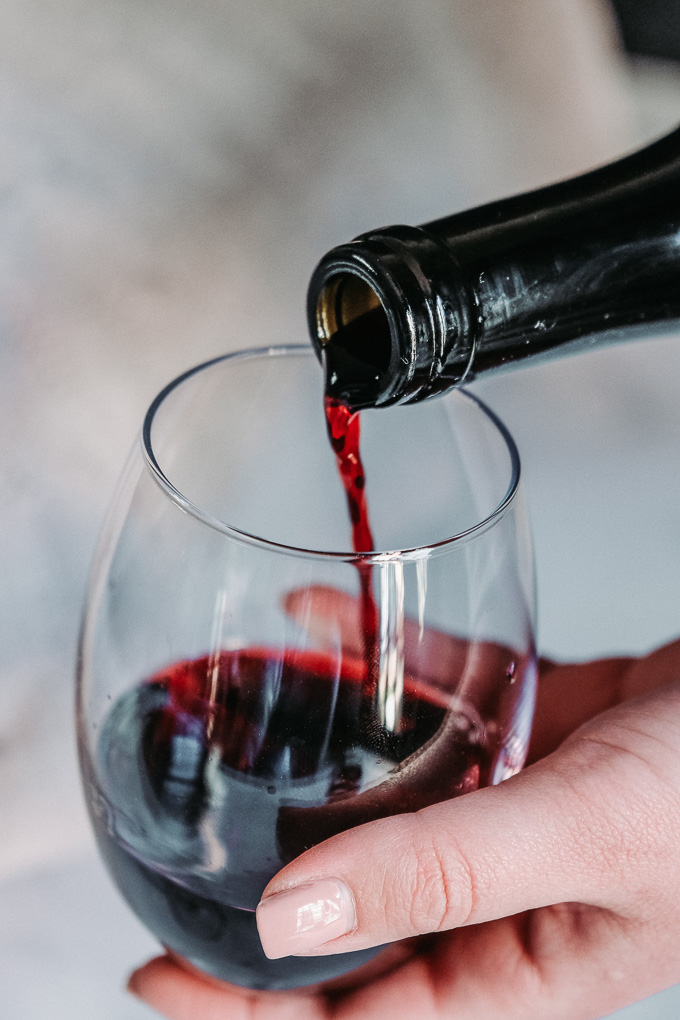 1. Natural, Organic Wine Delivery: Dry Farm Wines
The best place I've found to buy natural wines online is Dry Farm Wines. Dry Farm Wines is a health-focused, lab-tested wine club. It curates the world's best organic, sustainable and natural wines and sends them straight to your doorstep.
All of their wines are free of additives, preservatives, GMO fruit, and commercial yeast. Their wines contain less than 1 g/L of sugar, so they are statistically sugar-free. This makes their wines keto-friendly and Whole30-compliant. In addition, Dry Farm Wines lab tests every wine they import. This meticulous testing ensures that the alcohol content of each wine is 12.5% or less.
Dry Farm Wines has outstanding quality, reliability and convenience. For that reason, it is my top choice for natural and organic wine delivery. You can cancel your membership anytime, so it's risk-free. If you use the link below, you will get an incredible deal that Dry Farm Wines is offering just for my readers:
Click here to get your first bottle of wine for just 1 penny (seriously!)
2. Biodynamic, Organic Wine Delivery: Thrive Market
Thrive Market is an incredible online store that sells healthy, organic food and natural products at 25-50% below retail prices. Amazing, right?! I like to think of it like Amazon (online retailer) meets Costco (low, wholesale prices) meets Whole Foods (all wholesome, junk-free foods).
Thrive Market's wines are made using organic, biodynamic or sustainably-farmed grapes, with no added sugar or sweeteners. All of their wines are sourced from small and mid-size producers and are very affordable (they start at $10.99 per bottle).
To order anything from Thrive Market, you will need to sign up for a Thrive Market membership. And if you use the link below, you will get an exclusive bonus when you join:
Click here to get a FREE gift, up to $22 value, when you purchase a 1-month or 1-year risk-free Thrive Market membership!
3. Organic & Natural Wine Delivery: Sun Basket
Sun Basket is a meal kit delivery service that sends fresh and organic pre-measured ingredients with corresponding recipes right to your front door. Recently, Sun Basket started adding natural wines as an add-on.
Sun Basket's wines are made with organic or biodynamically-farmed and hand-picked grapes. They are also additive-free, fermented with natural yeasts, and have low or no sulfites.
There's no risk or commitment, because you can skip a delivery or cancel anytime. In addition, Sun Basket offers something called a "100% Mouthwatering Guarantee". This means if you're not completely satisfied, you will get all of your money back within 7 days of delivery. Finally, here is an amazing deal that Sun Basket is offering right now, which you don't want to miss:
Click here to get $90 off plus 4 FREE gifts at Sun Basket!
After reading this article, I hope you've learned that there truly are reputable organic wine delivery services out there. You just have to do some research and then sign up for one that suits your preferences. This will enable you to have easy access to clean wine, no matter where you live!
Interested in More Delivery Services?
Check out these other helpful posts:
Do you prefer buying natural, biodynamic and/or organic wine? Let me know in the comments below!