These are the best fresh, organic produce delivery services online. They conveniently send non-GMO, organic vegetables and fruits straight to your front door!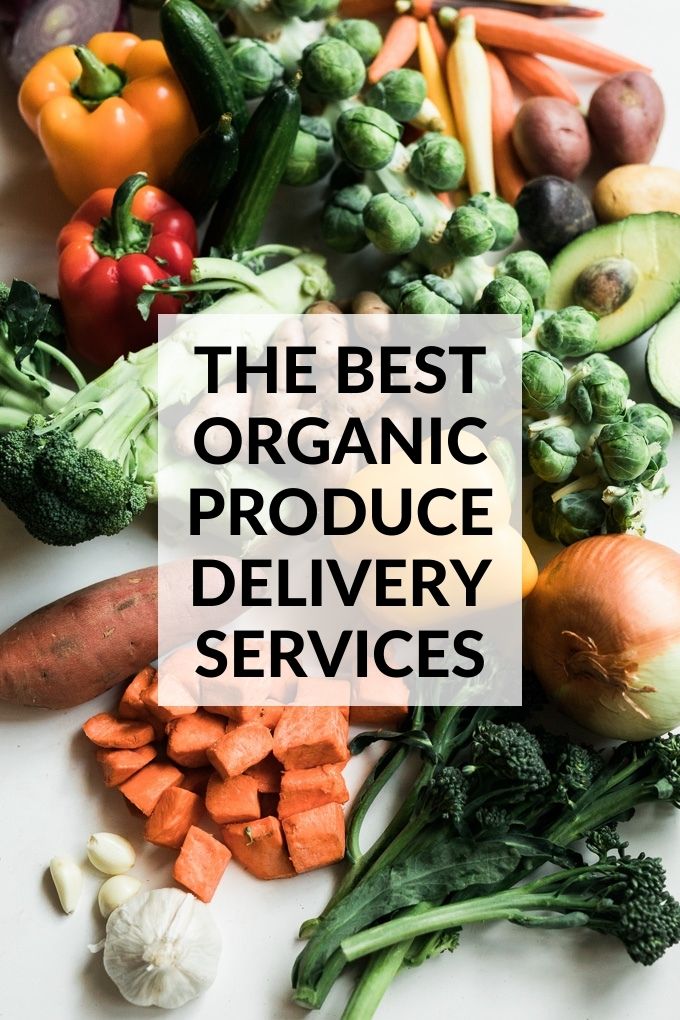 I am a huge advocate of only purchasing and consuming organic, non-GMO produce. However, it can be difficult to find clean, organic fruits and vegetables. Even if you do have access to a reliable grocery store, you are likely constantly pressed for time. That means it can be very hard to get necessary household errands, like grocery shopping, done.
Fortunately, there are some truly amazing organic produce delivery services online. These companies sell fresh, certified organic produce and other groceries. You can shop from the comfort of your own home and the fruits and vegetables get delivered straight to your doorstep. Keep reading to learn more about my top choices!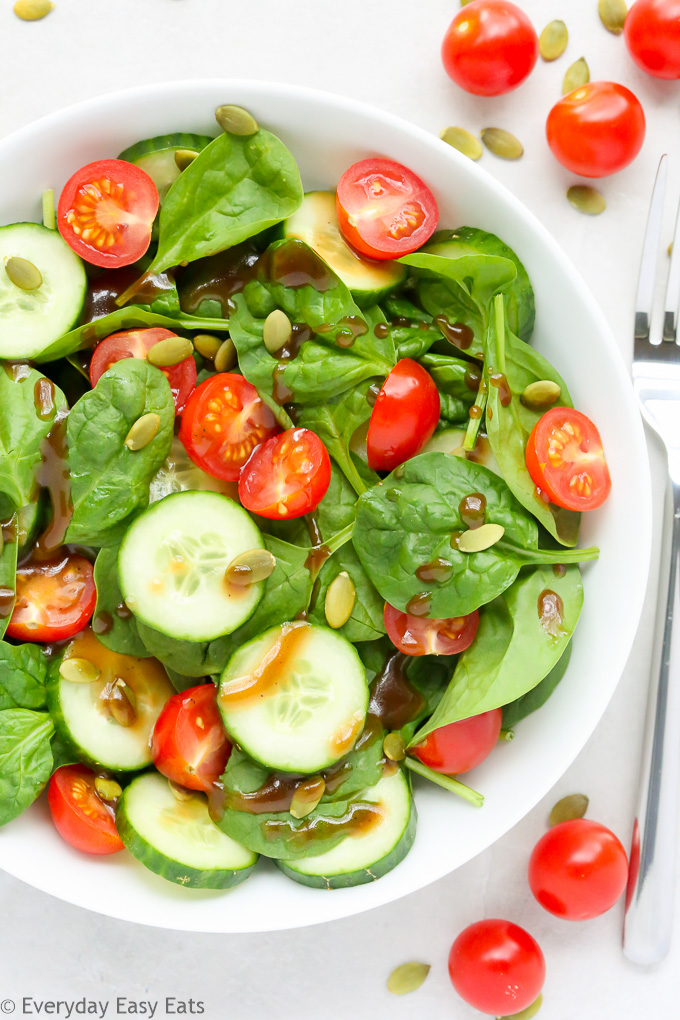 Pictured: Cherry Tomato Spinach Salad
1. Organic Produce Delivery: Misfits Market
Misfits Market delivers fresh, certified organic produce and sustainably-sourced groceries to your door at up to 40% off grocery store prices. Amazing, right?!
They offer non-GMO produce that major stores are unable sell, due to excess supply or because they look a bit different. Examples of different-looking produce include oddly-shaped bell peppers, twisted carrots, and onions that are too small. These vegetables may not sell otherwise, so your orders directly benefit organic farmers. The service is designed to break the cycle of food waste and specializes in rescuing food that is unnecessarily thrown away.
The company prides itself on its forward-thinking packaging. Their fresh produce gets sent to your doorstep in a recycled cardboard box. The 100% recyclable box contains fully-compostable, plant-based bags and eco-friendly insulation, to protect your groceries while they are in transit.
It is free to become a Misfits Market member, without any commitments or membership fees. If you decide to make an order, you'll have a shopping window where you can build your box with a $35 order minimum. This order minimum is set to help minimize packaging and carbon emissions. Your order will be saved and gets automatically charged when the shopping window closes. Your produce box then gets delivered right to your home within 2-3 days for a flat shipping fee. You can skip deliveries, pause, or cancel at any time.
Based on Misfits Market's outstanding quality, affordability, and reliability, it is my top choice for organic produce delivery.
Click here to try out Misfits Market for yourself!
Pictured: Easy Grilled Vegetables
2. Organic Produce & Farm Products Delivery: Farm Fresh To You
Farm Fresh To You is an online delivery service that sends 100% certified-organic produce and specialty farm products conveniently to your home. Their produce and grocery selection includes fresh fruits and vegetables, pasture-raised eggs, dairy, local honey, organic nuts, and more.
The company uses sustainable, eco-friendly farming practices to grow their crops. These practices include efficient irrigation and water management, the use of local fertilizers, and healthy crop rotation. In addition, most of their packaging used for produce delivery can be recycled or reused.
Their produce gets delivered to you in a bundled box, which you can customize to your needs and preferences. You get to choose the size, frequency and type of produce box that works best for you. You can also skip or change the frequency of your delivery to fit your schedule. Farm Fresh To You's delivery area is currently limited to California.
Click here to check out Farm Fresh To You!
Pictured: Vegetable Stir Fry
3. Organic Produce & Grocery Delivery: Hungryroot
Hungryroot is a personalized produce and grocery delivery service with several organic options. You tell them a bit about yourself, and then each week they send fresh groceries to you. They also provide recipes to put your food to use, which makes it very easy to eat healthy. Here is how it works:
Step one: Take Hungryroot's quiz on their website. This enables them to learn about your goals, what you like to eat, and how many people you're feeding.
Step two: They create a grocery plan and fill your cart with suggested groceries. They add recipes that fit your dietary wants and needs as well.
Step three: Review their recommendations. You can always edit your delivery to get exactly what you would like.
Step four: They deliver your groceries and recipes straight to your front door.
Once you've tried your food, you can rate your groceries and recipes to let them know what you thought. They will take note and use that information to get to know your preferences and improve your deliveries every week.
In addition to fresh produce, Hungryroot sells meat and seafood, plant-based proteins, grains and pastas, healthy snacks, and much more. Your items get sent to you in 100% curbside recyclable boxes. They are also packed with biodegradable ice packs to keep your produce and groceries cold while in transit. Hungryroot's pricing starts at $65 per delivery and you can skip a week or cancel anytime.
Click here to get started with Hungryroot!
Final Thoughts
Although organic produce can be hard to find, there truly are top-notch delivery services available. You just have to do a bit of research and then sign up for one that suits your preferences. This will allow you to have easy access to high-quality fruits and vegetables, no matter where you live!
More Organic Food Delivery Services
If you're interested in learning more about other at-home organic food delivery services, check out these articles:
Have you tried any of these online organic produce delivery services? Let me know in the comments below!
This article was originally published on February 13, 2022. It has been updated throughout to include new delivery services and helpful information.