This Ground Beef Chili recipe is easy, healthy, and spicy. It makes a tasty, hearty, and protein-rich meal that is perfect for cold days. Learn how to make the best homemade chili on the stovetop with this quick and simple recipe!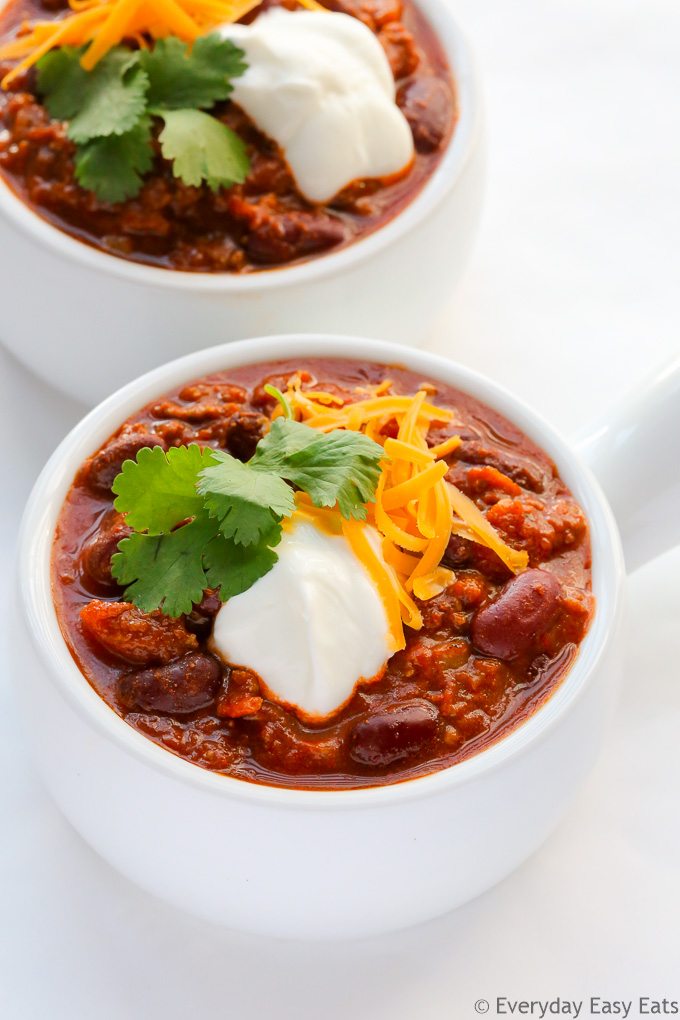 Ground Beef Chili: An Easy Stovetop Meal
There are few things that are more comforting than a hot bowl of chili on a cold day. Made with ground beef, kidney beans, tomato, garlic and lots of spices, this Ground Beef Chili recipe packs tons of flavor in each spoonful. Best of all, this easy one-pot meal will be on your table in about a half an hour.
You can serve the chili alone or with cornbread, rice or tortilla chips. If you're feeling fancy, serve it topped with shredded cheddar cheese, a dollop of sour cream and some chopped fresh cilantro.
This chili tastes great (maybe even better!) on the second day, so feel free to prepare it a night in advance and keep it in the fridge before rewarming and serving it the next day. Leftovers can be used a hearty tomato sauce – pour it over a baked potato, pasta, spaghetti squash or nachos. You could also freeze a batch into smaller portions for quick dinners during extra-busy weeknights.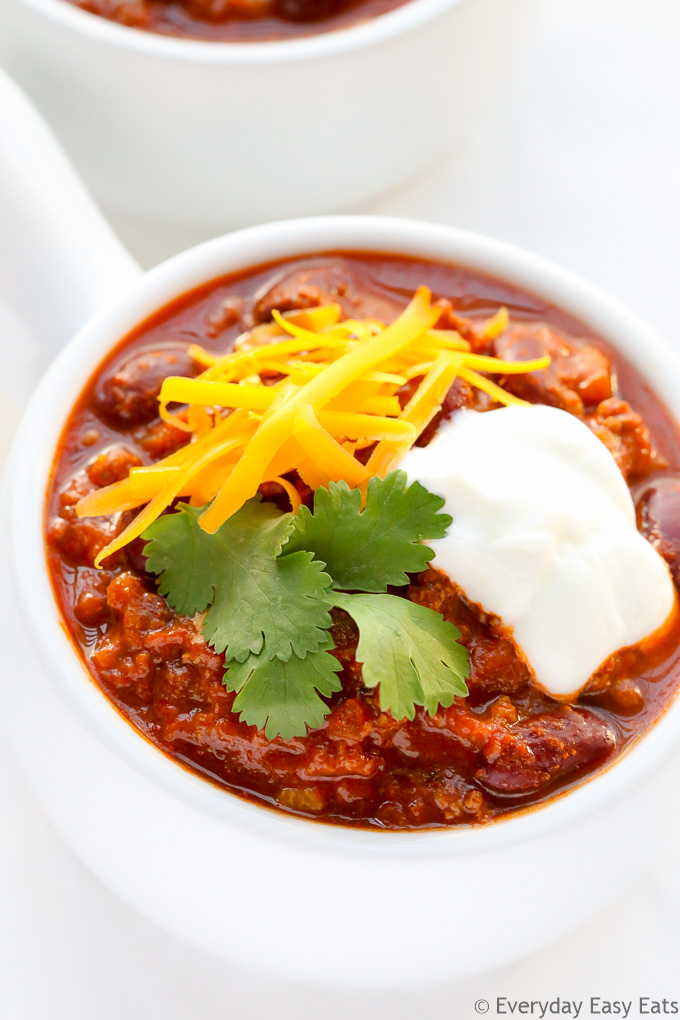 How to Make Ground Beef Chili
Here is a brief overview of how to make this classic ground beef chili recipe (detailed instructions included in the recipe below):
Make the flavor base: Sauté the onion and garlic in a hot, oiled pot until softened and fragrant.
Cook the meat and spices: Add the ground beef to the pot. Once it is cooked through, stir in the chili powder, cumin and oregano.
Add the rest of the ingredients: Stir in the broth, kidney beans, diced tomatoes, crushed tomatoes and tomato paste. Let everything simmer for 20-ish minutes.
Taste, garnish and serve: Taste the chili and season liberally with salt and pepper. Ladle the chili into bowls, garnish if desired and serve.
That's it! This is truly a simple one-pot dinner recipe that is absolutely bursting with flavor.
Possible Chili Recipe Variations
There are endless ways to customize this classic chili recipe to your liking, so please have fun and get creative! For example, feel free to…
Add some heat: To give your chili a spicy kick, feel free to add in some cayenne, hot sauce or a jalapeño pepper. However, if you're serving this chili to a varied group of eaters, I recommend keeping it on the milder side. Then you can always offer hot sauce if people would like to spice up their individual bowls.
Add in extra veggies: I kept this base recipe simple, but if you would like to add in some additional vegetables, you have so many options. Anything from bell peppers to carrots, celery, mushrooms, zucchini, corn, kale or sweet potatoes would be delicious. Keep in mind that if you add in more vegetables, you may need to also add in some extra broth/seasonings to compensate.
Use Italian sausage: You could make this chili with half ground beef and half (hot) Italian sausage, which adds some amazing flavor to this recipe! A mix of beef and chorizo would also work great too.
Make it smoky: If you would like to add some smoky flavor to your chili, you can add in one or two chipotle peppers in adobo sauce.
Add cocoa powder: For a subtle yet rich undertone, try adding a few teaspoons of cocoa powder to your chili. I promise it won't make the whole batch taste like chocolate, but it definitely rounds out the flavors nicely.
Don't miss out! Click here to get exclusive discounts on my favorite healthy products and resources!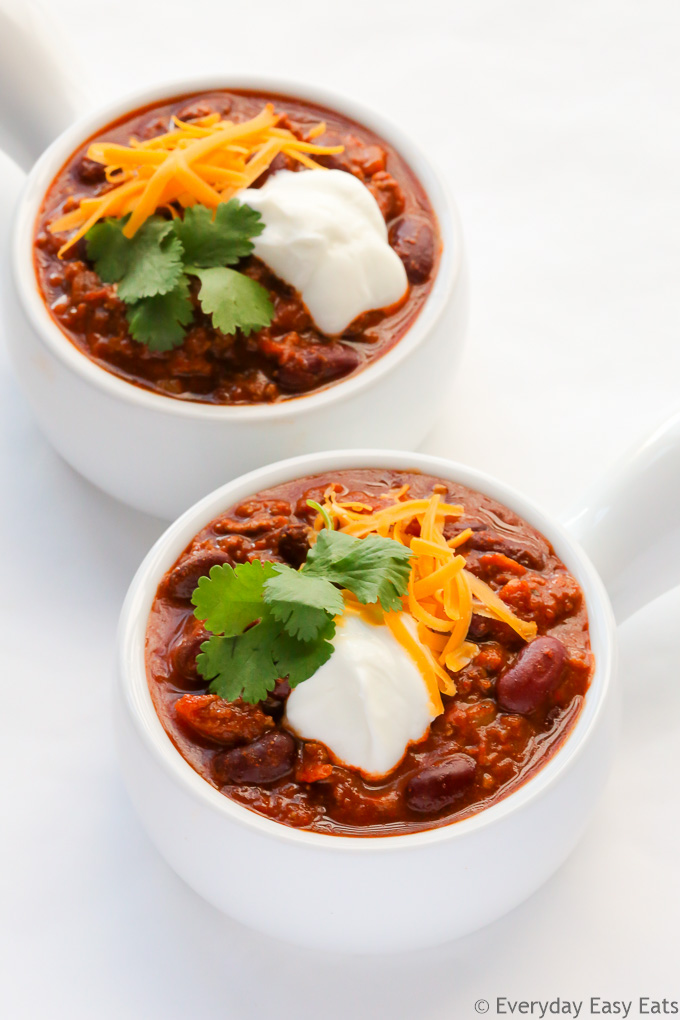 Where to Get Grass-Fed Beef Online
One of the main ingredients in this recipe is, of course, ground beef. I always prefer to use grass-fed, hormone-free, and ethically-raised beef instead of factory-farmed meat. Organic and grass-fed meat is more healthy, humane, and just tastes so much better than conventional meat.
It can be difficult to find organic, grass-fed beef, but I found a few amazing online sources. To learn more about my favorite places to get high-quality meat, check out this detailed post I wrote: The Best Grass-Fed and Organic Meat Delivery Services Online.
More Spicy Dinner Recipes
Looking for more easy and spicy dinner recipes? Here are some of my top choices:
If you make this Ground Beef Chili recipe, let me know! Leave a comment with a star rating ★ below, because I love hearing from you! ♡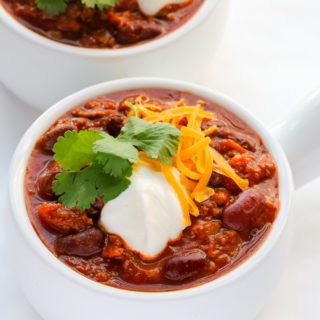 The Best Ground Beef Chili (Quick & Easy Recipe!)
This Ground Beef Chili recipe is easy, spicy and comforting. Learn how to make the best homemade classic chili on the stovetop with this quick and simple recipe!
Instructions
In a large pot, heat the oil over medium heat. Add the onion and sauté for 4 minutes until translucent. Add the garlic and sauté further for 1 minute.

Add the ground beef and cook, stirring constantly to break up the meat, for about 5 minutes or until browned.

Mix in the chili powder, cumin and oregano until well incorporated.

Stir in the broth, kidney beans, diced tomatoes, crushed tomatoes and tomato paste.

Reduce heat to medium-low and simmer, stirring occasionally, for about 20 minutes.

Season with salt and pepper to taste. Serve warm, garnished with optional toppings if using.
Notes
For best results, I highly recommend using grass-fed, organic ground beef from ButcherBox for this recipe.
The chili can be served on its own or with cornbread, tortilla chips or rice.
Leftovers can be stored in the refrigerator for up to five days or in the freezer for up to three months.
Nutrition
Nutrition Facts
The Best Ground Beef Chili (Quick & Easy Recipe!)
Amount per Serving
% Daily Value*
* Percent Daily Values are based on a 2000 calorie diet.
© Everyday Easy Eats. All photos and content are copyright protected. Please do not use any of my recipes, text or images without prior permission.