This Thai Spicy Noodle Soup recipe is vegetarian, vegan, and gluten-free. It makes an easy Asian noodle soup that is infused with fragrant red coconut curry flavors. Perhaps best of all, it is ready to eat in just 15 minutes! Learn how to make homemade Thai noodle soup with this quick and simple recipe.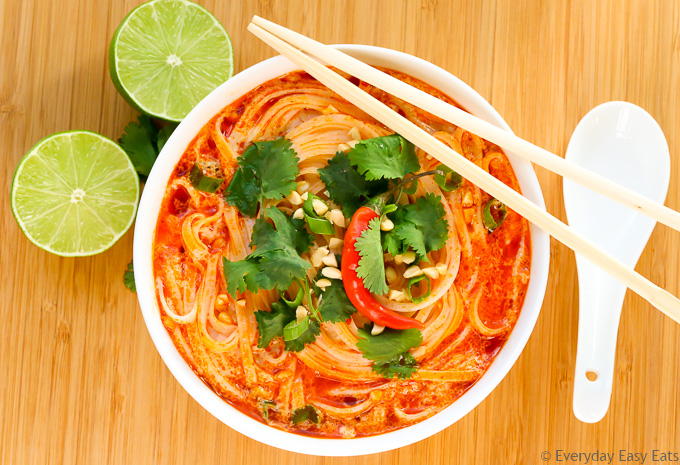 If you are a fan of Asian noodle soup bowls, but have never made one before, this Thai Spicy Noodle Soup is the perfect place to start. It is full of complex and bold flavors, but is so simple to make. It makes a perfect weeknight dinner because it is super satisfying and takes mere minutes to cook.
Thai Noodle Soup Ingredients
Alright, before we get to the recipe, let's talk ingredients. To make the best homemade Thai Noodle Soup, you will need:
Coconut oil: I like using this as the cooking oil in this recipe, because it is healthy and gives an additional slightly coconut flavor to the soup. I recommend always using unrefined, virgin, and organic coconut oil.
Garlic and ginger: These two ingredients are imperative in Asian cooking. Always use freshly grated/minced garlic and ginger for the best flavor.
Red curry paste: This paste is used to add heat and complex curry flavor to the soup in one step. Different brands of curry paste can vary significantly in terms of spiciness and flavor. See below for my top choices.
Vegetable stock: This will serve as the base for the soup broth. If you're not vegetarian or vegan, chicken broth can be used instead.
Coconut milk: This is added to tone down the heat from the curry paste. It also makes the broth nice and creamy. I typically use full-fat coconut milk, but you're welcome to use low-fat if you prefer.
Noodles: I use thin rice noodles when making this soup recipe. I love them because they only take a few minutes to cook and are naturally gluten-free.
Lime juice: A good squeeze of citrus balances and brightens all the flavors in the soup. Make sure you always add lime at the very end of cooking, so that you don't cook out the flavor.
Plus, of course, toppings! I always fall in the-more-the-merrier camp when it comes to toppings on Asian soup. Garnishing adds texture, additional layers of flavor, and makes the soup more presentable when serving. A few I'd strongly recommend here include:
Chopped fresh cilantro and green onions: These give a huge burst of freshness and also add a nice bright pop of color.
Crushed peanuts: I like adding chopped peanuts because they add a bit of crunch. If you don't have any on hand, any other kind of nuts can be used instead.
Thai bird chilies: If you would like some extra heat (or you can add crushed red pepper flakes instead).
See the recipe card below for full information on ingredients and quantities.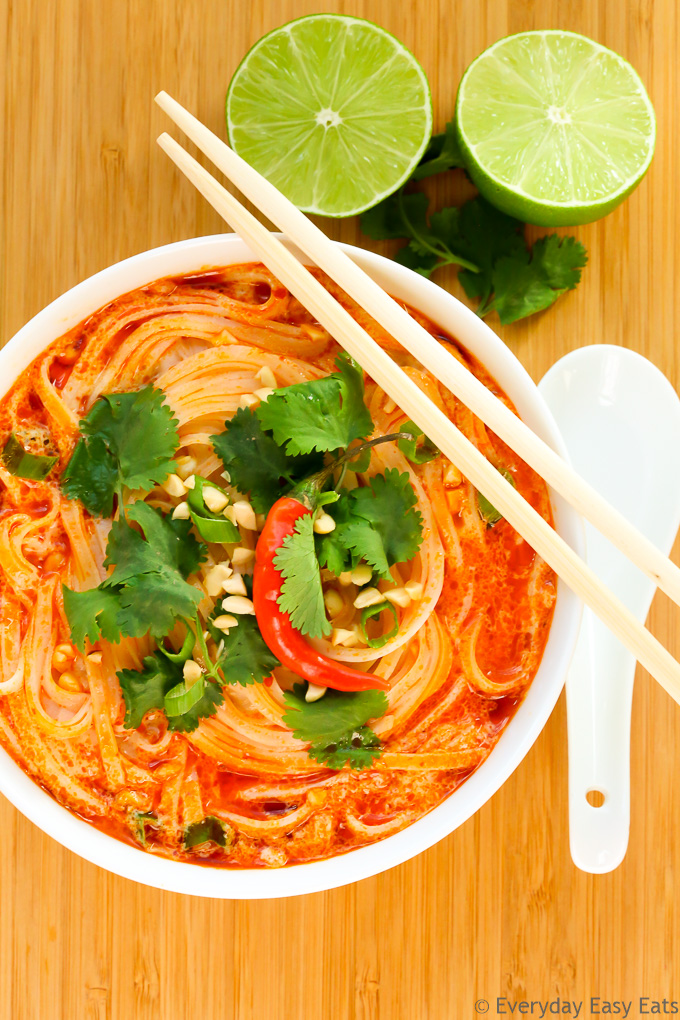 How to Make Thai Spicy Noodle Soup
As a brief overview, to make this homemade Thai noodle soup recipe, simply:
1. Make the flavor base: Sauté the garlic, ginger, and red curry paste in a bit of coconut oil until fragrant.
2. Add the liquids: Stir in the broth, coconut milk, and water and bring to a boil.
3. Cook the noodles: Add the rice noodles to the pot and let them sit until tender.
4. Add lime juice & garnish: Stir in your lime juice and garnish the soup with optional toppings, if desired.
Full instructions are included in the recipe at the bottom of this post, as always.
How To Keep Noodles from Getting Soggy in Soup
For best results, only let the noodles cook in the soup for a few minutes (just until they are softened) and then serve the soup right away. I find that if the noodles sit in the soup for too long after I make it, they tend to absorb a lot of the liquid and get very mushy.
Possible Recipe Variations
Want to customize this Thai noodle soup recipe a bit? Feel free to…
Add protein: You could add thinly sliced beef steak, shrimp, tofu, or shredded chicken to make the soup even heartier and more satiating.
Make it milder: If you don't like much heat in your food, I would recommend using half the amount of red curry paste the recipe calls for. And if the soup gets too spicy for you, just add more coconut milk, broth, and lime to tone it down a bit.
Make it spicier: If you do like a lot of heat in your food, feel free to add more red curry paste, and/or a few thinly-sliced Thai red bird chilies.
Add veggies: You're welcome to add in whatever other vegetables you might love here. If you would like to save a step, you could also just add in a bag of a pre-chopped frozen stir-fry veggie mix.
Those are just some common variations for noodle soup. However, your options for customizing it are truly endless, so feel free to get creative!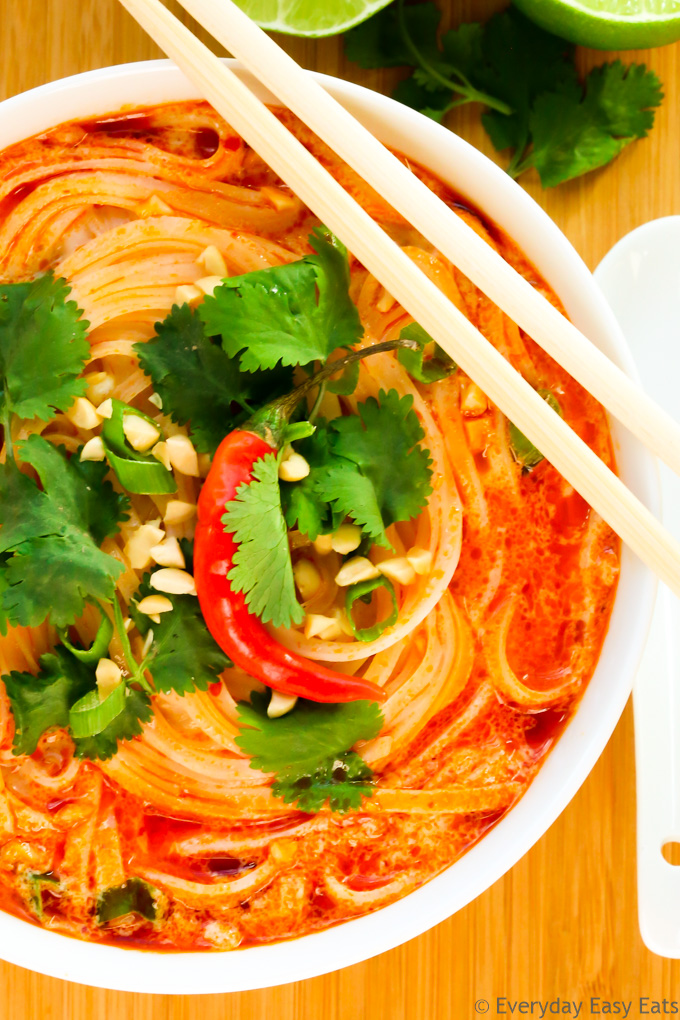 More Thai Dinner Recipes
If you're looking for more Thai food inspiration, I recommend these trying these recipes:
For this Thai Spicy Noodle Soup recipe, I recommend:
Here are a few items that I suggest using to ensure this recipe comes out perfect:
Mae Ploy Red Curry Paste – This is one I use and love! It gives amazing, authentic flavor to Thai dishes and adds the perfect amount of heat.
Thai Kitchen Coconut Milk – I love the taste and consistency of this brand. It adds so much body and richness to soups and curries.
Zulay Citrus Juicer – If you cook with a lot of citrus, a sturdy juicer is a must. This one works for both lemons and limes and will squeeze out every last drop of juice like a pro. Worth every penny.
Important: If you are vegan, be sure to use a brand of Thai red curry paste that is vegan. The one I use is not, but Thai Kitchen Red Curry Paste is vegan and is also very good.
If you make this easy Thai spicy noodle soup recipe, let me know! Leave a comment with a star rating ★ below, because I love hearing from you! ♡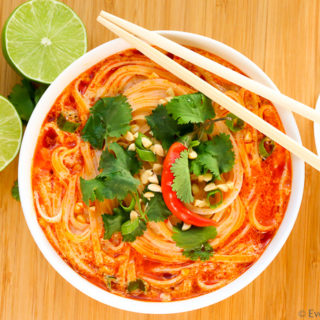 Thai Spicy Noodle Soup (Vegetarian and Vegan Recipe)
This Thai Spicy Noodle Soup recipe is vegetarian and vegan. It is an easy 15-minute soup that is bursting with Thai coconut curry flavor!
Instructions
In a large pot, heat the oil over medium heat. Add garlic, ginger, and curry paste and sauté for 2 minutes to release the curry's aromas.

Stir in the broth, coconut milk, and water. Bring to a boil.

Add the rice noodles to the pot and allow them to sit for a few minutes until softened.

Stir in the lime juice. Serve immediately, topped with optional garnishes if using.
Notes
For best results, serve the soup right away once it is done cooking.
If you are not vegan, you can substitute the vegetable broth with chicken broth.
Nutrition
Nutrition Facts
Thai Spicy Noodle Soup (Vegetarian and Vegan Recipe)
Amount per Serving
% Daily Value*
* Percent Daily Values are based on a 2000 calorie diet.
© Everyday Easy Eats. All photos and content are copyright protected. Please do not use any of my recipes, text or images without prior permission.