This Cream of Tomato Soup recipe is so quick and easy to make. Best of all, it is super comforting and tastes way better than anything you can buy in a can. Learn how to make the best homemade creamy tomato soup on the stovetop with this simple recipe that the whole family will love!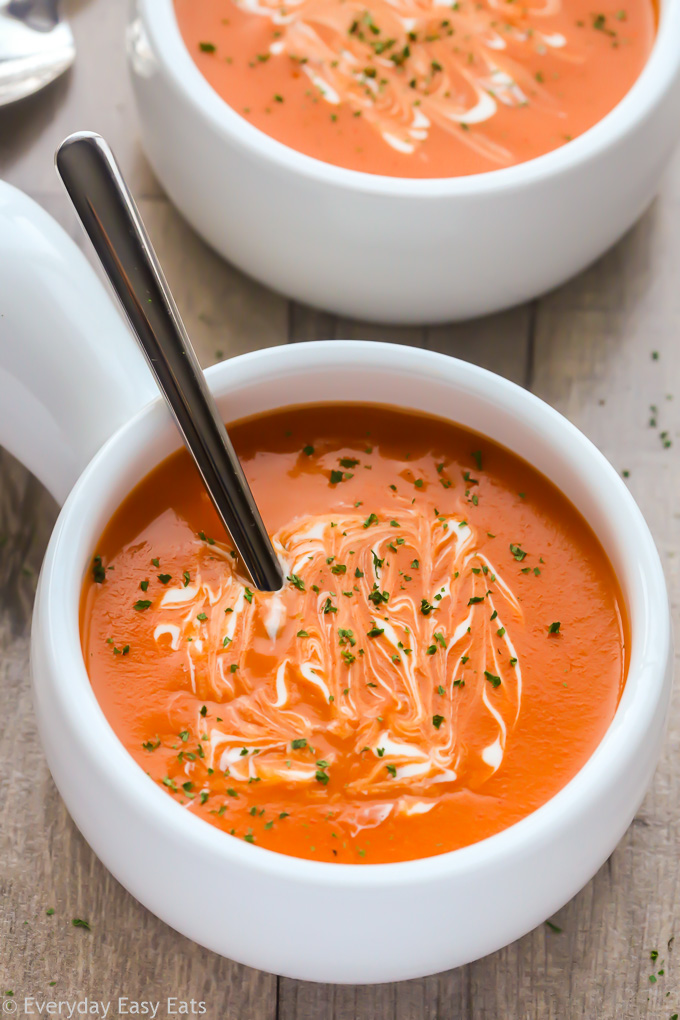 You are going to want to add this rich, creamy tomato soup recipe to your regular lunch and dinner rotation. It is effortless to make and packs tons of flavor in each spoonful. It can be served on its own or with a sandwich or salad for a satisfying meal. This tomato soup recipe is a keeper because it only uses a handful of ingredients, most of which you probably already have on hand.
Creamy Tomato Soup Ingredients
Before we dive into crafting the best cream of tomato soup, let's take a look at the ingredients you will need (exact amounts are detailed in the full recipe at the end of this post):
For the Soup:
Olive Oil: I recommend using a good quality olive oil for a rich, flavorful base.
Butter: A touch of butter adds a palate-pleasing creamy richness to the soup.
Yellow Onion: Chopped yellow onions provide a sweet and savory depth of flavor to the soup.
Garlic: Freshly minced garlic cloves are essential to infuse the soup with an irresistible aroma.
Canned Whole Tomatoes: Opt for high-quality canned whole tomatoes for the best flavor.
Vegetable Broth: Vegetable broth serves as the liquid foundation of the soup's savory goodness. Chicken broth can be easily substituted in its place.
Heavy Cream: To achieve a luxurious and velvety texture, heavy cream is the key ingredient. It can be substituted with an equivalent amount of canned full-fat coconut milk.
Salt and Pepper: Pinches of salt and dashes of freshly-cracked black pepper are used to season the soup to perfection.
Optional Garnishes:
Extra Cream: Drizzle a bit of extra cream on top for an indulgent and visually-pleasing finish.
Parsley: Fresh chopped parsley adds a vibrant burst of color and a hint of freshness.
Basil: Sprinkle some torn basil leaves for an aromatic twist that complements the tomato flavor beautifully.
Now that your ingredients are lined up, you can create cream of tomato soup at home. It is a dish that is not only easy to make, but also incredibly delicious.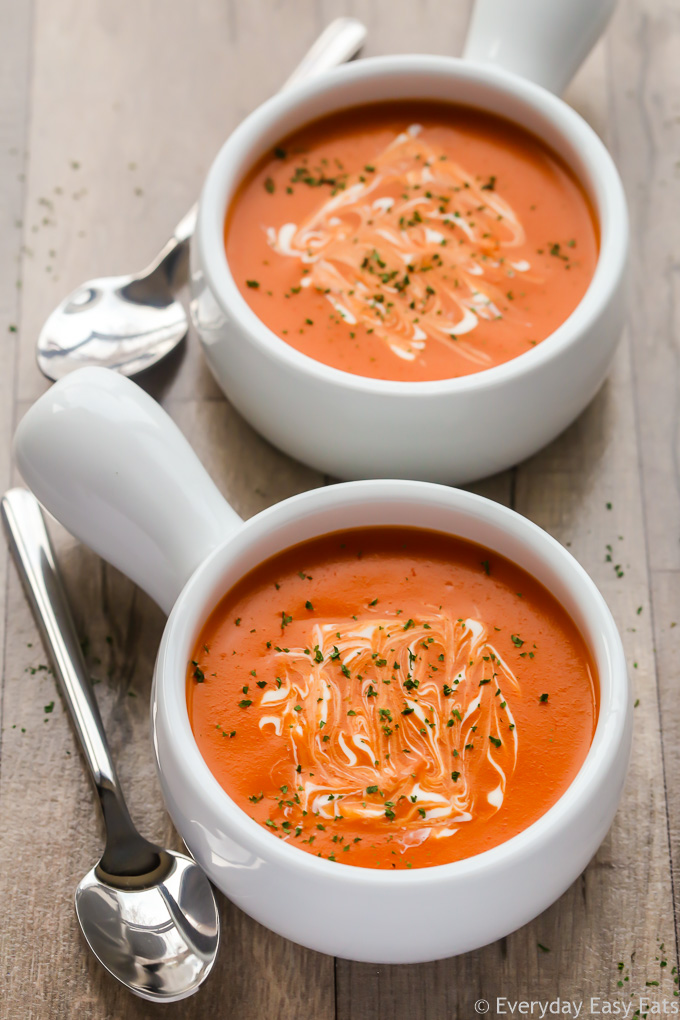 How to Make Cream of Tomato Soup
Full instructions are included in the recipe at the bottom of this post. But, here is a brief overview of how to make creamy tomato soup:
Prepare the Base: Start the cooking process by preparing the aromatics for the soup. Sauté some chopped onions and minced garlic in a bit of olive oil and butter in a large pot.
Combine Ingredients: Add the canned tomatoes and broth to the cooked onions and garlic. Allow the mixture to simmer gently.
Blend the Soup: Once the flavors have melded together, it's time to blend the soup to achieve a smooth consistency. You can use an immersion blender for this step. If you don't have one, you can transfer the soup to a traditional blender. However, make sure that you follow the safety precautions in the next step.
Safety First (Traditional Blender): If using a traditional blender, do the following to ensure your safety while blending hot liquids:
a. Fill Halfway: Fill the blender only up to the halfway mark to prevent accidents.
b. Remove Lid Center: Remove the center insert from the blender's lid to allow hot air to escape.
c. Cover with Towel: Place a dish towel on top of the lid, covering most of the hole, and hold it in place to prevent any splashes while blending.
Add Cream and Season: After blending, return the soup to the pot and stir in the cream. Season the soup with pinches of salt and pepper to taste.
Garnish and Serve: Once everything is well-incorporated, your can top the soup with a drizzle of cream or some chopped fresh herbs.
Your cream of tomato soup is now ready to be served. Be sure to enjoy it while is it nice and warm!
Possible Recipe Variations
Want to customize your tomato soup? Get creative with these variations:
Add Some Protein: To make your tomato soup heartier and more satisfying, consider adding protein. Options include shredded chicken, succulent shrimp, thinly sliced beef steak, or tofu for a vegetarian twist. Simply cook your chosen protein separately and add it to your soup just before serving.
Turn Up the Heat: For those who enjoy a fiery kick, go ahead and increase the spice factor. Add some Sriracha sauce for some bold and zesty flavor. If you're feeling adventurous, toss in a few pinches of crushed red pepper flakes to really crank up the heat.
Incorporate More Veggies: Get your daily dose of vegetables by adding your favorite ones to the soup. Spinach, kale, diced carrots, or bell peppers add both color and nutrition. For convenience, you can also toss in some pre-chopped frozen vegetables to save time without compromising on flavor.
Feel free to experiment with these variations to suit your taste and dietary preferences. The beauty of homemade soup is that it can be tailored to your liking, making it a versatile and delightful dish for any occasion.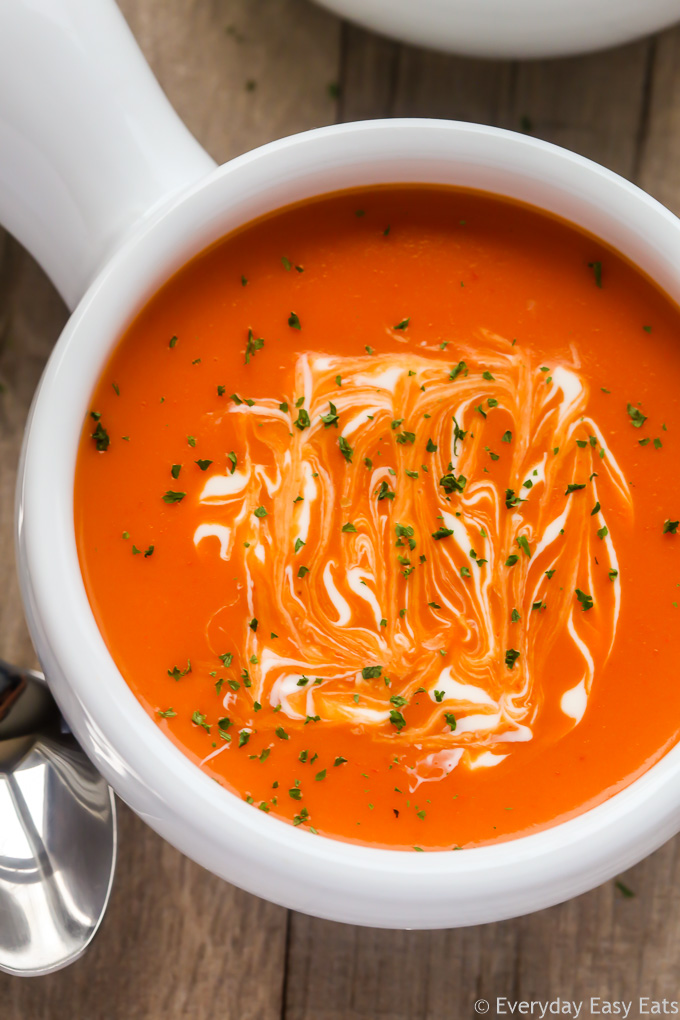 Frequently Asked Questions (FAQ)
Can you freeze cream of tomato soup?
Yes, you can absolutely freeze homemade cream of tomato soup. In fact, it's a great idea if you want to make a batch ahead of time or have leftovers. To freeze, allow the soup to cool completely. Then, transfer it to airtight containers or resealable freezer bags, leaving some room for expansion. Label and date the containers, and store them in the freezer for up to three months. When ready to enjoy, simply thaw it in the refrigerator overnight and reheat on the stovetop, stirring gently to regain the desired consistency.
Does homemade cream of tomato soup curdle?
Occasionally, cream-based soups like cream of tomato soup can curdle when exposed to high heat for an extended period. To prevent this, it's essential to avoid boiling the soup after adding the cream. Instead, simmer the soup gently and only stir in the cream towards the end of cooking. If you notice any slight separation, a quick whisk or blend with an immersion blender should help restore its creamy texture.
Can you use fresh tomatoes instead of canned tomatoes to make tomato soup?
Yes, you can substitute fresh tomatoes for canned tomatoes in this recipe. To do so, you'll need about 2 1/2 pounds of fresh tomatoes (roughly 6-8 medium-sized tomatoes). Start by blanching them in boiling water for a minute or two to loosen the skins, then plunge them into ice water, and the skins should peel off easily. Chop the peeled tomatoes and use them in place of canned tomatoes. Keep in mind that fresh tomatoes might yield a slightly different flavor and consistency, but they can add a lovely freshness to your soup when they're in season.
More Creamy Soup Recipes
Looking for more tasty soup inspiration? Here are some of my favorite soup recipes:
If you make this Cream of Tomato Soup recipe, let me know! Leave a comment with a star rating ★ below, because I love hearing from you! ♡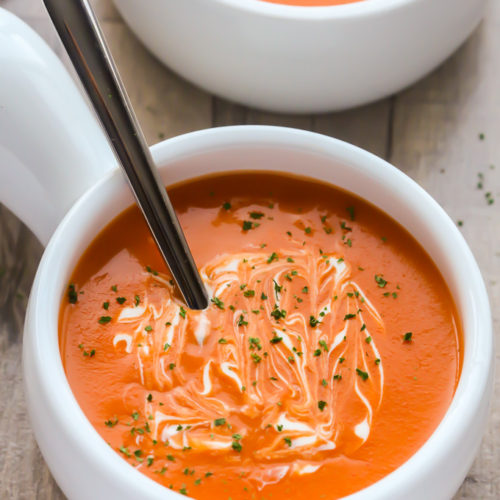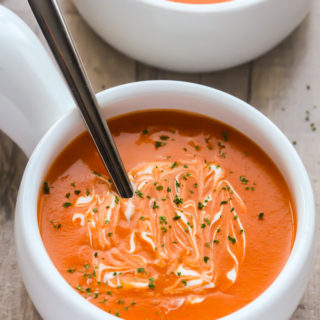 The BEST Cream of Tomato Soup Recipe (Quick & Easy!)
This Cream of Tomato Soup recipe is so quick and easy to make. Learn how to make the best homemade creamy tomato soup on the stovetop with this simple recipe!
Ingredients
1

tablespoon

olive oil

1

tablespoon

butter

1

yellow onion,

chopped

2

cloves

garlic,

minced

1

(28-ounce) can

whole tomatoes

4

cups

vegetable broth

1/2

cup

heavy (whipping) cream

Salt and pepper,

to taste

Optional garnishes: Extra cream, chopped parsley, and/or basil
Instructions
In a large pot or saucepan, heat the oil and butter over medium heat. Add onion and sauté for 4 minutes or until translucent.

Add garlic and cook for 1 minute until fragrant.

Stir in tomatoes and broth. Bring to a boil over high heat. Reduce heat to low and simmer for 10-15 minutes.

Remove from heat. Using an immersion blender, purée the soup until smooth. Alternatively, transfer to a traditional blender and purée in batches, then return to pot.

Return to heat and stir in cream. Season with salt and pepper to taste.

Serve warm, topped with a drizzle of cream and chopped parsley or basil, if using.
Notes
If using a traditional blender to blend the soup, follow these safety precautions for blending hot liquids: First, only fill up the blender until it is halfway full, because any more than that can cause an accident. Next, remove the center insert in the blender's lid to allow hot air to escape. Last, keep your hand on top of the lid with a dish towel, keeping most of the hole covered, to avoid any splashes while the blender is running.
To make this recipe vegan and Whole30-compliant, omit the butter and substitute the heavy cream with canned full-fat coconut milk.
Leftovers can be stored in an airtight container in the refrigerator for up to five days or in the freezer for up to three months.
Nutrition
Nutrition Facts
The BEST Cream of Tomato Soup Recipe (Quick & Easy!)
Amount per Serving
% Daily Value*
* Percent Daily Values are based on a 2000 calorie diet.
This post was originally published on February 1, 2017. It has been updated to reflect new information and helpful content.
© Everyday Easy Eats. All photos and content are copyright protected. Please do not use any of my recipes, text or images without prior permission.