This Cornbread Recipe Without Buttermilk requires only 30 minutes and a handful of common ingredients to make. It is the perfect balance between tender and crumbly and is one of the easiest breads you can make. Learn how to make the best homemade cornbread with this quick and simple recipe.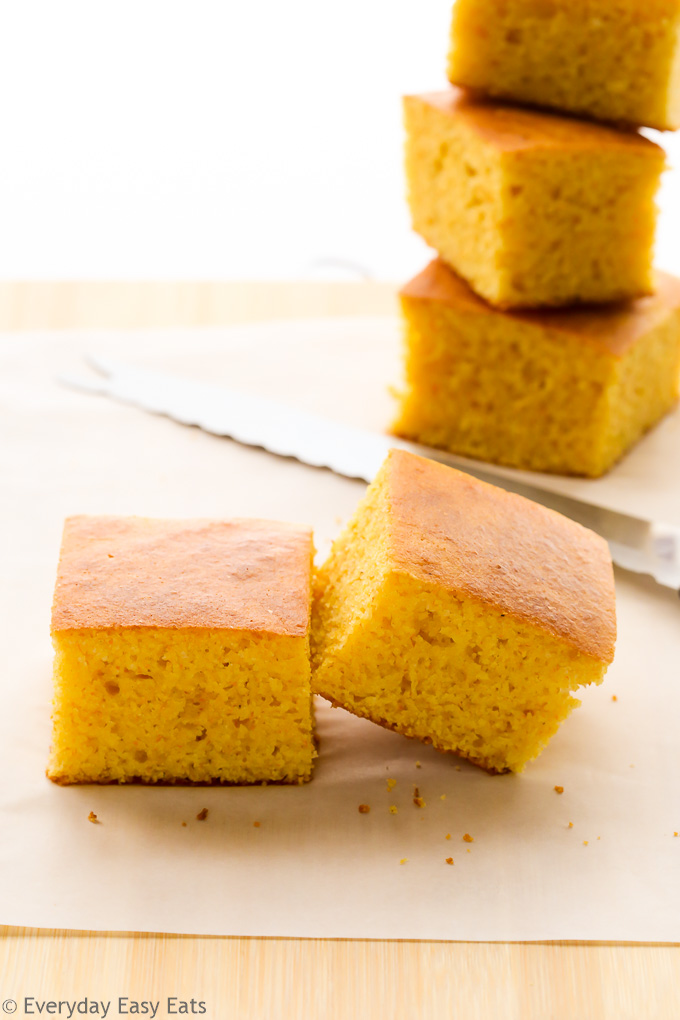 Homemade Cornbread Made Easy
Cornbread is the perfect side dish for barbecues. It also pairs perfectly with soups, stews, and chili. There are so many different variations of cornbread out there, and this is my easy take on it.
Traditional cornbread recipes are usually made with buttermilk, which is an ingredient many people (myself included) don't always have on hand. So, I developed a convenient recipe for cornbread that instead uses a buttermilk substitute made from regular dairy milk and lemon juice.
Although traditional Southern cornbread is typically made in a cast iron skillet, I always bake it in a square baking pan. I like to use a combination of both cornmeal and all-purpose flour, because it gives the bread a soft, moist crumb.
Cornbread Recipe Without Buttermilk Ingredients
Before we get to the full cornbread recipe below, here are some notes about the ingredients needed to make this recipe:
Cornmeal: I used medium-grind yellow cornmeal in this recipe, because it gives cornbread a great texture without an overabundance of crumbs.
Flour: I used basic all-purpose flour for this recipe, but you can use white whole wheat flour instead if you want.
Sugar: I love the taste of just slightly-sweetened cornbread. If you prefer a sweeter cornbread, feel free to increase the amount to 1/4 cup. Or if you prefer a less sweet cornbread, you can reduce the amount to about 2 tablespoons.
Baking powder and baking soda: Both are used in this recipe to help the cornbread rise up to be extra soft and fluffy.
Salt: This enhances the rest of the delicious flavors in the cornbread.
Eggs: These serve as a binding agent and help keep the bread nice and moist. They also prevent cornbread from being too crumbly.
Melted Butter: This makes the bread even more rich and flavorful. You can just melt your butter in the microwave or on the stovetop.
Milk and lemon juice: These two ingredients are used to make a homemade buttermilk substitute in this recipe. It lightens the batter and also tenderizes the bread. If you don't have any lemon juice at home, you may use white vinegar instead.
Can you Substitute Milk for Buttermilk in Cornbread?
Yes, you can! Use this neat trick to make your own buttermilk substitute for cornbread from milk: Mix together 1 cup of milk with 1 tablespoon of lemon juice or white vinegar. Then, let the mixture rest for 5–10 minutes, until it is slightly thickened and a bit curdled. It won't be as thick as regular buttermilk, but it will work just the same in the recipe.
How to Make Cornbread Without Buttermilk
Here is a brief overview of how to make cornbread without buttermilk (see the full recipe card below for detailed ingredient amounts and instructions):
Make the buttermilk substitute: Stir together

the milk and lemon juice (or white vinegar) in a small bowl. Set the mixture aside and let it rest for 5-10 minutes. In the meantime, prepare the rest of the ingredients.

Stir together the dry ingredients: Combine all of your dry ingredients – cornmeal, flour, sugar, baking powder, baking soda and salt – in a bowl.
Combine the wet ingredients: Whisk together all your wet ingredients – buttermilk, eggs and melted butter – in a separate bowl.
Put everything together: Mix the wet and dry ingredients together until

just

incorporated. Make sure you do not over-mix the batter, as that will make your bread more dense (which you do not want).
Bake the cornbread: Pour your batter into a greased square baking pan. Bake until a toothpick inserted into center of the bread comes out clean. Allow to cool before slicing and serving.
That's it! 🙂 Cornbread is quite possibly one of the simplest breads you can make at home.
Don't miss out! Click here to learn more about my favorite, must-have products and resources!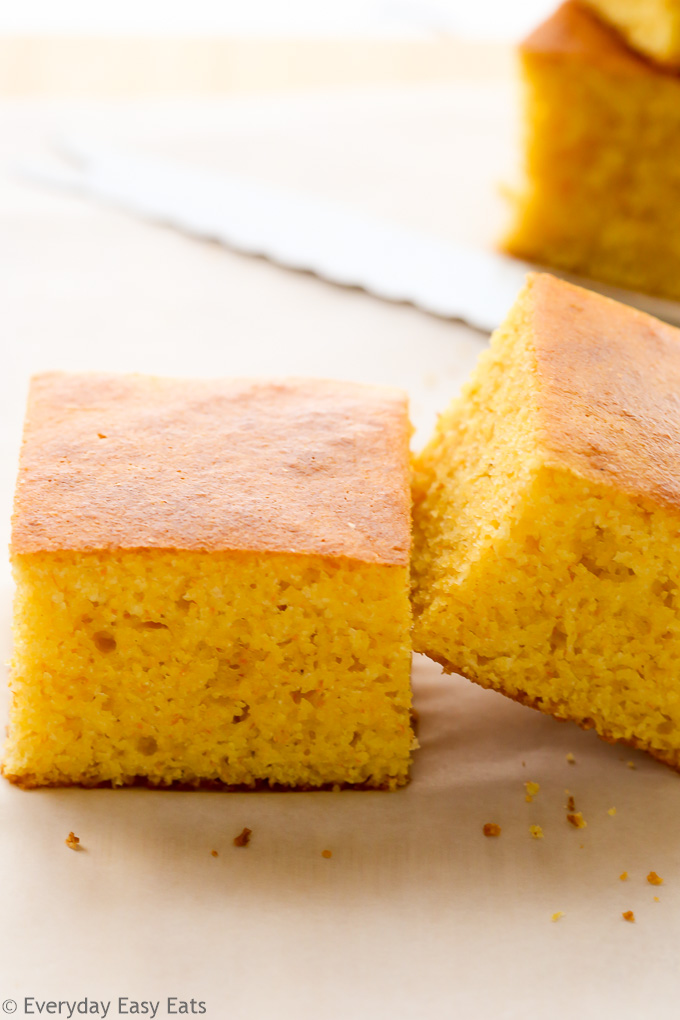 Homemade Cornbread Recipe Variations
If you want to customize this cornbread recipe a bit, you are welcome to…
Make it gluten-free: If you would like to make gluten-free cornbread, just substitute a 1-to-1 gluten-free flour blend in place of the all-purpose flour.
Add jalapeño: Add one or two cored and finely-diced jalapeños to the batter to make a spicy jalapeño cornbread.
Add some cheese: You can add up to 1 cup of shredded cheese to make a cheesy cornbread. I recommend using cheddar or pepper jack for the best flavor.
Stir in bacon: A few finely-crumbled strips of crispy bacon would be a delicious addition to cornbread.
Add whole kernel corn: Add in up to 3/4 cup of drained whole kernel corn to the batter if you would like some chunky bits of corn in your bread.
Other Ways to Serve Cornbread
I generally serve plain cornbread squares as a side dish, but you could also make…
Cornbread muffins: Instead of baking your bread in a baking pan, you can make cornbread muffins. Simply fill-up standard muffin cups until about 2/3 full with cornbread batter. Then bake at 375°F for about 15 minutes, or until a toothpick inserted into the center of a muffin comes out clean.
Cornbread croutons: You can dice up leftover cornbread, brush it with a bit of extra butter, seasoning it with salt and pepper, and then bake a batch of cornbread croutons until golden and crispy. They would be so perfect for a leafy green salad.
Cornbread stuffing: You may also crumble or dice up cornbread to make cornbread stuffing for Thanksgiving (or anytime of year really).
Cornbread breadcrumbs: You could crumble up leftover cornbread to use in a recipe that calls for breadcrumbs. The recipe would benefit from the extra flavor and texture of crumbled cornbread.
Cornbread salad: You can also use this recipe to make Southern-style cornbread salad, which is typically layered in a trifle dish.
More Easy Bread Recipes
Looking for more homemade bread recipes? Here are some of my favorites:
If you make this Cornbread Recipe Without Buttermilk, let me know! Leave a comment with a star rating ★ below, because I love hearing from you! ♡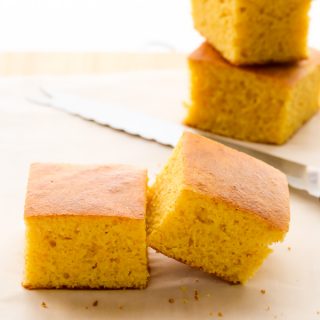 The Best Cornbread Recipe Without Buttermilk (Super Easy)
This Cornbread Recipe Without Buttermilk is so easy to make. Learn how to make the best homemade cornbread with this foolproof recipe.
Instructions
In a small bowl, stir together the milk and lemon juice (or white vinegar). Set the mixture aside and let it rest for 5-10 minutes, while you prepare the rest of the ingredients.

Preheat oven to 400°F. Grease an 8x8-inch square baking pan with butter or cooking spray.

In a large bowl, combine the cornmeal, flour, sugar, baking powder, baking soda and salt.

In a separate bowl, whisk together the eggs, melted butter, and the prepared milk mixture.

Mix the wet ingredients into the dry ingredients until just combined (do not over-mix). Pour batter into the prepared pan.

Bake for 20-25 minutes or until a toothpick inserted into center of the bread comes out clean.

Allow the cornbread to cool on a wire rack for 15 minutes before serving.
Notes
Leftover cornbread can be stored in an airtight container at room temperature for up to 3 days, refrigerated for up to 5 days, or frozen for up to 3 months.
To freeze the cornbread, I recommend wrapping up the individual pieces and then placing them in a sealed freezer-safe food storage container.
Nutrition
Nutrition Facts
The Best Cornbread Recipe Without Buttermilk (Super Easy)
Amount per Serving
% Daily Value*
* Percent Daily Values are based on a 2000 calorie diet.
This post was originally published in July 2016 and has been updated to reflect new information and helpful content.
© Everyday Easy Eats. All photos and content are copyright protected. Please do not use any of my recipes, text or images without prior permission.