These soft, cake-like Pumpkin Spice Cookies are the perfect way to celebrate fall and welcome the warmth of the holidays. A super easy cookie recipe the whole family will love!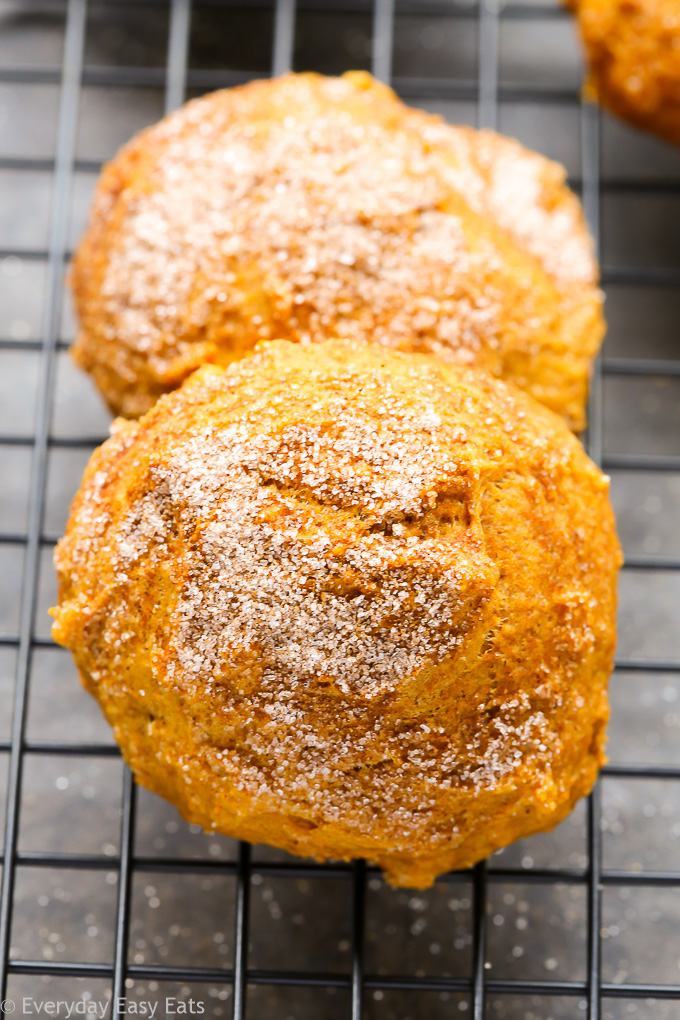 Pumpkin Spice Cookies: The Perfect Fall Treat
These moist, fluffy cookies are like mini pumpkin cakes. They are bursting with rich pumpkin flavor and warm autumn spices like cinnamon, nutmeg and cloves. A sprinkling of cinnamon sugar makes them sparkle and gives them an extra touch of spiced sweetness.
If you're a regular reader of my blog, you know that I generally like to keep things as healthy as possible. However, I've said before that pleasure and health go hand in hand. Healthy eating can definitely include consuming a reasonable amount of sweets and desserts. So this is one of those recipes for times when you feel like treating yourself. Frequency and portion size are important concepts to keep in mind, so enjoy cookie recipes like this one in moderation.
These easy-to-make cookies follow the usual formula of first mixing together the wet ingredients, then mixing the dry ingredients, then combining them to make the dough. After making the batter, I recommend using an ice cream scoop to place the cookie dough onto your baking sheets. I find it to be the fastest and easiest way to portion the dough and have uniform cookies. I also like to flatten them a bit with my fingers because they don't spread very much while they are baking.
These cookies are best enjoyed fresh and warm out of the oven, or on the same day. I find they get a little soft when stored, so it isn't a bad idea to make the dough, then refrigerate it and bake batches of cookies as needed. However, this recipe is always such a huge hit with my family and friends, I usually don't have to worry about storing very many leftover cookies anyway. 😉
More Easy Cookie Recipes to Try
Looking for more baking inspiration? Here are some of my favorite cookie recipes on the blog:
For this Pumpkin Spice Cookies Recipe, I Recommend:
Hand Mixer – For a simple baking job like this, a small hand-held mixer is really all you need. It costs a fraction of the price of a traditional stand mixer and it works great for making cookies and cakes.
Mixing Bowls – This is a 3-piece set that is great for combining ingredients. I love how easy they are to store and clean.
If you make this Pumpkin Spice Cookies recipe, let me know! Leave a comment with a star rating ★ below, because I love hearing from you! ♡
Pumpkin Spice Cookies
These soft, cake-like Pumpkin Spice Cookies are the perfect way to celebrate fall and welcome the warmth of the holidays.
Ingredients
For the cinnamon sugar topping:
Instructions
Preheat oven to 350°F. Line two baking sheets with parchment paper.

In a large bowl using a hand-held mixer or a stand mixer with paddle attachment, beat the butter with the granulated sugar and brown sugar until blended.

Beat in the pumpkin puree, egg, and vanilla until smooth.

In a separate bowl, stir together the flour, baking powder, baking soda, cinnamon, nutmeg, cloves and salt.

Add the wet ingredients to the dry ingredients. Mix together with a large spoon or rubber spatula until combined.

Drop the dough by heaping tablespoonfuls onto the prepared baking sheets. Slightly flatten each one as the cookies will not spread very much in the oven.

To make the cinnamon sugar topping, combine the granulated sugar and cinnamon in a small bowl. Sprinkle the mixture evenly over the cookies.

Bake for 12 minutes until puffed and lightly browned around the edges. Allow cookies to slightly cool before serving.
Notes
Cookies will stay fresh in an airtight container at room temperature for up to 5 days or in the freezer for up to 3 months.
Nutrition
Nutrition Facts
Pumpkin Spice Cookies
Amount per Serving
% Daily Value*
* Percent Daily Values are based on a 2000 calorie diet.
© Everyday Easy Eats. All photos and content are copyright protected. Please do not use any of my recipes, text or images without prior permission.