These No-Chill Chocolate Chip Cookies with Cornstarch are soft, chewy, and full of chocolate chips. No chilling is required, so they are ready from start to finish in less than 30 minutes! Keep reading to learn how to make the best chocolate chip cookies ever.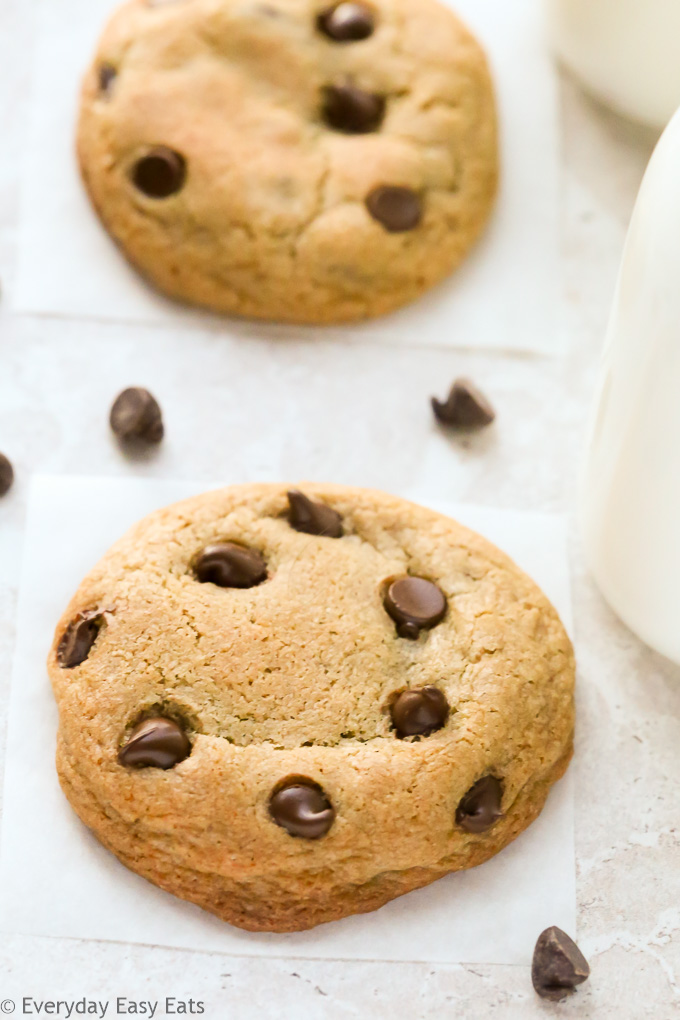 No-Chill Chocolate Chip Cookies: The Ultimate Cookie Recipe
Chocolate chip cookies are a such a classic, comforting baked treat. They are a fantastic go-to dessert or snack and are adored by both children and adults alike. They can be enjoyed warm, cold, dunked in milk, with ice cream and even unbaked in dough form.
This recipe is my all-time favorite, tried, and tested until perfect chocolate chip cookies recipe. It makes the softest, chewiest cookies ever, with a perfect ratio of chocolate chips to dough. This chocolate chip cookie recipe is seriously the BEST!
This cookie recipe follows the usual formula of first mixing the wet ingredients, then mixing the dry ingredients, then combining them to make the dough. However, in this recipe, the cookie dough does not need to be chilled prior to baking. This is especially helpful if you're baking with kids or if you're short on time. With no chilling required, these chocolate chip cookies can be made in under 30 minutes.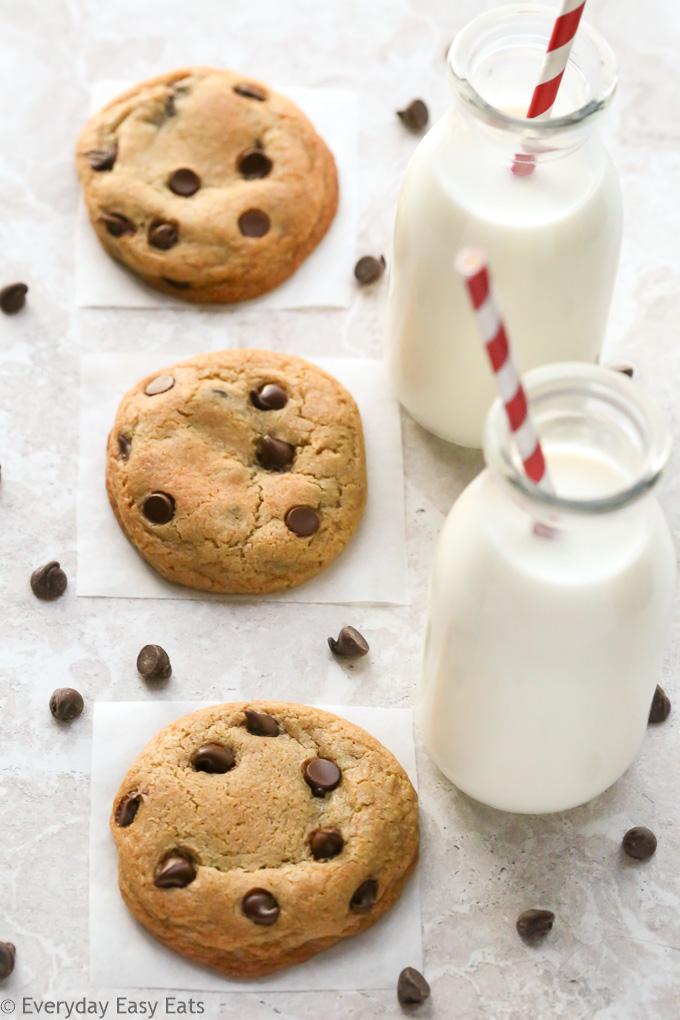 What Does Adding Cornstarch Do To Cookies?
Adding cornstarch to cookies makes them irresistibly soft, tender, and chewy. These cookies almost melt in your mouth when they're fresh out of the oven and remain soft in the center once they are cooled. The dough also has a higher ratio of brown sugar to granulated sugar, which gives the cookies more of a chewy texture than a crisp one.
What Is the Purpose of Slightly Under-baking Cookies?
Another way to ensure cookies remain tender is to take them out the oven just before they are done baking. You will want to keep the cookies in the oven until the edges are set, but are just lightly golden on top. The cookies are supposed to look soft in the center when you remove them from oven, so resist the urge to leave them in the oven for longer. After they sit on the hot baking sheet for a few minutes to cool off, they will be cooked through to perfection.
How to Store Chocolate Chip Cookies
These chocolate chip cookies will stay fresh stored at room temperature in an airtight container for up to a week. If you want to make these cookies in advance, you can freeze the cookies after baking them and they will be good for up to three months.
How to Store Unbaked Cookie Dough
You can also freeze the unbaked chocolate chip cookie dough, which will last up to three months in your freezer. To do this, roll your cookie dough into balls and place them on a baking sheet. Then, place the baking sheet in the fridge for one hour to chill. This step solidifies the dough balls, so that they don't stick together in the freezer.
Next, transfer the dough balls into a sealed bag and store the bag in your freezer. When you want to eat some cookies, just remove the dough balls from the freezer. Set them on the counter and let them thaw for about 20 minutes before baking. If you don't have time to thaw them out, then you can just bake the dough balls in their frozen state for an extra minute or two in the oven. By prepping and freezing your dough in advance, you can have freshly-baked chocolate chip cookies whenever you want!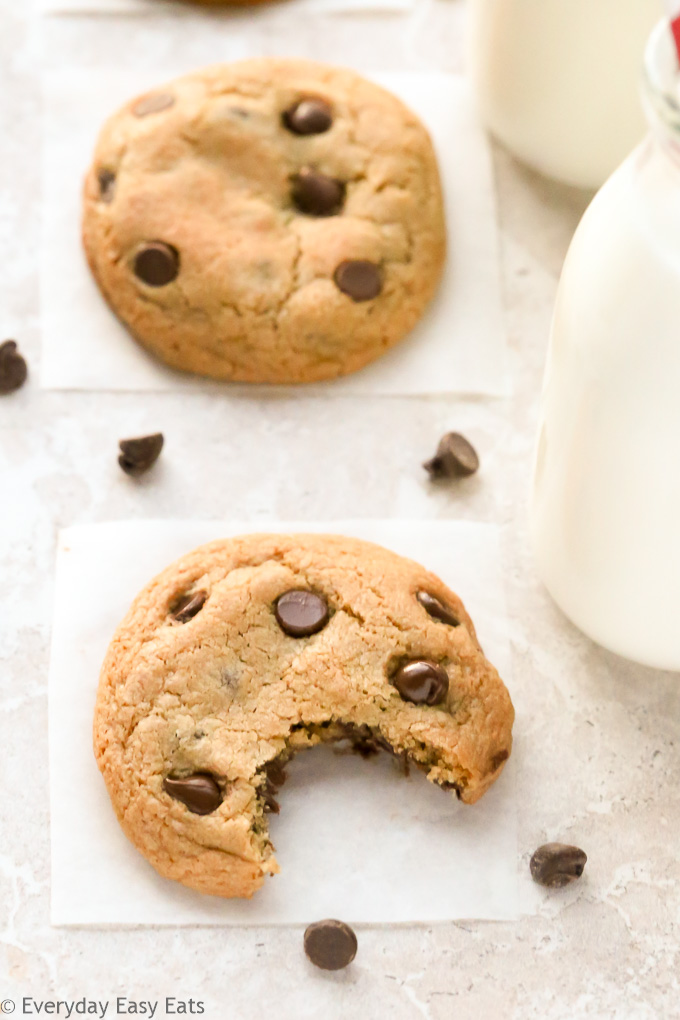 Are Chocolate Chip Cookies Good for You?
It depends on the recipe. I wouldn't call these chocolate chip cookies nutritious, since they are made with a good amount of all-purpose flour, butter, and sugar. But, they are homemade, so you know exactly what's inside the batter, which is better than eating store-bought chocolate chip cookies.
However, I truly believe that healthy eating can include partaking in a reasonable amount sweets and desserts. It's important to treat yourself with recipes like this once in a while, so that you don't feel deprived or restricted from the foods that you like to eat. Frequency and portion size do matter, so just have cookies like this on occasion and in moderation. 🙂
More Easy Cookie Recipes
Looking for more baking inspiration? Here are some of my favorite cookie recipes:
If you make this No-Chill Chocolate Chip Cookies with Cornstarch recipe, let me know! Leave a comment with a star rating ★ below, because I love hearing from you! ♡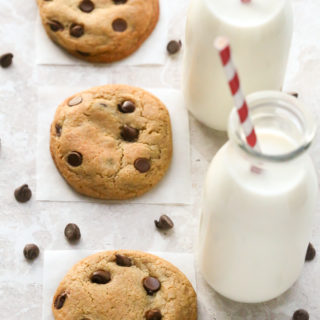 The BEST No-Chill Chocolate Chip Cookies with Cornstarch
These No-Chill Chocolate Chip Cookies with Cornstarch are so soft and chewy. A super easy recipe that is ready in less than 30 minutes!
Instructions
Preheat oven to 350ºF (177ºC). Line two baking sheets with parchment paper.

In a large bowl, using a hand-held mixer or a stand mixer with paddle attachment, cream together the butter, brown sugar, and granulated sugar until light and fluffy. Next, mix in the egg and vanilla.

In a separate bowl, combine the flour, cornstarch, baking soda, and salt.

Add the dry ingredients to the wet ingredients and beat until combined. Stir in the chocolate chips with a large spoon or rubber spatula.

Shape the dough into balls, containing about 2 tablespoons of dough each, and place on the prepared baking sheets.

Bake for about 10 minutes until edges are lightly browned, but centers are still soft. Allow cookies to cool on the baking sheets for 5 minutes, then transfer to a wire rack to finish cooling.
Notes
The cookies will stay fresh in an airtight container at room temperature for up to 1 week or in the freezer for up to 3 months.
Nutrition
Nutrition Facts
The BEST No-Chill Chocolate Chip Cookies with Cornstarch
Amount per Serving
% Daily Value*
* Percent Daily Values are based on a 2000 calorie diet.
This post was originally published on December 20, 2016. It has been updated to reflect new information and helpful content.
© Everyday Easy Eats. All photos and content are copyright protected. Please do not use any of my recipes, text or images without prior permission.