This luxurious, subtly-spiced Curried Coconut Pumpkin Soup recipe will warm you from the inside out. It is naturally vegetarian, vegan, Whole30-compliant, paleo, and gluten-free. It is made with canned pumpkin, coconut milk, coconut oil, onion, garlic, ginger, broth, and curry powder. Learn how to make homemade pumpkin soup with this quick and easy recipe that is ready in just 20 minutes!
Curried Coconut Pumpkin Soup: The Perfect Fall Soup
This easy-to-make pumpkin soup is ideal for chilly weather and evenings when you want something simple and comforting. It is thick, flavorful, and comes together in mere minutes! It is perfect for meal prepping, so you can easily make a batch ahead of time to have on hand for the coming week.
This Curried Coconut Pumpkin Soup recipe would be great for entertaining and taking along to fall and winter gatherings. It is suitable for many people following special diets, as it is naturally Whole30-compliant, gluten-free, paleo, and vegan. It only uses a touch of curry powder to give it the slightest hint of warm Indian spices, without being overly spicy.
Not only is this pumpkin soup recipe quick and easy, it is also extremely nutritious. Pumpkin is rich in Vitamin A, which is important for keeping your eyesight sharp. Pumpkin is also a good source of fiber, which keeps you feeling full for longer on fewer calories. Coconut milk gives the soup a rich and creamy consistency, without the use of any dairy.
Don't miss out! Click here to get exclusive discounts on my favorite healthy brands!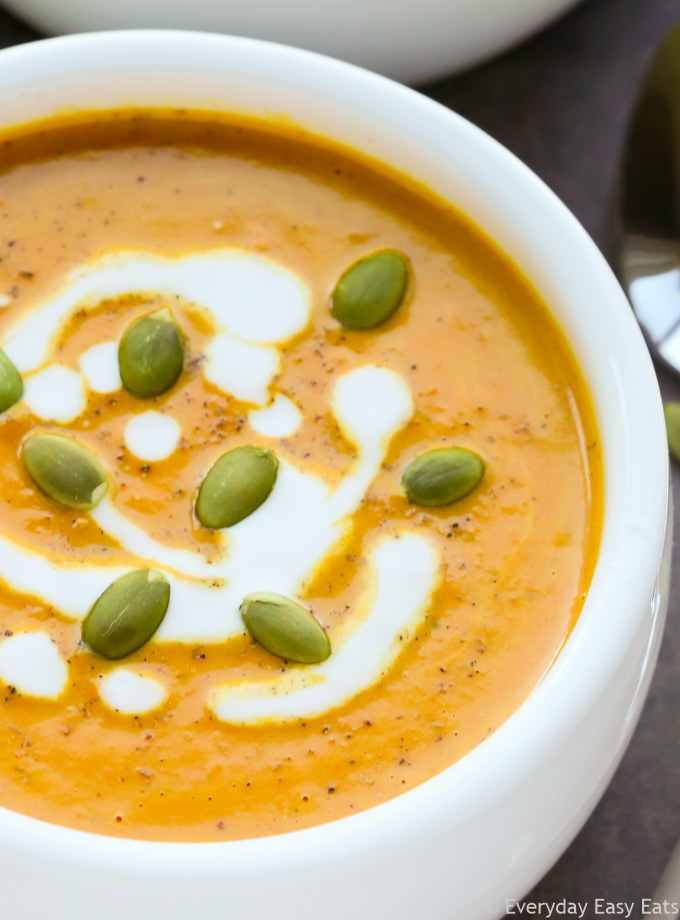 How to Make Curried Coconut Pumpkin Soup
This homemade pumpkin soup recipe is so simple to make. Start the cooking process with a base of chopped onions, garlic, ginger, and curry powder. Then add the pumpkin puree, broth, and coconut milk, season with some S&P, and simmer until done.
Use a blender to purée the soup at the end and you have a beautifully smooth, thick, and satisfying curried pumpkin soup. I use an immersion blender to puree the soup, but you could also transfer the soup to a traditional blender and blend it in batches instead.
Important: Be sure to use these two safety precautions when using a traditional blender to blend hot liquids:
Blend the hot liquid in batches and only fill the blender up until it is halfway full. Any more than that can cause a serious accident.
Before you start blending, remove the center insert in the lid of your blender. Then, place your hand over top the lid with a dish towel and keep most of the hole covered. This is done to allow the hot steam to escape and prevent any splashes while the blender is running.
More Vegan Soup and Curry Recipes:
Looking for more plant-based soup and curry recipes? Here are some of my top choices:
For this Curried Coconut Pumpkin Soup recipe, I recommend:
Here are a some pantry staples that I suggest using to ensure this coconut pumpkin soup recipe turns out perfect. All of these ingredients can be ordered online from Thrive Market, which is an online retailer that sells healthy, organic food at wholesale prices. I like to think of it like Amazon (online marketplace) meets Costco (wholesale prices) meets Whole Foods (all wholesome, junk-free foods).
Thrive Market Curry Powder – This is the curry powder I use! The quality is excellent and it gives a rich, fragrant, and well-rounded flavor to soups and curries.
Canned Pumpkin Purée – This pumpkin purée is excellent because it is organic, non-GMO, and contains no added sugars or sweeteners. It is made from sustainably-farmed pumpkins that are vine-ripened and then puréed to perfection.
Organic Coconut Milk – I love the richness and consistency of this full-fat coconut milk. It adds so much body and richness to curries and soups.
Nutiva Coconut Oil – I always use this unrefined, virgin, and organic coconut oil for optimal flavor and health benefits.
If you're interested in purchasing any of the above items, you'll need to get a Thrive Market membership. However, if you're a reader of my website, you will get an exclusive bonus when you sign up:
Click here to get a FREE gift, up to $22 value, when you purchase a 1-month or 1-year risk-free Thrive Market membership!
If you make this Curried Coconut Pumpkin Soup recipe, let me know! Leave a comment with a star rating ★ below, because I love hearing from you! ♡
Curried Coconut Pumpkin Soup (Vegan, Whole30, Paleo)
This Curried Coconut Pumpkin Soup recipe is vegan, Whole30, and paleo. Learn how to make healthy homemade pumpkin soup with this quick and easy recipe!
Instructions
In a large pot, heat the oil over medium heat. Add onion and sauté for 4 minutes until softened.

Add garlic, ginger, and curry powder and cook for 1 minute until fragrant.

Stir in the pumpkin purée, broth, and coconut milk. Increase heat to high and bring to a boil.

Reduce heat to low. Cover and simmer for about 10 minutes.

Remove from heat. Using an immersion blender, puree soup until smooth. Alternatively, transfer to a traditional blender and puree in batches until smooth.

Season with salt and pepper to taste. Serve hot, garnished with a drizzle of coconut milk and pumpkin seeds, if using.
Notes
The soup is meant to have a rich consistency, but if it is too thick for you, just add more broth or some water to thin it out.
If you are not vegetarian or vegan, the vegetable broth can be substituted with chicken broth.
Leftovers can be stored in the fridge for up to five days or in the freezer for up to three months.
Nutrition
Nutrition Facts
Curried Coconut Pumpkin Soup (Vegan, Whole30, Paleo)
Amount per Serving
% Daily Value*
* Percent Daily Values are based on a 2000 calorie diet.
© Everyday Easy Eats. All photos and content are copyright protected. Please do not use any of my recipes, text or images without prior permission.