This easy, one-pot Burrito Rice recipe is perfect for dinner or meal prep. It is made with black beans, corn, salsa, broth, Mexican spices, and rice. In this post, you will learn how to make the best homemade burrito rice that the whole family will love. This dish is sure to become a staple in your house, because it is budget-friendly, nutritious, satisfying, and makes great leftovers. To top it all off, it is ready from start to finish in just 20 minutes!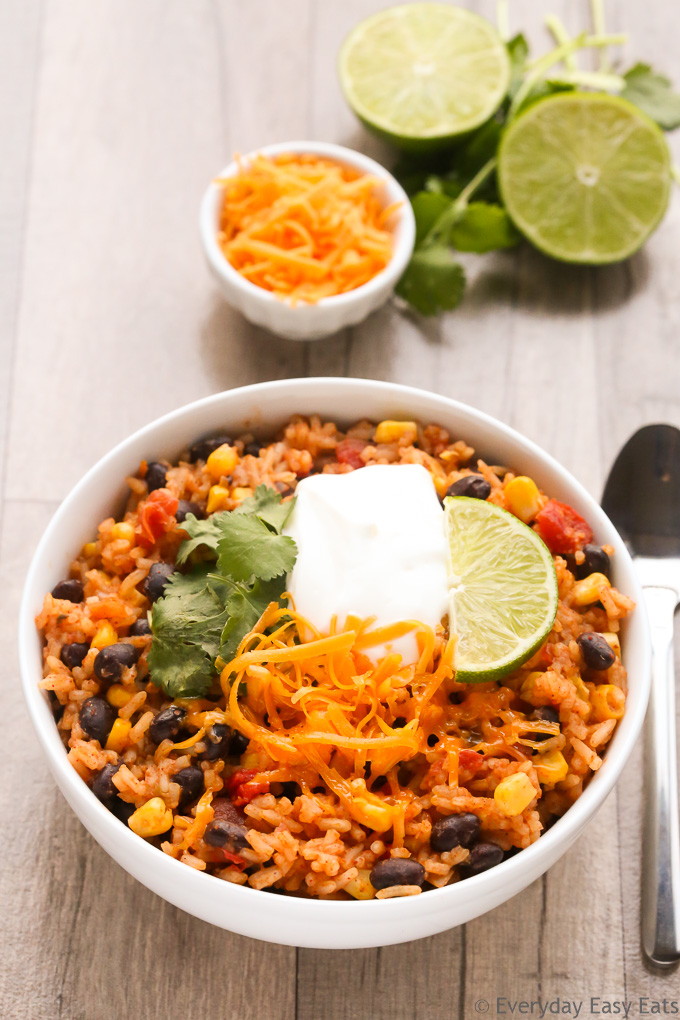 Burrito Rice: A Great Dinner Option
This Tex-Mex burrito rice recipe is an excellent choice for dinner due to its combination of flavors, textures, and nutritional value. Here's why it makes an ideal dinner option:
1. Satisfying and Filling
The combination of rice, black beans, and corn creates a balanced and satiating meal. Black beans are a great source of plant-based protein and dietary fiber, helping to keep you full and satisfied throughout the evening. The rice and corn add substance and a variety of textures to the dish.
2. Nutritional Value
This meal incorporates several wholesome ingredients. In this recipe, white rice is used to create a light and fluffy texture. While it has a slightly lower fiber content compared to brown rice, it still offers a good source of carbohydrates for energy. The black beans provide protein, fiber, and various essential nutrients. The corn adds vitamins, minerals, and a touch of natural sweetness. This combination of ingredients ensures a well-rounded and nutritious dinner.
3. Robust Flavor Profile
The blend of Mexican spices, salsa, and broth infuses the rice with a rich, complex flavor profile. The spices contribute depth and warmth, while the salsa adds a zesty kick. These flavors provide a flavorful dinner experience.
4. Budget-Friendly
This recipe is also a keeper because it very inexpensive to prepare. The main ingredients – white rice, black beans, corn, and basic spices – are affordable and widely available. This makes it an economical option for a home-cooked dinner that doesn't compromise on taste or satisfaction.
5. Versatility
The adaptable nature of this dish allows you to customize it to your taste preferences and dietary needs. You can control the level of spiciness by choosing a mild or hot salsa. You can even add diced vegetables, like bell peppers, for extra nutrients and colors.
6. Easy to Prepare
Despite its vibrant flavors, this dish is relatively simple and straightforward to prepare. The process mostly involves simmering the ingredients together on the stove. This results in a relaxed cooking experience that isn't overly time-consuming or complicated.
7. Family-Friendly
The combination of familiar ingredients like rice, beans, and corn, along with the appealing flavors of Mexican cuisine, makes this dish well-suited for families. It's a great way to introduce diverse flavors and ingredients to children while providing a comforting and satisfying meal.
8. Perfect for Gatherings
Whether you're having a family dinner or entertaining company, this burrito rice recipe is a crowd-pleaser. It can be served either as a standalone dish or as a side accompaniment to other Mexican-inspired delicacies such as tacos, enchiladas, or grilled meats.
9. Leftover Potential
Due to its generous portions, this recipe is great for leftovers. The flavors tend to meld and intensify as the dish sits, resulting in an even more flavorful meal the following day.
This recipe makes a fantastic dinner due to its robust flavors, nutritional value, versatility, ease of preparation, and budget-friendly nature. It's a dish that not only satisfies your taste buds, but also provides a hearty and filling meal. It is perfect for family dinners, gatherings, or simply indulging in a flavorsome homemade meal after a long day.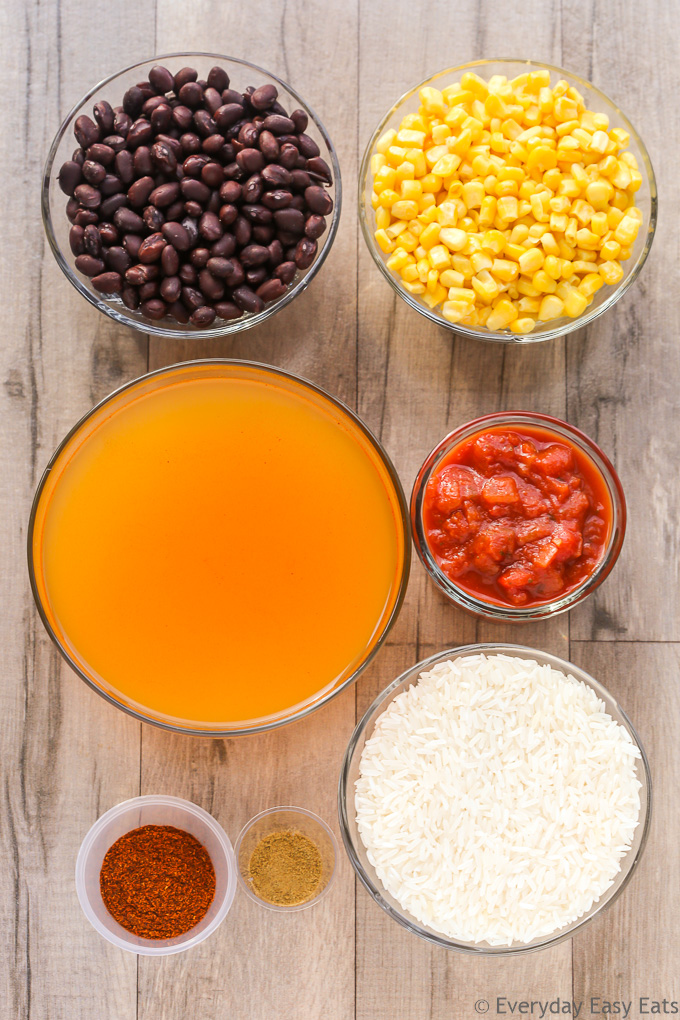 How to Make Burrito Rice
To make homemade Mexican-style burrito rice, simply:
Make the flavor base: Heat the broth, salsa, and spices in a pot or large saucepan on the stove.
Add the grains: Stir in the rice and simmer until the liquid is absorbed.
Stir in the veggies: Add the black beans and corn. Stir to combine all the ingredients.
Garnish and serve: For a pleasant pop of flavor, top your burrito rice with cheese, fresh cilantro, lime wedges, and sour cream.
That's it! This stovetop recipe is truly a breeze to make. 🙂
Tips for Making Burrito Rice
Here are some helpful tips for making this recipe:
Rinse your rice: Before you start making the recipe, rinse the rice under cold water until the water runs clear. This removes excess starch and prevents the rice from becoming too sticky.
Shred the cheese yourself: If you are going to use cheese, don't buy pre-shredded cheese. You can save a ton of money by grating a brick of cheese yourself. Pre-shredded cheese also contains additives that prevent the cheese from sticking together in the bag.
How to make it vegan: To make this recipe vegan and completely plant-based, do not top with your serving bowls with cheese and sour cream. However, feel free to use your favorite vegan alternatives instead.
Use my simple pointers above to make sure your burrito rice turns out perfect, every single time!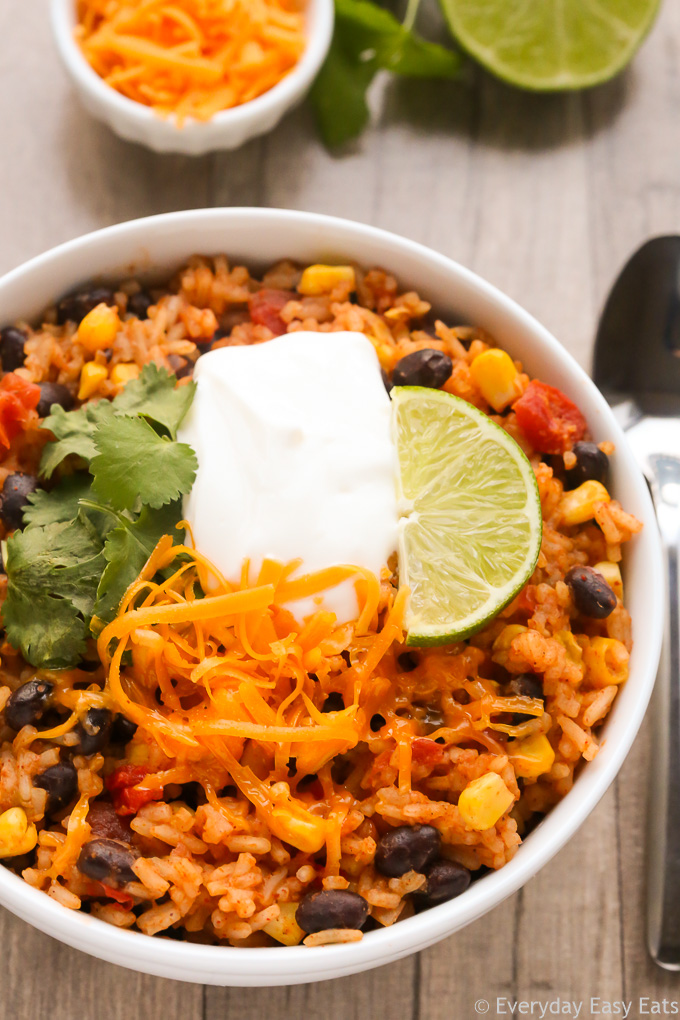 More Mexican & Tex-Mex Dinners
Craving more Mexican-style and Tex-Mex mains? Here are some more easy dinner recipes you will love:
If you make this Burrito Rice recipe, let me know! Leave a comment with a star rating ★ below, because I love hearing from you! ♡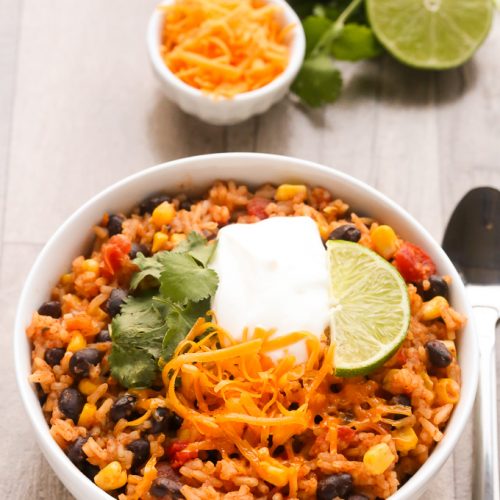 Burrito Rice (Easy One-Pot Recipe!)
This Burrito Rice recipe is ideal for dinner or meal prep. It makes a quick and easy meal that is sure to be a crowd-pleaser!
Ingredients
4

cups

vegetable broth

1

cup

prepared salsa

1

tablespoon

chili powder

1

teaspoon

ground cumin

2

cups

white rice

1

(15-ounce) can

black beans,

drained and rinsed

2

cups

frozen corn,

thawed

Optional garnishes: Fresh chopped cilantro, shredded cheese, lime wedges and sour cream
Instructions
In a pot or large saucepan set over medium-high heat, add the broth, salsa, chili powder, and cumin. Bring the mixture to a boil.

Stir in the rice, reduce the heat to low, and cover.

Simmer, stirring occasionally, for 15-20 minutes, or until the rice is tender and has absorbed the liquid.

Stir in the black beans and corn until warmed through.

Serve immediately, topped with optional garnishes, if using.
Notes
Leftovers can be stored in the refrigerator for up to five days or in the freezer for up to three months.
Nutrition
Nutrition Facts
Burrito Rice (Easy One-Pot Recipe!)
Amount per Serving
% Daily Value*
* Percent Daily Values are based on a 2000 calorie diet.
This post was originally published on January 31, 2020. It has been updated throughout to reflect new information and helpful content.
© Everyday Easy Eats. All photos and content are copyright protected. Please do not use any of my recipes, text or images without prior permission.