This cozy Butternut Squash Apple Soup recipe is naturally vegan, Whole30-compliant, paleo, and gluten-free! It makes a healthy, flavorful soup that is a fall favorite. Learn how to make homemade butternut squash soup with this easy recipe that is sure to be a crowd-pleaser.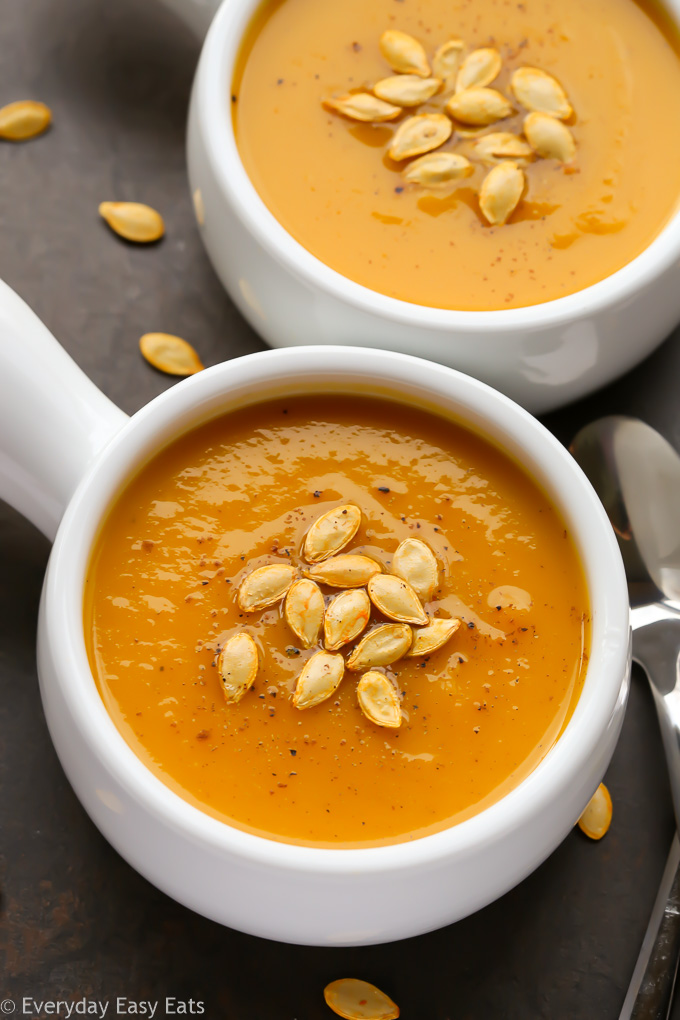 UPDATE: This post was originally published in September 2017. It has been updated to reflect new information and helpful content.
Butternut Squash Soup: The Perfect Autumn Meal
Warm, healthy and comforting, butternut squash soup is quintessential to fall and Thanksgiving. Butternut squash has a slightly sweet and nutty flavor, which is why I like to add a tart green apple to balance the natural sweetness of the squash. Cinnamon, nutmeg, and cayenne add a touch of warmth and enhance the flavors in the soup.
This is a great make-ahead recipe, so you could make a batch on a Sunday to have on hand for the coming week. It tastes even better the next day, because the flavors have more time to mingle and develop. You can serve it on its own or pair it with a simple side salad and a slice of French bread for the perfect cold weather meal.
How to Prepare Butternut Squash
To prepare your butternut squash, all you need is a vegetable peeler and well-sharpened knife. Use the knife to cut off the ends of the squash and then peel off the skin with the vegetable peeler. Then slice the squash down the middle, scrape out the seeds and chop as indicated in the recipe.
Pro Tip: You can also microwave the squash before you begin peeling to make peeling easier. To do this, simply pierce the squash a few times with a fork and microwave for 1-2 minutes. This helps loosen and soften the skin, making it easier to remove.
How to Roast Squash Seeds
Don't throw away the squash seeds! Roasted squash seeds make a great salty and crunchy snack. To make roasted squash seeds yourself, just follow these simple steps:
Prep the seeds: Preheat oven to 300°F. Scoop the seeds from the cut squash cavity and wash away the squash flesh and strings under running water. Dry the seeds using paper towel.
Spread seeds in a pan: Place the seeds in a single layer on a baking sheet, then drizzle with a bit of olive oil and season with a couple of pinches of salt. Toss to coat.
Bake in the oven: Roast for about 20 minutes or until the seeds are lightly browned.
Pro Tip: You can also use your roasted seeds as a garnish for your soup, which is what I did in the photos for this recipe.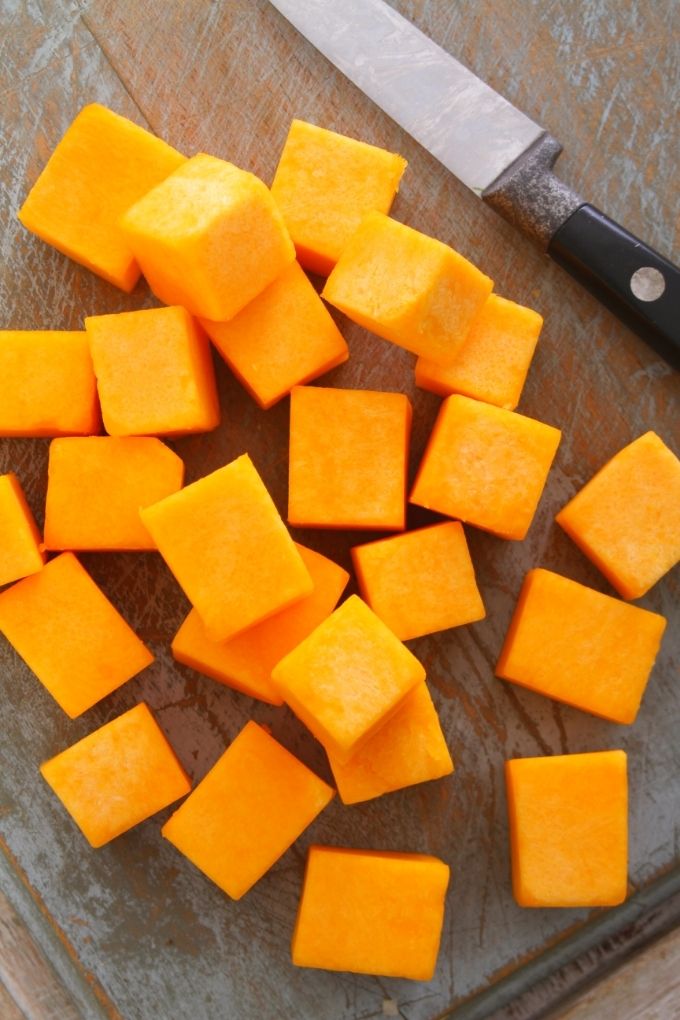 How to Make Butternut Squash Apple Soup
Once you have prepped your ingredients, this recipe is so easy to make. To make homemade butternut squash soup, simply:
Cook your mirepoix: Start the cooking process with a base of chopped onions, celery, and carrots. Saute them in a pot until softened.
Add remaining ingredients: Then add the squash, apple, broth, and spices. Simmer everything until done.
Blend until smooth: Use a blender to purée the soup at the end and serve it up nice and warm.
That's really all that's required for a silky, thick, and satisfying butternut squash apple soup.
Tips for Blending Hot Soup
I always use an immersion or stick blender to puree soup directly in the pot, which is what I recommend doing in this recipe. If you don't have one though, you can transfer the soup to a traditional blender and blend it in batches.
However, it is important to use the following safety precautions when using a traditional blender to blend hot liquids:
Fill up blender halfway: Be sure to only fill up the blender until it is halfway full, because any more than that can cause an accident.
Allow steam to escape: Remove the center insert in the lid of your blender to allow hot air to escape. Then keep your hand on top of the lid with a dish towel, keeping most of the hole covered, to avoid any splashes.
Be sure to always do these two things to avoid any kitchen accidents.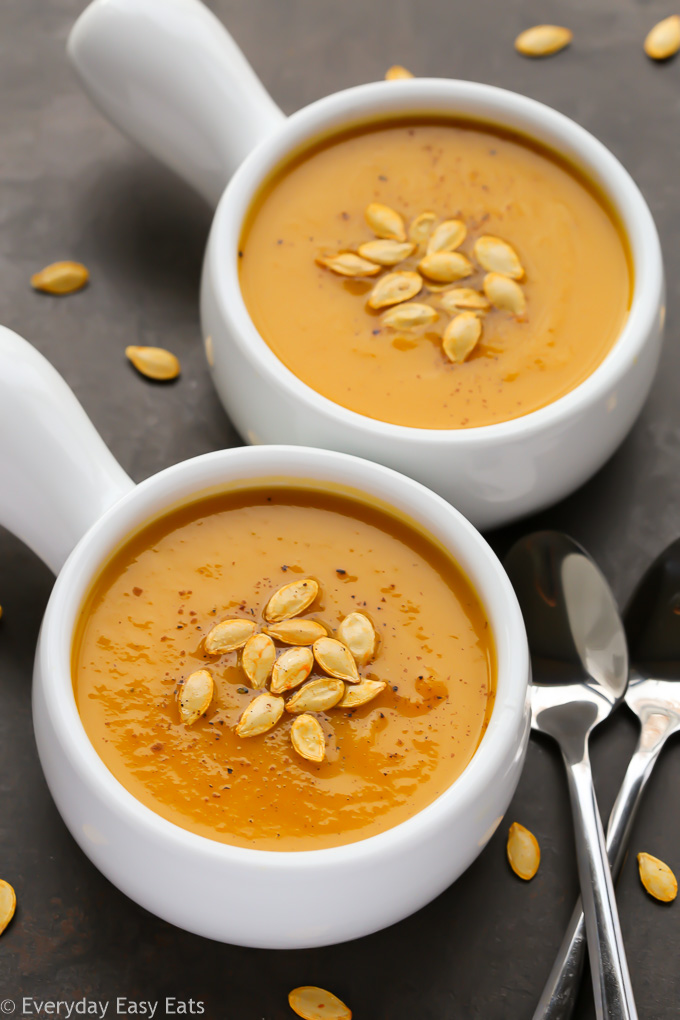 Recommended Tools for Apple Butternut Squash Soup
Here are a couple of kitchen utensils I suggest using to make this recipe:
KitchenAid Hand Blender – This is the one I use and love! I have had mine for years and it is one of my favorite kitchen tools. I use it all the time to quickly blend up soups, smoothies and dips.
Ultra Chef Express Food Chopper – This is the one I have and it is one of my most-used kitchen tools. I use mine all the time to quickly chop up vegetables. I especially love using it to dice onions, because it saves me from all the tears!
Using these convenient items will make preparing this recipe an absolute breeze.
More Healthy Soup Recipes
Craving more nourishing soup recipes? Here are some warm and cozy soups I love:
If you make this Butternut Squash and Apple Soup recipe, let me know! Leave a comment with a star rating ★ below, because I love hearing from you! ♡
Butternut Squash Apple Soup (Vegan, Whole30, Paleo)
This Butternut Squash Apple Soup recipe is vegan, Whole30-compliant, paleo, and gluten-free! A healthy and easy-to-make soup that is a fall and winter favorite.
Ingredients
2

tablespoons

olive oil

1

yellow onion,

chopped

1

medium carrot,

chopped

1

stalk

celery,

chopped

1

medium butternut squash,

peeled, seeded, and chopped

1

Granny Smith apple,

peeled, cored and chopped

4

cups

vegetable broth

1/8

teaspoon

ground cinnamon

1/8

teaspoon

ground nutmeg

1/8

teaspoon

ground cayenne

Salt and pepper,

to taste

Optional garnish: Roasted butternut squash seeds
Instructions
In a large pot, heat the oil over medium heat. Add the onion, carrot and celery and cook for 4-5 minutes or until softened.

Add the butternut squash, apple and broth. Bring mixture to a boil over high heat.

Reduce heat to low and simmer for about 30 minutes until the squash and carrots have softened.

Remove from heat. Use an immersion blender to purée the soup, or purée the soup in batches in a traditional blender.

Stir in cinnamon, nutmeg, and cayenne. Season with salt and pepper to taste.

Serve warm, garnished with roasted butternut squash seeds, if using.
Notes
To store, let any leftover soup cool to room temperature before transferring it to an air-tight storage container. The soup may be stored in the fridge for up to 5 days. Alternatively, the soup can be stored in the freezer for up to 3 months.
Nutrition
Nutrition Facts
Butternut Squash Apple Soup (Vegan, Whole30, Paleo)
Amount per Serving
% Daily Value*
* Percent Daily Values are based on a 2000 calorie diet.
© Everyday Easy Eats. All photos and content are copyright protected. Please do not use any of my recipes, text or images without prior permission.