Here are the best Asian Rice Recipes that are super easy to make and perfect for dinner. In this recipe round-up, you'll find quick, healthy, and simple Chinese, Korean, and Thai main dishes. Vegetarian and vegan options included!
You are going to love these homemade Asian rice recipes, because they are surprisingly simple to make and are more flavorful than any restaurant or takeout rice I've ever ordered. Each of the recipes mentioned below include detailed ingredient information, complete instructions, as well as useful tips and tricks to ensure that they come out perfect every single time. Keep reading to learn more about my top choices that are super tasty, well-balanced, and satiating!

1. Asian Rice Recipes: Chicken Fried Rice
This restaurant-style Chicken Fried Rice recipe is guaranteed to became a favorite in your household. It makes a substantial meal that is loaded with amazing flavor and is an absolute breeze to make.
The recipe uses common ingredients that you probably already have on hand in your kitchen. Perhaps best of all, it is ready to eat in only 20 minutes. Get the recipe here.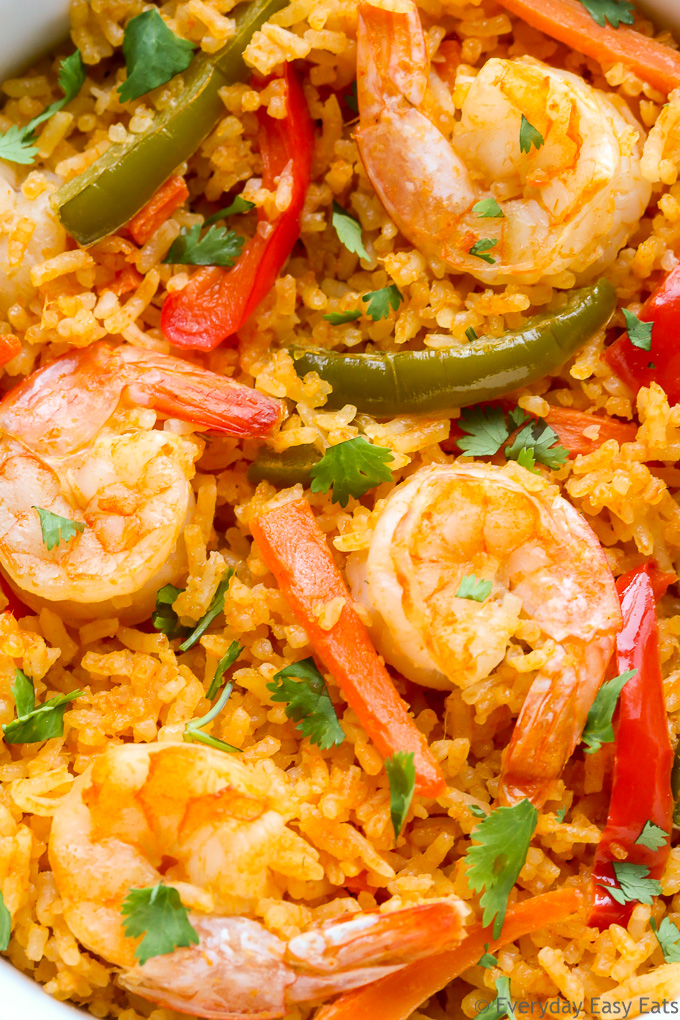 2. Asian Rice Recipes: Coconut Curry Shrimp and Rice
This easy-to-make Thai Coconut Curry Shrimp and Rice recipe is bursting with spicy coconut curry flavor. The basic elements of this satisfying, Thai-style dish are succulent shrimp, vegetables, and rice.
The heat in the recipe comes from Thai red curry paste, which gets toned down a bit by coconut milk and lime juice. All of the ingredients get cooked together in one pot, which means minimal cleanup is required to prepare this quick and easy meal. Grab the full recipe here.

3. Asian Rice Recipes: Pineapple Fried Rice
This Pineapple Fried Rice recipe makes a tasty and satiating meatless meal that is ready from start to finish in only 15 minutes. I adore the pineapple chunks in this recipe because they add sweet, juicy bursts of fruity flavor that contrast well with the rest of the savory ingredients in the rice. Get the recipe here.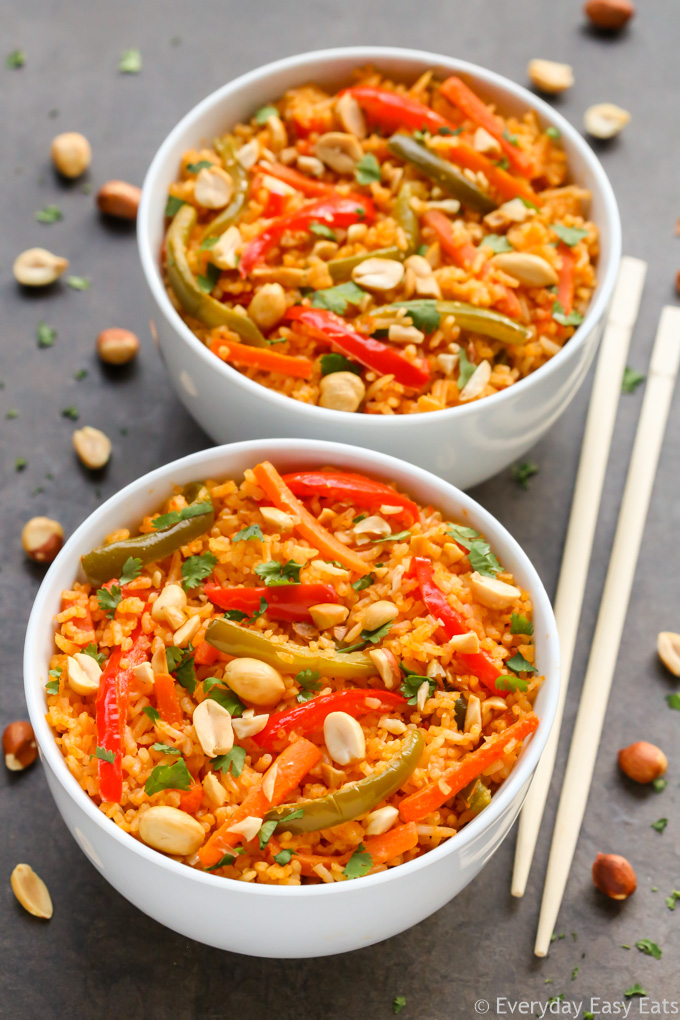 4. Asian Rice Recipes: Thai Coconut Curry Rice
This Thai Coconut Curry Rice recipe is spicy, satisfying, and perfect for busy weeknights! It is full of complex and bold flavors, but is so effortless to make.
The main ingredients in this hearty, Thai-style dish are fragrant red curry spices, fresh vegetables, silky coconut milk, and rice. It is vegetarian, vegan, gluten-free, and ready to eat in 30 minutes. Grab the full recipe here.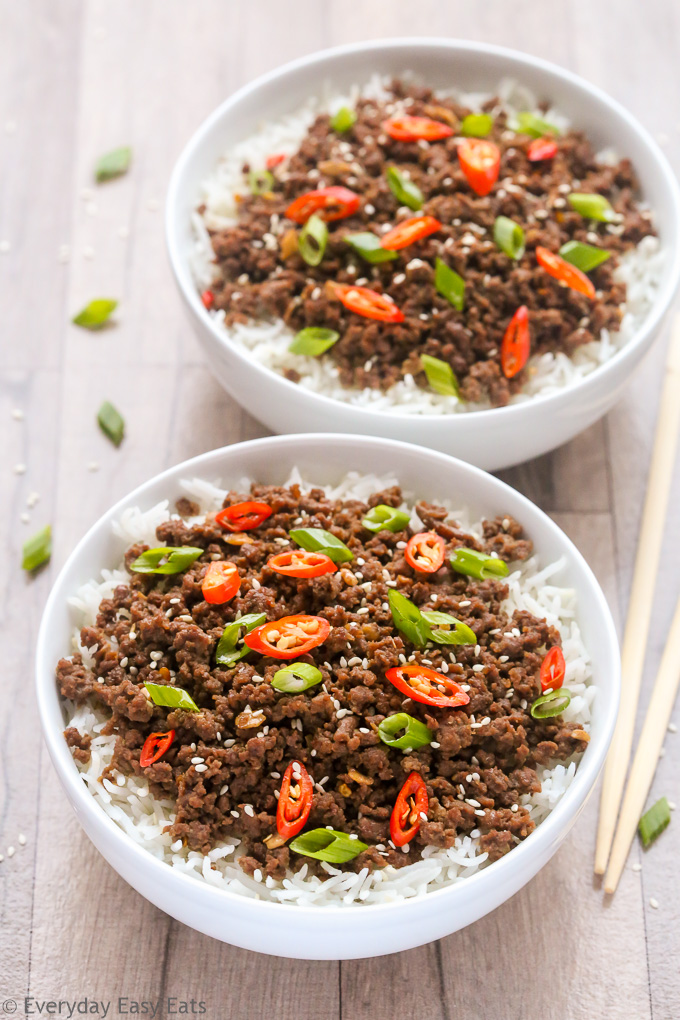 5. Asian Rice Recipes: Korean Ground Beef Bulgogi
This easy Korean Ground Beef Bulgogi recipe is a keeper, because it delivers maximum flavor with minimal effort. It is perfectly seasoned and substantial, but only requires a handful of ingredients and mere minutes to prepare.
This recipe is inspired by Bulgogi (Korean Barbecue Beef), which is traditionally made with thinly sliced sirloin. This recipe instead uses ground beef to make it a more budget-friendly dish. Using ground beef also saves time, because you don't need to marinate the meat for hours to allow all the flavors to sink in. Get the recipe here.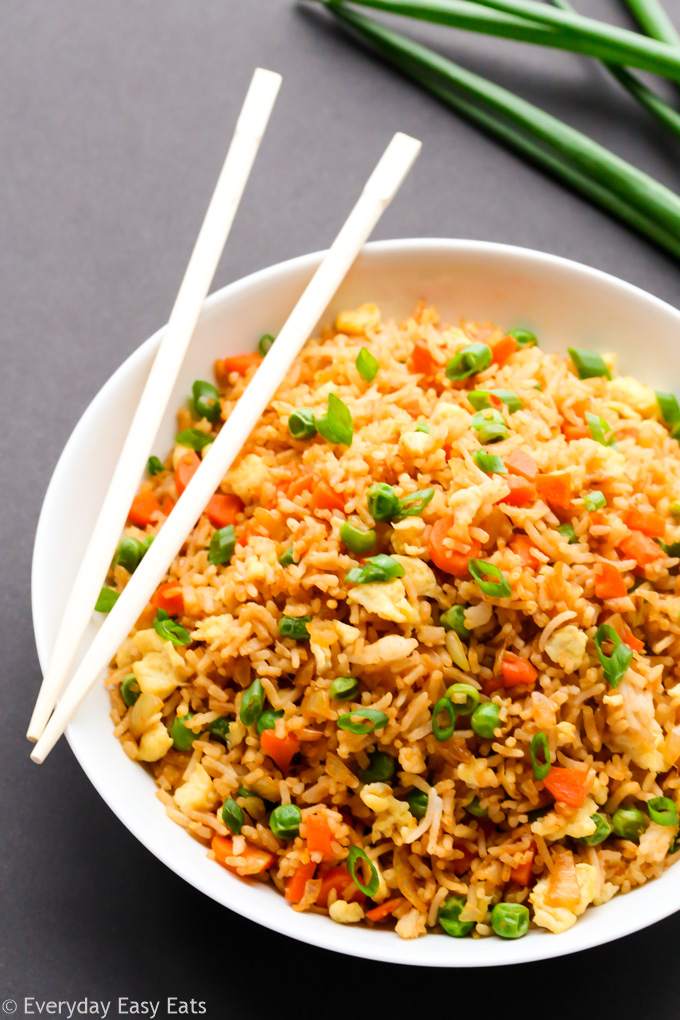 6. Asian Rice Recipes: Chinese Vegetable Fried Rice
You will want to add this Chinese Fried Rice recipe to your regular dinner rotation, because it is super flavorful and is ready to eat in just 15 minutes! It is a fast meal because it not only cooks quickly, but it also requires a very minimal amount of prep. You probably already have most of the ingredients on-hand in your kitchen too.
I bet you could make this dish in less time than it would take to get takeout. Plus, with such fantastic flavor and the fact that you know exactly what's going into it, who needs takeout anyway? Now you can toss those takeout menus and make perfect fried rice in the comfort of your own kitchen. Get the recipe here.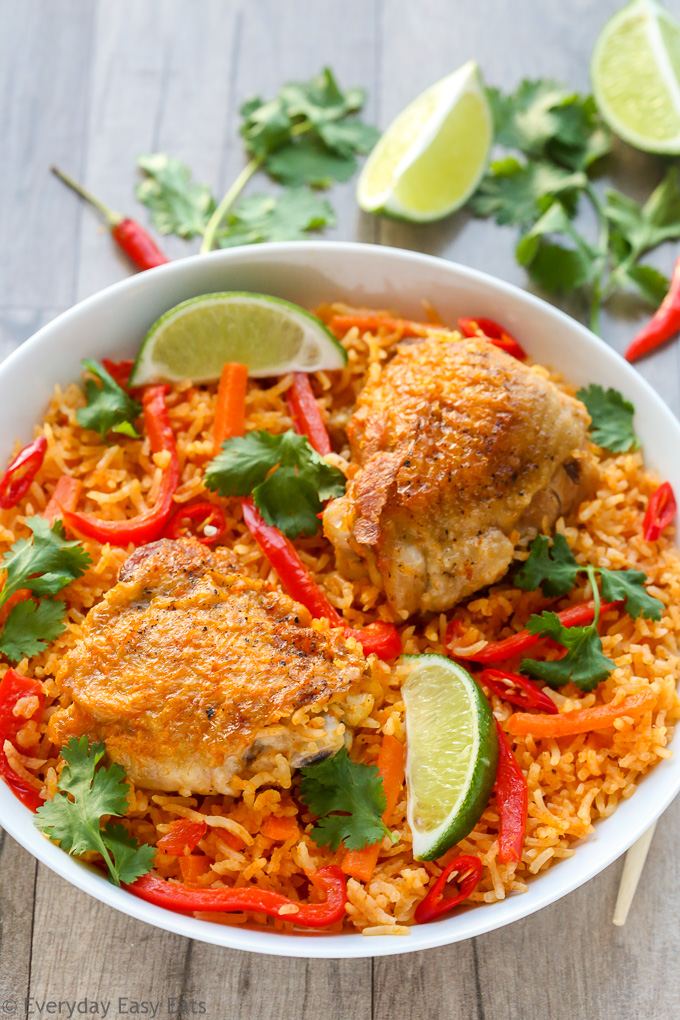 7. Asian Rice Recipes: Thai Curry Chicken and Rice
This Thai Curry Chicken and Rice recipe makes a balanced, filling meal that is full of fragrant Thai coconut curry flavors. It makes a perfect meal for busy weeknights that the whole family will love!
Learn how to make homemade spicy chicken and rice with this quick and easy Thai-style dinner recipe. Grab the complete recipe here.

8. Asian Rice Recipes: Pineapple Chicken Coconut Rice
You are going to adore this hearty, flavor-packed Pineapple Chicken Coconut Rice recipe. It includes lots of fresh vegetables, chicken, and is made with one of the best food combinations ever – pineapple and coconut!
This recipe makes a complete, balanced, and nutritious meal because it includes a protein source, vegetables, and starch. It is great for meal prep and makes a perfect Asian-style dinner recipe for a weeknight, because it is ready in just 30 minutes. Get the recipe here.
What are your favorite homemade Asian rice recipes? I'd love to know in the comments below!