This recipe for Brazilian Cheese Bread, also known as Pão de Queijo, is so unbelievably easy to make. It makes a delicious grain-free and gluten-free bread that is perfect for snacking. Learn how to make homemade cheese puffs with this quick and simple recipe.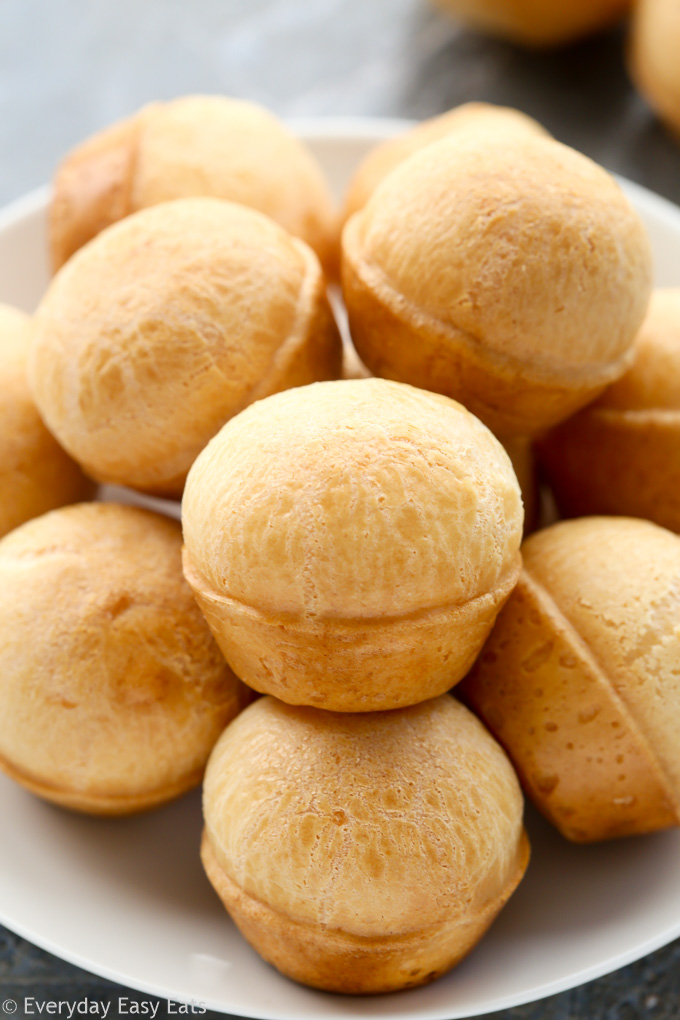 What is Brazilian Cheese Bread (Pão de Queijo)?
If you have never tried Brazilian cheese bread before, you are in for a treat. They are like little cheese puffs that are crispy outside but amazingly soft and chewy inside. I would say that they are similar in texture to Japanese mochi.
This Brazilian cheese bread recipe is made with only a handful of ingredients: milk, egg, olive oil, tapioca flour, salt and shredded cheese. I like to use a combination of cheddar and mozzarella, but any grated cheese will work in this recipe.
To make the cheese bread, simply add all of the ingredients to a blender and blend until smooth. Then pour the batter into a mini-muffin pan and bake. That's it!
What is Tapioca Flour?
Tapioca flour is a starch that is extracted from the cassava plant, which is native to the central-west region of Brazil. Similar to other starches, tapioca flour is a very fine, white powder. It works very well in gluten-free baking, because it helps create a crisp crust and chewy texture in baked goods. Due to its neutral flavor, it can also be used to thicken soups, sauces, and pie fillings without altering the taste.
You can find tapioca flour/starch in the international foods section of the grocery store, at natural food stores, or you can order it online. I love and use this one from Thrive Market because it is completely organic, preservative-free, and non-GMO.
Thrive Market is an online retailer that sells healthy, organic food at wholesale prices. I like to think of it like Amazon (online store) meets Costco (low, wholesale prices) meets Whole Foods (all nutritious, junk-free foods). If you're interested in purchasing anything from them, you'll need to get a Thrive Market membership. However, if you're a reader of my website, you will get an exclusive bonus when you sign up:
Click here to get a FREE gift, up to $22 value, when you purchase a 1-month or 1-year risk-free Thrive Market membership!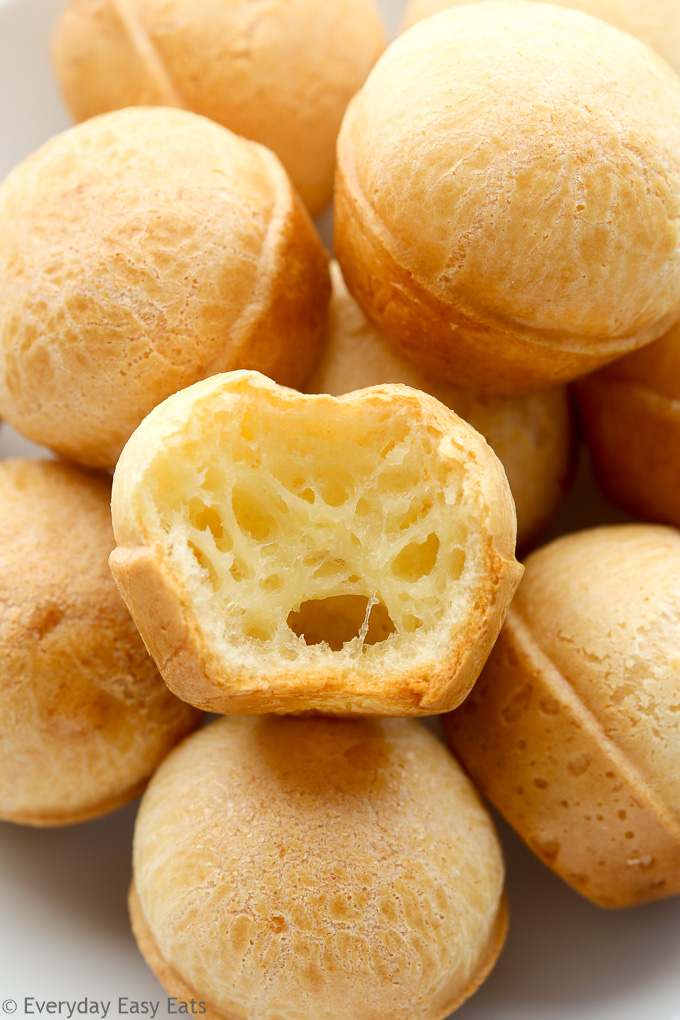 Is Brazilian Cheese Bread Keto?
Simply put, this Brazilian cheese bread recipe is not keto. This is due to the fact that its main component, which is tapioca flour, is not keto-friendly. Tapioca flour is made from the pulp of the cassava root, which pretty much entirely composed of starch.
In fact, tapioca flour contains more carbohydrates than an equivalent amount of bleached wheat flour. So if you are following the high-fat, low-carb ketogenic diet, a high-carb bread like this is not something you would want to consume.
The Best Healthy Gluten-Free Snacks
Although I love to make my own snacks, I, just like you, don't always have the time to do so. It's perfectly fine to purchase pre-packaged snacks, as long as you buy the right ones. Unfortunately, many store-bought snacks are not only made with gluten, but with all kinds of harmful additives, such as inflammatory oils, artificial flavors and colors, excess sodium and sugar, and non-food ingredients.
Here are some of my favorite healthy gluten-free snacks (all product links go straight to Thrive Market if you want to learn more or order them online):
Cheddar Cheesy Puffs: These cheese puffs are gluten-free, organic, and are made with 8 grams of whole grains that have been baked rather than fried. The best part is that they're covered in real cheddar cheese with no artificial flavors.
Simple Mills Almond Flour Crackers: These flavor-packed, crunchy crackers are made using a delicious blend of almond flour, sunflower seeds and flax seeds. They are not only certified gluten-free, but are also grain-free, soy-free, corn-free, dairy-free, paleo-friendly, vegan, and non-GMO!
Lesser Evil Popcorn: Made with clean, organic ingredients, Lesser Evil popcorn is impressively delicious. They use cold-pressed avocado oil, coconut oil or grass-fed ghee, are non-GMO and have considerably less fat and calories than other popcorn brands.
Don't miss out! Click here to get exclusive discounts on my favorite healthy brands!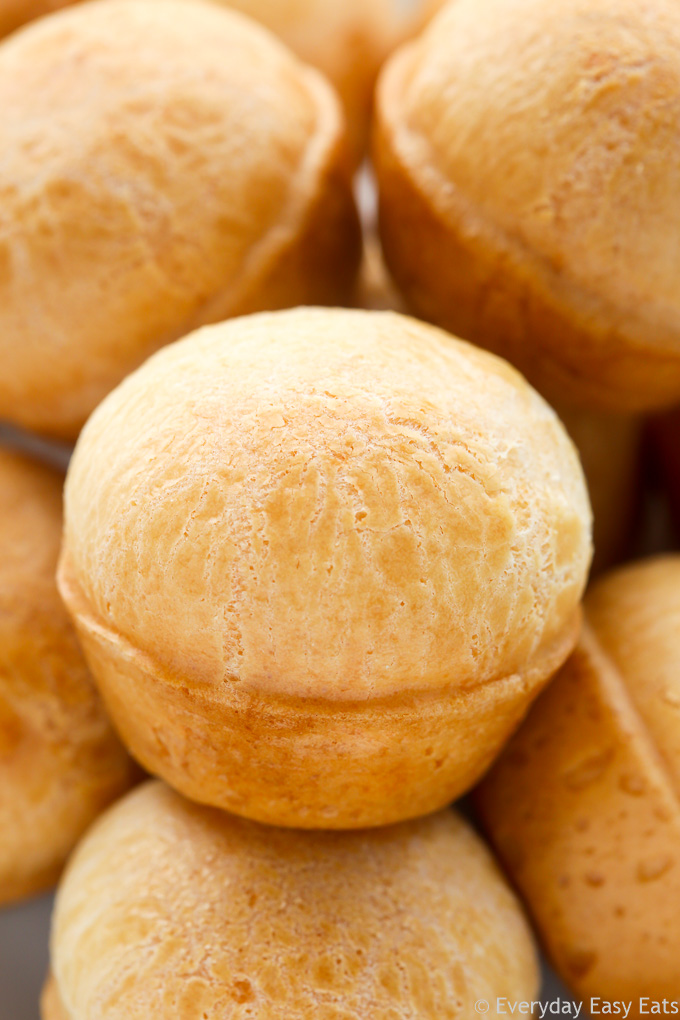 More Homemade Bread Recipes to Try
Looking for more stellar homemade bread recipes? Here are a few of my favorites!
For this Brazilian Cheese Bread Recipe, I recommend:
Here are a few kitchen tools I recommend using when preparing this recipe:
Box grater – You can save a ton of money by grating a brick of cheese yourself, rather than buying pre-shredded cheese. Pre-shredded cheese also contains additives that prevent the cheese from sticking together in the bag. So if you grate the cheese yourself, it will melt better too!
Mini-Muffin Pan – This one is non-stick, durable and the perfect size for this recipe!
Vitamix Blender – This one is hands-down the BEST blender money can buy. I love it because it is super powerful and also very versatile, so you can use it to make soups, sauces and homemade nut butters.
If you make this Brazilian Cheese Bread recipe, let me know! Leave a comment with a star rating ★ below, because I love hearing from you! ♡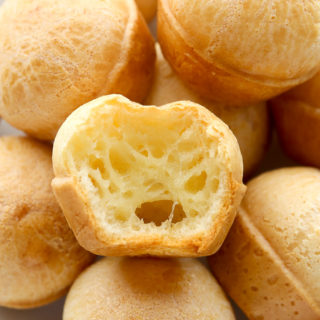 Easy Brazilian Cheese Bread (Pão de Queijo)
This Brazilian Cheese Bread recipe is so easy to make. Learn how to make homemade grain-free and gluten-free cheese puffs with this effortless recipe.
Instructions
Add all of the ingredients to a

blender

in the order listed and blend until smooth. Use a spatula to scrape down the sides of the blender, to ensure that all of the ingredients are evenly incorporated.

Pour the batter into the prepared mini-muffin pans, filling up each cup until about 3/4 full.

Bake for 18-20 minutes, or until puffed up and golden brown. Remove from the oven and allow to cool slightly on a wire rack. Serve warm.
Notes
Leftovers can be stored in an airtight container in the refrigerator for up to one week or in the freezer for up to three months.
Nutrition
Nutrition Facts
Easy Brazilian Cheese Bread (Pão de Queijo)
Amount per Serving
% Daily Value*
* Percent Daily Values are based on a 2000 calorie diet.
© Everyday Easy Eats. All photos and content are copyright protected. Please do not use any of my recipes, text or images without prior permission.