This no-bake Healthy Chocolate Chip Granola Bars recipe is made with just 6 ingredients. These homemade granola bars are soft, chewy, and just as delicious as they are nutritious! Learn how to make homemade granola bars with this quick and easy recipe.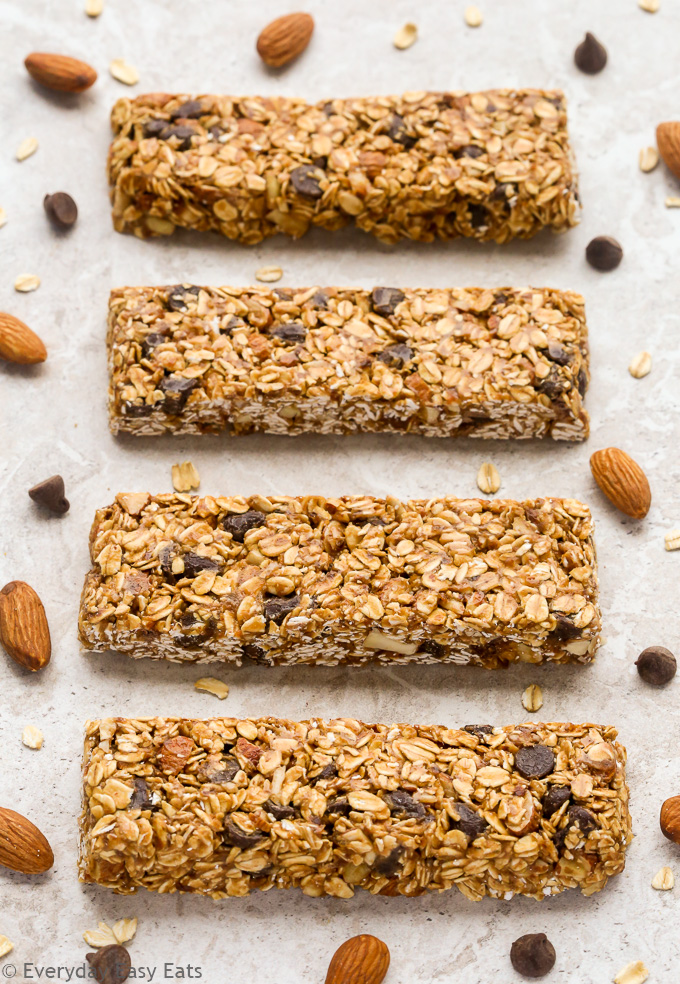 Homemade Granola Bars: The Perfect Healthy Snack
It's a great idea to make your own granola bars, because that way you get to control what goes into them. These bars are perfect for snacking, because they are super flavorful, perfectly portable, and will keep you feeling full for a long time.
This recipe is made using wholesome ingredients, such as rolled oats, almonds, and cocoa powder. Dark chocolate chips are also thrown into the mix for even more chocolatey flavor. A naturally-sweetened base of pureed dates and honey binds everything together.
How to Make Healthy Chocolate Chip Granola Bars
To make this no-bake chocolate chip granola bars recipe, simply:
Make the date paste: Add the pitted dates and honey to a food processor. Process until they form a sticky paste.
Combine the dry ingredients: Stir the oats, cocoa powder, dark chocolate chips, and chopped almonds together in a bowl.
Mix the wet and dry ingredients together: Combine the date paste with the dry oat mixture and press into a lined, square baking pan.
Freeze and serve: Place in the freezer until firm, then cut into bars and serve.
(Detailed recipe instructions and ingredient amounts included in the full recipe below.)
Tips for Making No-Bake Chocolate Chip Granola Bars
Here are a few pointers I have learned over the years about making the best homemade granola bars:
When adding the date paste to the dry granola mixture, use your hands to mix all of the ingredients together! Using a spoon won't cut it, because the mixture will be super sticky.
Once everything is mixed together, very firmly press the granola mixture into the baking pan using your hands, the sides of a mug or a flat dish.
Allow the granola mixture to completely chill and harden before cutting into bars. This will help ensure that the granola bars to hold together when sliced.
Optional: To enhance the flavor of the oats, you can lightly toast them on a baking sheet at 350°F for 10 minutes, just until they become fragrant.
The Best Store-Bought Snack/Protein Bars
Although I love to make my own granola/snack bars, I, just like you, don't always have the time to do so. It's perfectly fine to purchase pre-packaged bars, as long as you buy the right ones.
Unfortunately, many pre-made granola/protein/snack/energy bars are made with all kinds of harmful additives, such as artificial flavors and colors, excess sodium and sugar, and non-food ingredients.
Here are some of my favorite clean, healthy energy and protein bars (all product links go straight to Amazon if you want to learn more or order online):
RXBARs: These nutritious, junk-free protein bars are made with whole foods and simple ingredients like egg whites, fruits, and nuts. RXBARs are dairy-free, soy-free, gluten-free, and contain no added sugars. They are perfect for breakfast on-the-go, an afternoon snack or for pre/post-workout fuel.
EPIC Bars: These bars combine meat, fruit, and nuts to create a savory, healthy protein bar that is high in nutrients and low in sugar. All EPIC bars are gluten-free, grain-free, dairy-free and soy-free. My personal favorite flavor is Chicken Sriracha – it is SO good!
Health Warrior's Chia Bars: These snack bars are made from 100% real food, are completely plant-based and free of gluten, dairy, GMOs and soy. Each bar is only 100 calories and also has only three grams of sugar, which is super low compared to most snack bars made by other brands.
Click here to get exclusive discounts on my favorite healthy brands!
More No-Bake Snack Recipes To Try
Craving more healthy, easy-to-make snacks? Here are some of my favorite recipes on the blog:
For this Healthy Chocolate Chip Granola Bars Recipe, I Recommend:
Here are a few tools that will make preparing these homemade granola bars an absolute breeze:
Cuisinart Food Processor – This is the one I use and love! I have had mine for years and it is one of my favorite kitchen tools. I use it all the time to quickly mix ingredients and to make sauces and dips.
KitchenAid Mixing Bowls – This is a 3-piece set that is great for combining ingredients. The bowls nest together, so they are super easy to store.
Baker's Secret Square Baking Pan – This pan is the perfect size for this recipe. It also works beautifully for making brownies and cake.
If you make this Healthy Chocolate Chip Granola Bars recipe, let me know! Leave a comment with a star rating ★ below, because I love hearing from you! ♡
Healthy Chocolate Chip Granola Bars (No-Bake)
This no-bake Healthy Chocolate Chip Granola Bars recipe is made with just 6 ingredients. Learn how to make homemade granola bars with this quick and easy recipe.
Instructions
Line an 8x8-inch baking pan with parchment paper, leaving some overhang on the sides for easy removal. Set aside.

In the bowl of a food processor, process dates and honey until they form a paste.

In a large mixing bowl, combine the oats and cocoa powder. Stir in the almonds and chocolate chips.

Add date mixture to oat mixture and mix, using your hands, until well combined. Transfer mixture to the prepared pan and firmly press into an even layer.

Chill in freezer for about 20 minutes until firm. Remove from freezer and lift granola mixture out of pan using overhang on sides. Cut into bars and serve.
Notes
To make this recipe vegan, substitute the honey with maple syrup and use vegan chocolate chips.
To make this recipe gluten-free, use certified gluten-free rolled oats.
Leftover granola bars can be stored in the refrigerator for up to 2 weeks or in the freezer for up to 3 months.
Nutrition
Nutrition Facts
Healthy Chocolate Chip Granola Bars (No-Bake)
Amount per Serving
% Daily Value*
* Percent Daily Values are based on a 2000 calorie diet.
© Everyday Easy Eats. All photos and content are copyright protected. Please do not use any of my recipes, text or images without prior permission.