This Healthy Chocolate Milkshake recipe tastes like a decadent chocolate milkshake made with ice cream, but it is made entirely from nutritious ingredients. It is super quick, easy to make, and refined sugar-free. Made with cocoa powder, honey, chia seeds, milk, banana, ice, and vanilla. Learn how to make a homemade healthy chocolate milkshake with this fast and effortless recipe.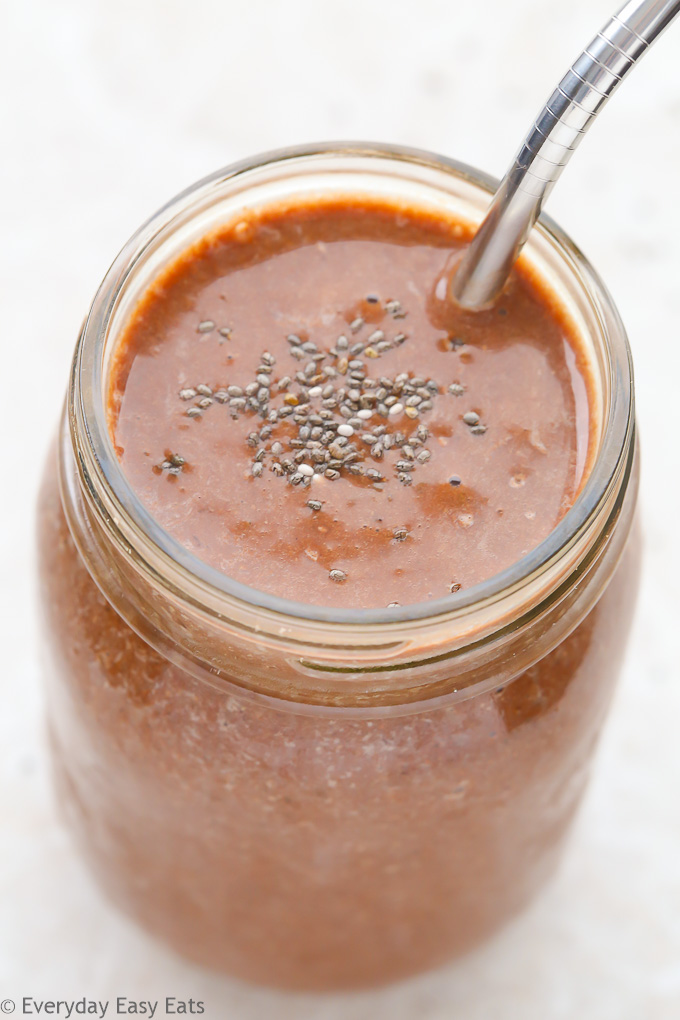 Healthy Chocolate Milkshake: A Good-For-You Treat
If you are a chocolate-lover like me, you are going to simply adore this indulgent chocolate smoothie. It gets its thick and creamy texture from frozen banana, which becomes almost like ice cream when it is blended. This recipe makes a great breakfast or post-workout snack because it is quick, easy to make, and healthy.
This nourishing shake is infused with chia seeds, which are a great thickening agent because they expand when wet. In addition, chia seeds increase the nutritional value of the smoothie by adding fiber, Omega-3 fatty acids and protein. This shake is refined sugar-free as it is naturally sweetened with honey, which has a wealth of healing properties and is also a natural energy booster.
Don't miss out! Click here to get exclusive discounts on my favorite healthy brands!
How to Make a Healthy Chocolate Milkshake
To make this Healthy Chocolate Milkshake recipe, simply:
Add all of the ingredients – milk, banana, ice, honey, cocoa powder, vanilla extract, and chia seeds – to a blender.
Blend until smooth and creamy.
Pro Tip: When adding your ingredients to your blender, always add the liquid (in this case, the milk) first near the blades. Doing this will help your blender to run a bit more smoothly whenever you are making a shake.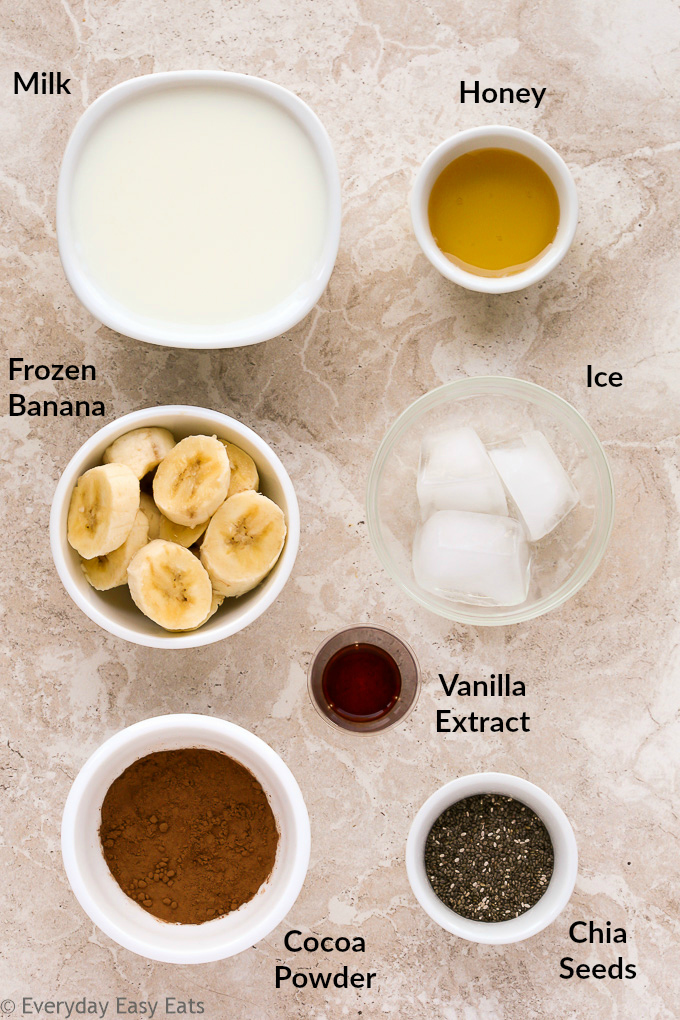 Possible Recipe Variations
This homemade chocolate milkshake recipe is very flexible with regards to variations. For example, feel free to…
Use non-dairy milk: I generally use dairy milk when making smoothies, but you can use any kind of milk you like. Unsweetened almond, coconut, soy, hemp, oat, or any other type of plant-based milk are all excellent options.
Add some spice: A pinch of cinnamon or nutmeg tastes great in smoothies.
Swap in a different sweetener: Instead of honey, you can substitute another natural and unrefined sweetener, such as maple syrup or agave nectar. You can also throw in one or two pitted dates instead of a liquid sweetener.
Add some collagen: Stirring collagen peptides into smoothies gives them a good dose of protein. Collagen is also known to improve the condition of skin, hair, nails, joints, ligaments, and is great for gut health. I recommend using one that is all-natural, unflavored, and unsweetened. I use this one from Thrive Market.
Those are just a few suggestions, so feel free to experiment with whatever ingredient swaps or additions that you would like. 🙂
More Healthy Shake and Smoothie Recipes to Try
Looking for more shake and smoothie recipes? Here are some of my faves: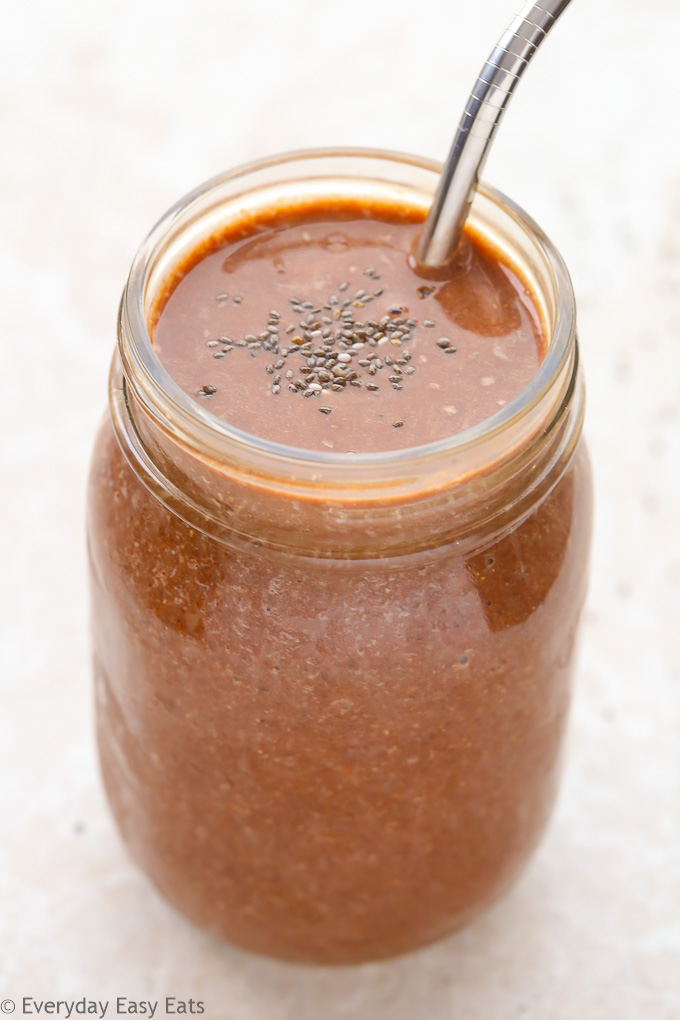 For this Healthy Chocolate Milkshake recipe, I recommend:
Using a Vitamix Blender, because it is the BEST blender for making smoothies! A Vitamix is a high-powered blender that breaks up frozen fruit, vegetables, ice and any other dense ingredients into oblivion – with no chunks and easy clean-up. The Vitamix blender is amazingly versatile, so you can also use it to make soups, sauces and homemade nut butters. You can check one out on Amazon here.
If you make this easy Healthy Chocolate Milkshake recipe, let me know! Leave a comment with a star rating ★ below, because I love hearing from you! ♡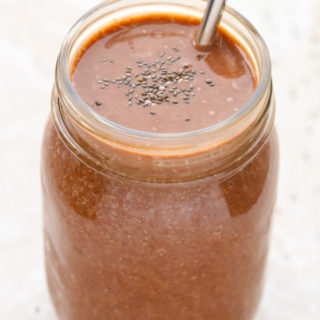 Healthy Chocolate Milkshake
This Healthy Chocolate Milkshake recipe tastes just like a decadent chocolate milkshake, but is actually good for you. Made with cocoa powder, honey, chia seeds, milk, banana, ice, and vanilla. 
Instructions
Add all ingredients to a blender and blend until smooth.
Notes
To make this recipe vegan: Be sure to use non-dairy milk and substitute the honey with maple syrup.
Nutrition
Nutrition Facts
Healthy Chocolate Milkshake
Amount per Serving
% Daily Value*
* Percent Daily Values are based on a 2000 calorie diet.
© Everyday Easy Eats. All photos and content are copyright protected. Please do not use any of my recipes, text or images without prior permission.