This Unsweetened Applesauce recipe is naturally flavored and contains no added sugars. It is naturally Whole30-compliant, vegan, and paleo. Made with fresh apples, water, lemon juice and cinnamon! Learn how to make homemade applesauce from scratch with this quick and easy recipe.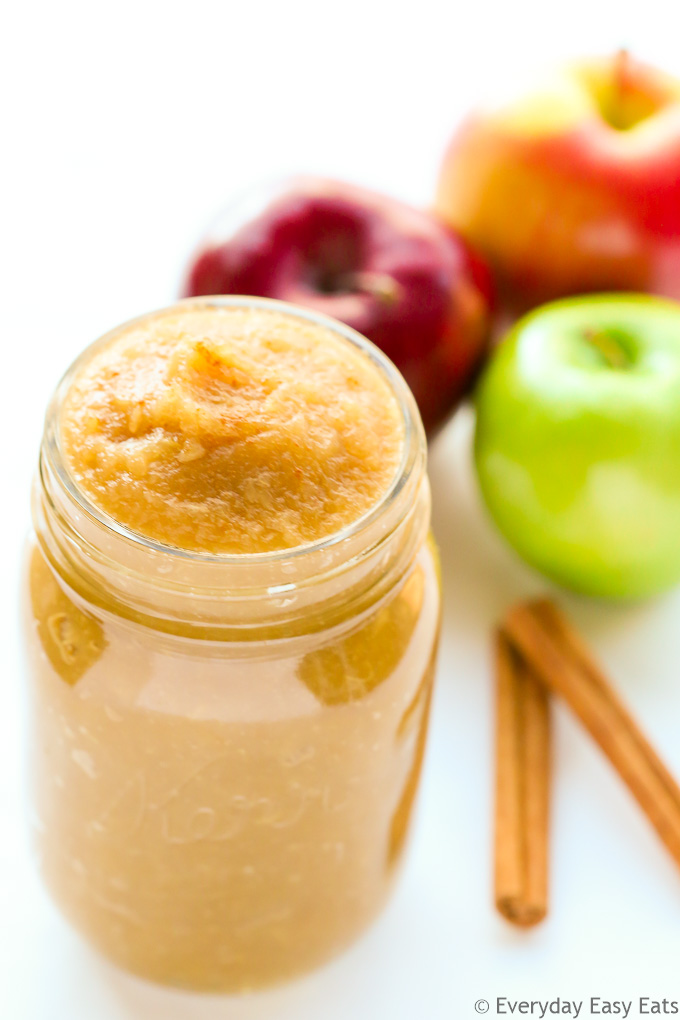 Homemade Unsweetened Applesauce
I always used to buy ready-made bottles of applesauce, until I realized it was so simple to make on my own. I like to keep a jar of it on hand in the fridge for a quick afternoon snack, as a condiment for a hearty main dish, a fuss-free dessert, or as a substitute for oil or butter when I am baking.
This recipe uses a bit of lemon juice and cinnamon to compliment the flavor of the apples. Use whatever kind of apples you have on hand or a combination of different types.
Since this recipe does not contain any added sugar, the sweetness of this applesauce depends on the sweetness of your apples. If you taste your applesauce and you think it would taste better if it was just a bit sweeter, I recommend adding a one to two tablespoons of a natural, unrefined sweetener like raw honey, maple syrup, agave nectar, or coconut sugar.
Keep in mind though that if you add honey, the applesauce will no longer be vegan, and if you add sugar of any form, it will no longer be Whole30-compliant.
Don't miss out! Click here to get exclusive discounts on my favorite healthy products and resources!
Can You Substitute Applesauce for Oil in Baking Recipes?
Yes! Strange as it may seem, you can absolutely substitute applesauce for oil, or any fat for that matter, in baking recipes. You'll spare yourself the calories and fat, but your desserts will be just as delicious and tender!
When substituting applesauce for oil in baking, the ratio is typically 1:1. Therefore, if your recipe requires, for example, one cup of oil, butter, or margarine, you can replace it with one cup (the same quantity) of unsweetened applesauce.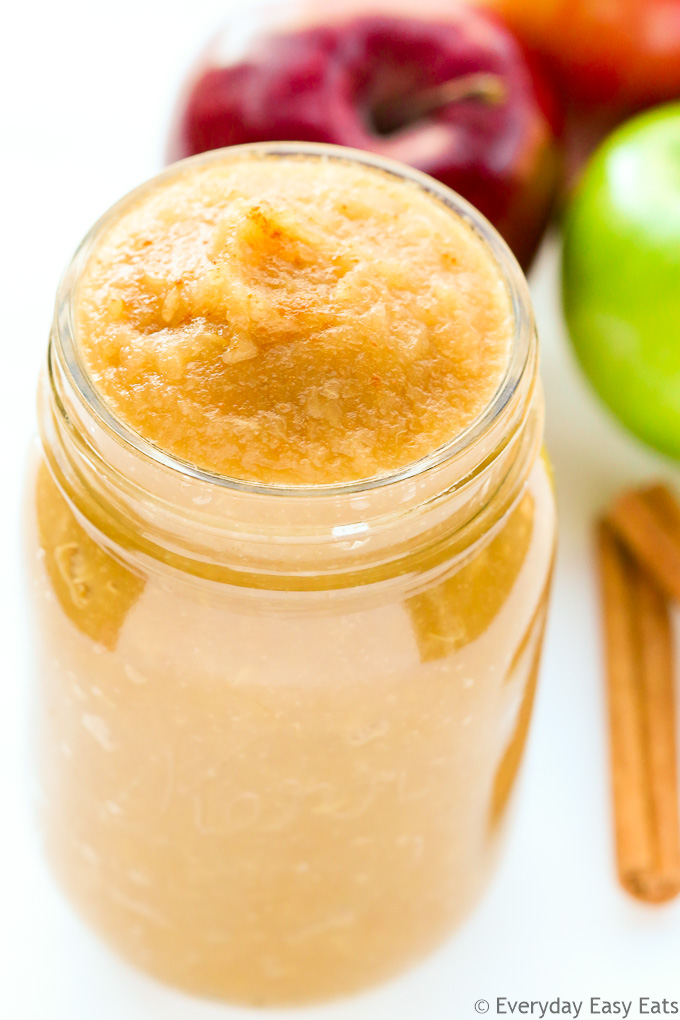 More Healthy Snack Recipes to Try
Looking for more nutritious snack inspiration? Here are some of my favorites:
For this Whole30 Applesauce recipe, I Recommend:
Here are a few kitchen tools that I suggest using to ensure this homemade applesauce recipe comes out perfect:
Citrus Juicer – If you cook with a lot of citrus, a sturdy juicer is a must. This one works for both lemons and limes and will squeeze out every last drop of juice like a pro. Worth every penny.
KitchenAid Hand Blender – This is the one I use and love! I have had mine for years and it is one of my favorite kitchen tools. For an extra-smooth applesauce, an immersion/stick blender like this will get the job done in no time. I also use it to make soups, dips, and smoothies.
If you make this Unsweetened Applesauce recipe, let me know! Leave a comment with a star rating ★ below, because I love hearing from you! ♡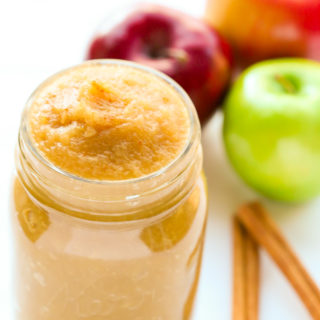 Unsweetened Applesauce Recipe (Whole30, Vegan, Paleo)
This Unsweetened Applesauce recipe is naturally flavored and contains no added sugars. A simple, homemade applesauce recipe that is perfect for snacking and using in baking.
Instructions
Combine all ingredients in a saucepan set over medium-high heat. Bring mixture to a boil.

Reduce heat to low, cover and simmer for about 20 minutes or until apples are tender.

Mash the apples with a potato masher or use an immersion (stick) blender to puree the apples for a smoother consistency. Allow to cool before serving.
Notes
Leftovers can be stored in the refrigerator for up to five days or in the freezer for up to three months.
Nutrition
Nutrition Facts
Unsweetened Applesauce Recipe (Whole30, Vegan, Paleo)
Amount per Serving
% Daily Value*
* Percent Daily Values are based on a 2000 calorie diet.
© Everyday Easy Eats. All photos and content are copyright protected. Please do not use any of my recipes, text or images without prior permission.