This Baked Honey Mustard Chicken Breasts recipe makes an easy, flavorful chicken dinner that is perfect for busy weeknights and meal prep. It pairs perfectly with steamed vegetables, pasta or rice to make a satisfying meal that the whole family will love! Learn how to make homemade baked chicken breasts with this easy and healthy recipe.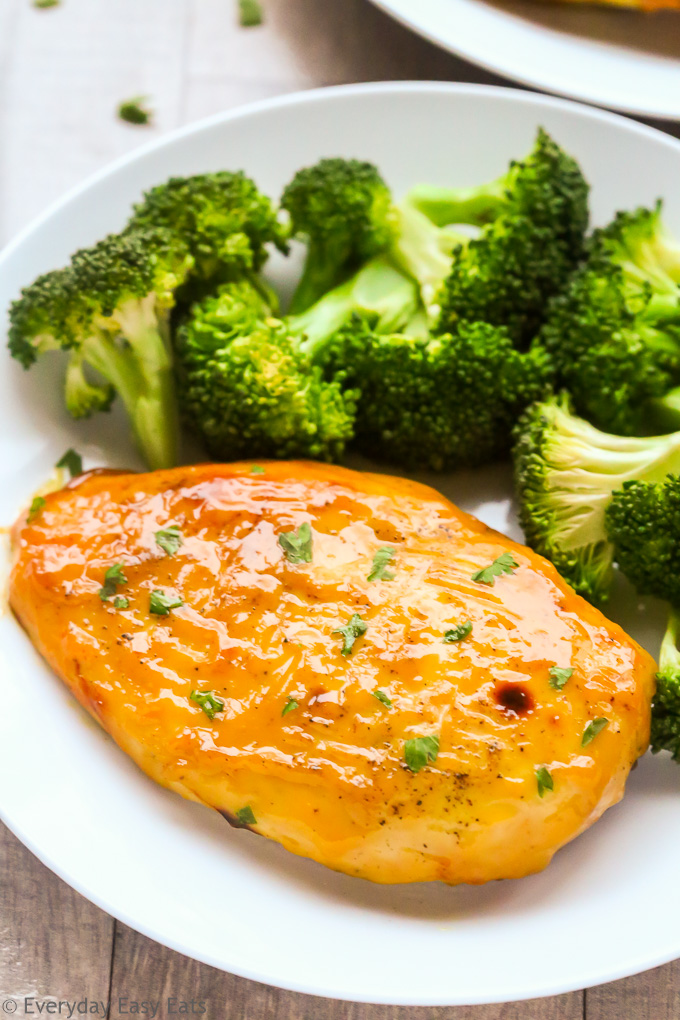 Honey Mustard Chicken: A Healthy Chicken Dinner Recipe
You are going to want to add this Baked Honey Mustard Chicken Breasts recipe to your regular dinner rotation. It requires only four ingredients to make (not including salt and pepper), which you probably already have on hand. This easy recipe is also super tasty and high in protein, but low in fat and calories.
How to Make Honey Mustard Chicken Breasts
As always, the full instructions are listed in the recipe below. But here are a few notes about each of the main steps required to make this recipe:
Make the Sauce: Combine the honey, mustard and olive oil in a bowl. Taste, and then season with salt and pepper to your liking.
Marinate the Chicken: Add the chicken to a baking dish and coat it with the honey mustard sauce. Place the dish in the refrigerator to marinate for at least an hour (overnight is ideal) to maximize flavor.
Bake: Cook the chicken in the oven for 20 minutes, then flip the chicken over, and bake for another 20 minutes or until fully cooked.
That's it! This is truly an easy and nutritious chicken dinner recipe that is absolutely bursting with flavor.
Where to Buy Organic Chicken and Other Meats
I am a huge advocate of only eating organic, humanely-raised chicken. This is because naturally-raised, organic meat is just so much more healthy, ethical, sustainable and flavorful than factory-farmed meat. And for the best-tasting organic chicken and other meats, I highly recommend using ButcherBox.
ButcherBox is a popular organic meat delivery service that delivers hormone-free and antibiotic-free cuts directly to your door. Their meat selection includes 100% grass-fed and grass-finished beef, free-range chicken, heritage breed pork, and wild-caught seafood.
The main reason why I love ButcherBox is because of the high quality of their meat. ButcherBox sells the cleanest, healthiest meat possible and it always tastes amazing. The meat arrives frozen and individually vacuum-packed in an insulated and eco-friendly box. The price works out to less than $6 per meal and shipping is free!
If you want to learn more about ButcherBox, I have written a detailed Butcher Box Review here on the blog. But if you are interested in using another delivery company, I wrote an article called: The Best Organic Meat Delivery Services. In that article, I review and discuss other online organic meat delivery services (in addition to ButcherBox) that might work better for you.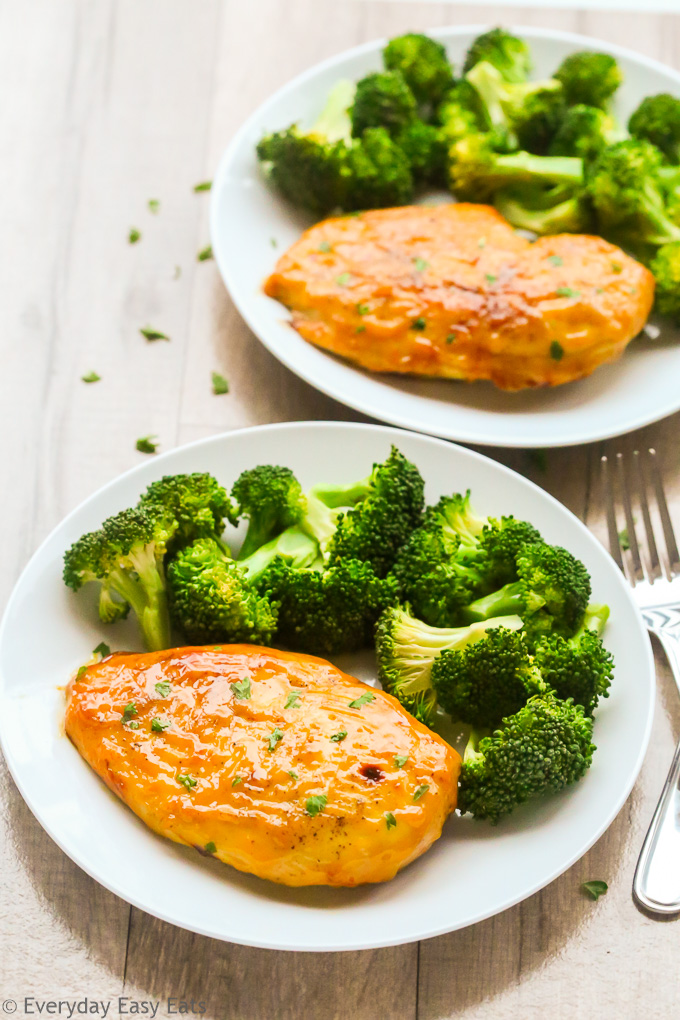 Is eating chicken breast good for weight loss?
Chicken breast is a great animal protein to consume, because it is extra-lean. Without the skin, one serving of 100g of roasted chicken breast barely has 2g of fat, which is the equivalent of less than one teaspoon of butter. In comparison, the same quantity of extra-lean ground beef contains nearly 8g of fat.
In addition to providing essential vitamins and minerals, chicken breast is high in protein (33g for 100g of chicken breast) and contains a high amount of amino acids. The dark meat in chicken (such as the legs) is twice as rich in iron as the white meat (the breasts). However, if you're watching the amount of fat in your food, white meat is a better option, because it contains less fat and more protein.
Don't miss out! Click here to get exclusive discounts on all of my favorite, must-have healthy products and resources!
How do you know when chicken breast is fully cooked?
You can check to see if your chicken breast is done by slicing it open with a knife. If the meat is white in the center (ie. no longer pink) and the juices run clear, the chicken breast is cooked through.
If you want to be sure, you can use an instant read meat thermometer. The chicken can be safely eaten when it reaches an internal temperature of 165ºF.
More Healthy Chicken Dinner Recipes to Try
Looking for more easy and healthy chicken dinners? Here are some of my favorite recipes:
If you make this Healthy Baked Honey Mustard Chicken Breasts recipe, let me know! Leave a comment with a star rating ★ below, because I love hearing from you! ♡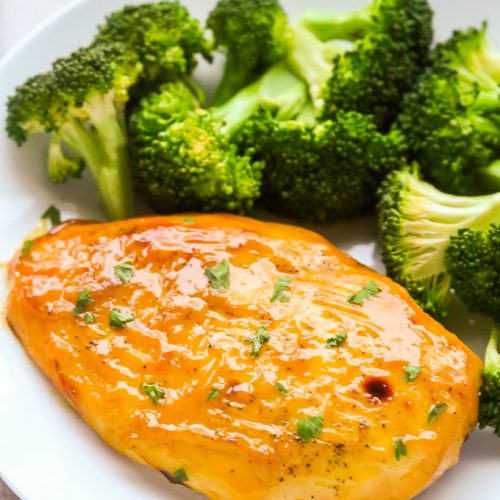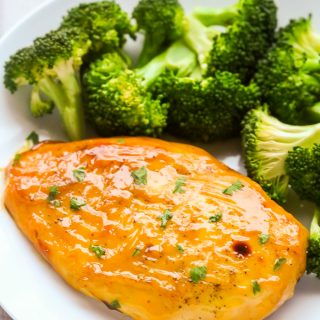 Healthy Baked Honey Mustard Chicken Breasts (Easy Recipe)
This Healthy Baked Honey Mustard Chicken Breasts recipe makes a simple, flavor-packed chicken dinner. It is perfect for busy weeknights and meal prep.
Ingredients
Instructions
In a mixing bowl, whisk together the honey, mustard, and olive oil. Season with salt and pepper to taste.

Arrange the chicken in a greased baking dish, pour the sauce over the chicken, and toss to coat.

Place the dish in the refrigerator to marinate for at least an hour, or overnight if possible.

When the chicken is almost done marinating, preheat the oven to 350ºF.

Bake for 40 minutes or until the chicken is golden and cooked through, flipping over halfway through cooking time. Serve warm.
Notes
The chicken is done when it is no longer be pink in the center and it reaches an internal temperature of 165ºF.
For a complete and balanced meal, serve the chicken with steamed vegetables, rice or pasta.
Leftovers can be stored

in an airtight container

in the

refrigerator

 for up to five days or in the freezer for up to three months.
Nutrition
Nutrition Facts
Healthy Baked Honey Mustard Chicken Breasts (Easy Recipe)
Amount per Serving
% Daily Value*
* Percent Daily Values are based on a 2000 calorie diet.
© Everyday Easy Eats. All photos and content are copyright protected. Please do not use any of my recipes, text or images without prior permission.