This Garlic Shrimp Zucchini Noodles recipe is ideal for anyone following a keto, low-carb, or gluten-free diet. It is bursting with amazing buttery lemon garlic flavor and is perfect for dinner or meal prep. It is an easy and healthy recipe that is ready from start to finish in just 15 minutes!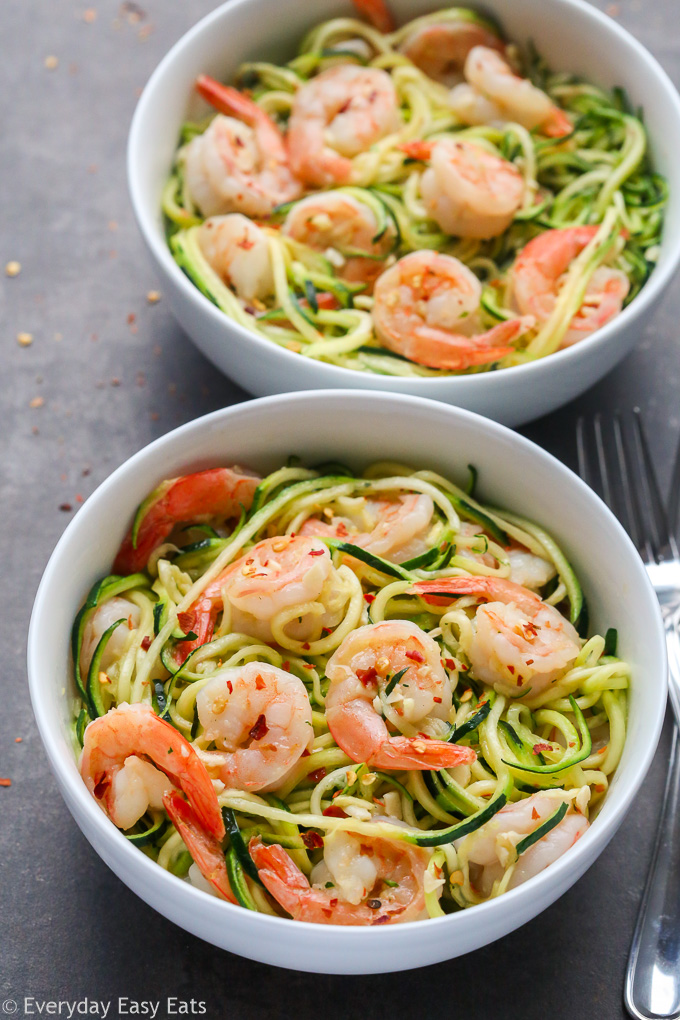 One-Pot Garlic Shrimp Zucchini Noodles
This easy-to-make recipe features a winning combination of butter, garlic, and shrimp tossed with zucchini noodles. If you are not familiar with zucchini noodles, aka "zoodles", they are basically noodles that are made from cutting zucchini into long, thin strands. Zucchini noodles are a great gluten-free alternative to regular pasta and are also a bit lighter to eat.
What I love about this dish is that it is rich and flavorful, but is still fresh and light because it isn't made with heavy, calorie-laden pasta. The other great part about this recipe is that it is made in one pot. That means only minimal clean-up is required once you are done cooking. ♡
Why You Should Include Shrimp in Your Diet
Here are some of the health benefits of shrimp:
High-protein: Shrimp is rich in protein and low in calories, so it is the perfect food for people who are watching their weight.
Nutrient-dense: It is packed with vitamins and minerals, such as vitamins B3 and B12, phosphorous, copper, selenium, and magnesium.
Low-fat: Shrimp is low in saturated fat and is high in omega-3 fatty acids, which is great for heart health. Although shrimp is high in cholesterol, that number actually has very little effect on your blood cholesterol level.
Pro Tip: It's a good idea to stock up on frozen shrimp when it is on sale (that's what I always do). It thaws very quickly and is a fantastic go-to to have in your freezer when you want a fast and easy meal, like this one!
Click here to learn more about my favorite healthy resources and products!
Tips for Making Shrimp Zucchini Noodles
Here are some pointers to ensure this recipe turns out perfect every single time:
Prep beforehand: Have everything prepped before you start cooking. This recipe cooks FAST, so there's no time to prep ingredients as you go along. Having all your ingredients ready to go before you put anything in the pan will also help to ensure that nothing overcooks, because you want the shrimp to be succulent and juicy. Over-cooked shrimp is tough, rubbery, and not very pleasant to eat.
Cook in butter and oil: The shrimp is cooked in both oil and butter in this recipe, to prevent the butter from burning. You can use only butter if you prefer, but just be aware that it will start to brown while the shrimp is cooking.
Use large shrimp: I prefer using jumbo shrimp or prawns in this, because they are big, juicy, and perfect for this recipe.
Buy wild shrimp: If you can find wild-caught shrimp, you should definitely use that. Wild shrimp has better flavor and is much healthier for you than farm-raised seafood. To learn about my favorite places to get wild-caught shrimp and other seafood from, check out this post I wrote: The Best Wild-Caught, Sustainable Seafood Delivery Companies.
Don't overcook: Be careful not to overcook your zucchini noodles, because they can get mushy. Remember to turn off the heat before adding the zoodles to the pan and then just toss with tongs to combine.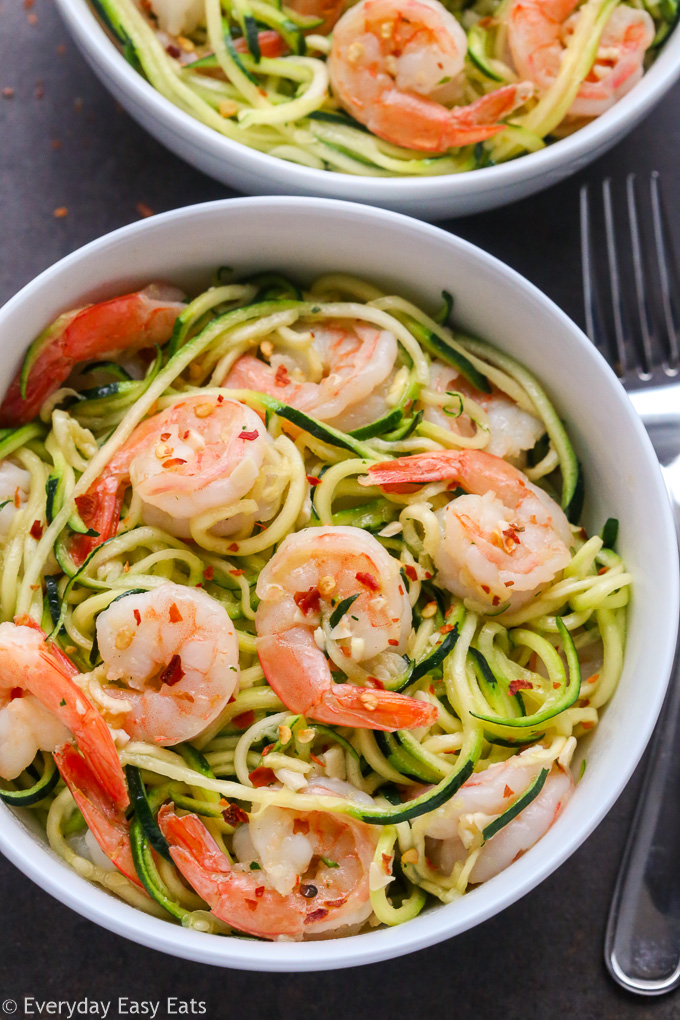 More Easy Seafood Dinner Recipes
Looking for more seafood inspiration? Here are some of my favorite recipes:
For this Zucchini Noodles with Shrimp Recipe, I recommend:
Here are some kitchen tools I recommend using to make this recipe:
Spiralizer – This is the spiralizer I own and love! It is generally known as the top industry spiralizer. It is so easy to use and creates perfect zoodles every time!
Julienne & Vegetable Peeler – If you don't want to buy a spiralizer, you can use the Julienne side of the peeler to slice the zucchinis into long, thin ribbons. An advantage of using this tool is that it is less expensive and easier to store than a spiralizer.
If you make this easy Zucchini Noodles with Garlic Shrimp recipe, let me know! Leave a comment with a star rating ★ below, because I love hearing from you! 🙂
Garlic Shrimp Zucchini Noodles (Easy Keto Recipe)
This Shrimp Zucchini Noodles recipe is keto, low-carb and gluten-free. An easy and healthy recipe that is ready in 15 minutes!
Instructions
Spiralize the zucchini using a

spiralizer

and set aside. Alternatively, you can use a

julienne peeler

to cut the zucchini into noodles.

Heat olive oil and butter in a large nonstick frying pan over medium heat.

Add garlic and chili flakes. Cook for 1 minute until fragrant.

Add shrimp and a pinch of salt. Cook for 2-3 minutes until shrimp is pink and opaque.

Turn off heat. Stir in the lemon juice. Add zucchini noodles and toss to combine.
Notes
Be careful not to overcook your zoodles, because they can get a bit mushy. Remember to turn off the heat before adding the zoodles to the pan and then just toss with tongs to combine.
For best results, I recommend using wild-caught, sustainably-harvested shrimp in this recipe.
Leftovers can be stored in the fridge in an airtight container for up to two days or in the freezer for up to three months.
Nutrition
Nutrition Facts
Garlic Shrimp Zucchini Noodles (Easy Keto Recipe)
Amount per Serving
% Daily Value*
* Percent Daily Values are based on a 2000 calorie diet.
© Everyday Easy Eats. All photos and content are copyright protected. Please do not use any of my recipes, text or images without prior permission.