This Healthy Chicken Fried Rice recipe is the best ever! It tastes even better than takeout and is ready to eat in just 20 minutes. Learn how to make homemade fried rice with this quick, easy, and satisfying chicken fried rice recipe.
Healthy Chicken Fried Rice
This chicken fried rice recipe is one you need to add to your regular dinner rotation, because it is bursting with flavor and is one the whole family will love. ​In addition, it is so simple to make and uses common ingredients that you probably already have on hand in your kitchen.
Traditional fried rice with chicken, which you get when you order takeout, usually isn't a very healthy option. It is made with white rice, which is less nutrient-dense than brown rice, and usually laden with lots of oil. It also is generally very high in sodium and can contain a lot of unwanted additives, such as MSG and other preservatives.
Making fried rice at home gives you the opportunity to make a much healthier version. This recipe uses lean chicken breast, nutrient-dense brown rice, lots of veggies, gluten-free tamari, and grass-fed butter to create chicken fried rice that is actually good for you.
Tips for Making Chicken Fried Rice
Here are a few important pointers I have learned with time about how to make the best chicken fried rice at home:
Use cold, cooked rice: The key to making perfect fried rice is using leftover, refrigerated rice. This is because chilled (preferably day-old) rice will separate nicely and won't clump together in the pan. A freshly-cooked batch of warm rice will not fry well when it hits the hot pan, and will result in mushy clumps.
Use a wok or large skillet: You want to use a pan that seems large for the amount of rice and other ingredients you are using. This allows the ingredients in the pan to heat up quickly and evenly. It also gives you plenty of room to toss everything together without anything falling out of the pan.
Use butter: Japanese steakhouses use a big pat of butter when they're making fried rice for good reason. Using butter makes the rice brown up perfectly and just makes everything taste so much better. If possible, use grass-fed butter (or you can use ghee) for maximum health benefits.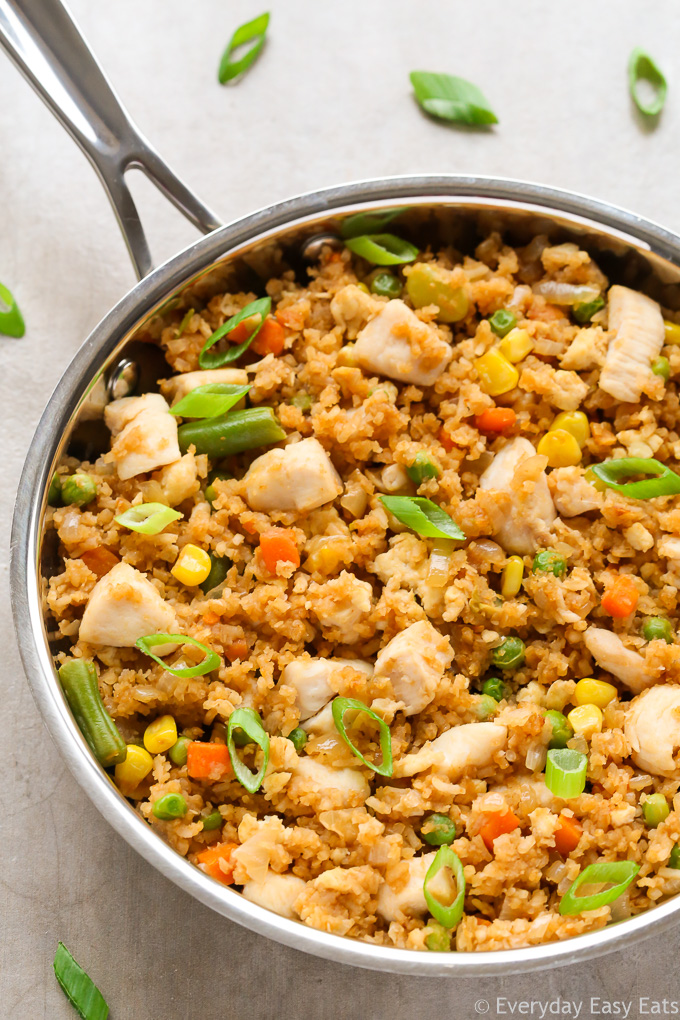 Healthy Chicken Fried Rice Ingredients
To make this homemade chicken fried rice recipe, you will need:
Boneless, skinless chicken breasts: They add protein and flavor to this dish. Boneless, skinless chicken thighs can be used instead. I recommend using organic, pasture-raised chicken whenever possible.
Yellow onions, carrots, peas, green beans, and corn: This is the base mix of vegetables that I used to make this recipe, but feel free to substitute any other stir-fry vegetables you have on hand.
Garlic, ginger, and green onions: These three ingredients are collectively known as the holy trinity of Chinese cuisine. They are used to build a solid foundation of flavors and aromas in Chinese-style meals.
Cooked, chilled brown rice: Make sure your rice has been cooked in advance and thoroughly chilled in the fridge in a sealed container. As I said before, freshly-cooked rice will not work well in this recipe.
Eggs: These add a good dose of protein, as well as flavor and texture. If possible, you should use organic, pasture-raised eggs for maximum health benefits.
Tamari: This condiment forms the base of the rice's savory flavor. Tamari is essentially gluten-free soy sauce. I recommend always purchasing high-quality organic tamari and soy sauce. Soybeans are one of the top GMO and pesticide-laden crops, so it's worth spending the extra money on organic.
Sriracha: This spicy sauce adds a good amount of heat without overpowering the rest of the flavors in the dish.
Butter: Again, butter just makes everything better. I recommend using grass-fed butter (or ghee) as it is better for you than conventional butter.
See the recipe card below for full information on ingredients and quantities, as always.
How to Make Homemade Chicken Fried Rice
This recipe is prepared in stages so that everything gets cooked perfectly. Here are the basic steps to make this easy chicken fried rice recipe:
Cook the chicken: Start by sauteing the chicken pieces in some butter and then set aside once cooked through. This is done so that the chicken doesn't overcook while the rest of the ingredients are in the pan.
Saute the veggies & eggs: Next, cook the vegetables and aromatics in the last bit of butter until tender. Then push them to one side of the pan and cook the eggs on the other side.
Stir-fry the rice, sauces & chicken: Then add the brown rice, tamari, Sriracha, and cooked chicken. Stir-fry the mixture for a couple minutes to pull all the flavors together.
Garnish and serve: Finally, sprinkle some sliced green onions over top and serve up your rice.
That's it! Now you can skip the takeout and whip up a fast and fresh recipe for chicken fried rice in just 20 minutes. Full instructions are included in the recipe card below.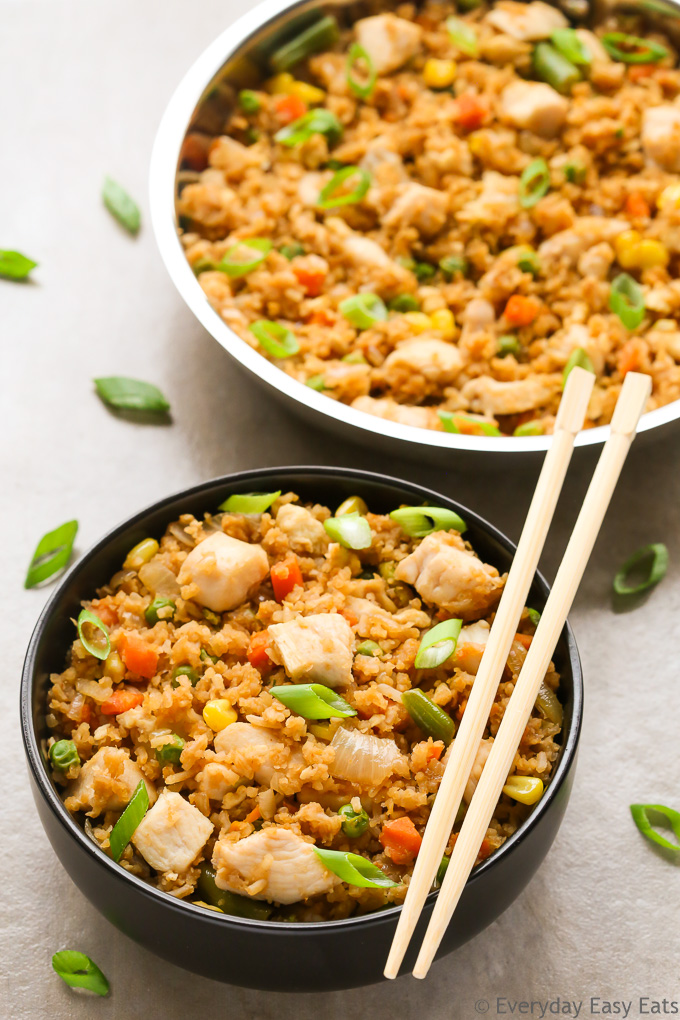 Where to Get the Best Chicken
I am a huge advocate of only purchasing organic, humanely-raised chicken, because it is more healthy and ethical than factory-farmed meat. For the highest-quality organic chicken and other meats, I highly recommend using ButcherBox.
ButcherBox is a popular organic meat delivery service that delivers hormone-free and antibiotic-free cuts directly to your doorstep. Their meat selection includes free-range organic chicken, 100% grass-fed and grass-finished beef, heritage breed pork, sustainably-harvested seafood, and more.
If you want to learn more about ButcherBox and other top-notch meat delivery companies, I wrote an article called: The Best Organic Meat Delivery Services Online. In that article, I review and discuss a number of online organic meat delivery services (including ButcherBox) that send healthy meat straight to your front door.
More Takeout-Style Recipes
Interested in cooking more takeout-inspired meals? Here are a few of my favorite takeout-style recipes:
If you make this Healthy Chicken Fried Rice recipe, let me know! Leave a comment with a star rating ★ below, because I love hearing from you! 🙂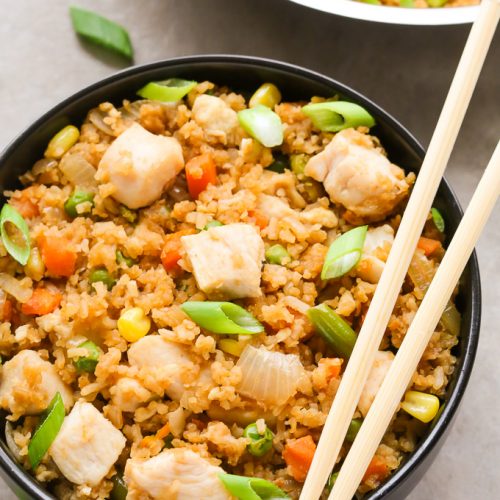 Healthy Chicken Fried Rice with Brown Rice (Easy Recipe!)
This Healthy Chicken Fried Rice recipe is the best ever! Learn how to make easy homemade chicken fried rice with this better-than-takeout recipe.
Ingredients
2

tablespoons

butter,

divided

1

pound

boneless, skinless chicken breasts,

diced into 1/2-inch pieces

1

yellow onion,

diced

2

cups

frozen mixed vegetables

2

cloves

garlic,

minced

1

teaspoon

fresh grated ginger

2

large eggs,

beaten

3

cups

cooked brown rice

2

tablespoons

tamari

(gluten-free soy sauce)

2

teaspoons

Sriracha

2

green onions,

thinly sliced
Instructions
Melt 1 tablespoon of butter in a wok or a large frying pan set over medium heat. Add the chicken and cook for 3-4 minutes until cooked through. Transfer chicken to a separate bowl.

Melt the remaining tablespoon of butter in the pan. Add the onion and frozen vegetables. Cook for 4 minutes until softened.

Stir in the garlic and ginger. Cook for a minute further until fragrant.

Push all of the vegetables to one side of the pan. Add the eggs to the other side and scramble constantly until cooked through.

Add the cooked brown rice, tamari, Sriracha, and chicken to the pan. Stir-fry mixture for 2 minutes.

Sprinkle with green onions and serve warm.
Notes
If you can, I highly recommend using organic chicken and grass-fed butter in this recipe for maximum health benefits.
Leftovers can be stored in the refrigerator for up to five days or in the freezer for up to three months.
Nutrition
Nutrition Facts
Healthy Chicken Fried Rice with Brown Rice (Easy Recipe!)
Amount per Serving
% Daily Value*
* Percent Daily Values are based on a 2000 calorie diet.
This post was originally published on March 28, 2020. It has been updated throughout to include new information and helpful content.
© Everyday Easy Eats. All photos and content are copyright protected. Please do not use any of my recipes, text or images without prior permission.