This Tomato Avocado Toast recipe is super flavorful and simple to make. It is ideal for breakfast, snacking, or even a light lunch. It is made with toasted bread slices, mashed avocado, lemon juice, salt and pepper, tomatoes, balsamic vinegar, and olive oil. Learn how to make homemade tomato avocado toast with this quick and easy recipe.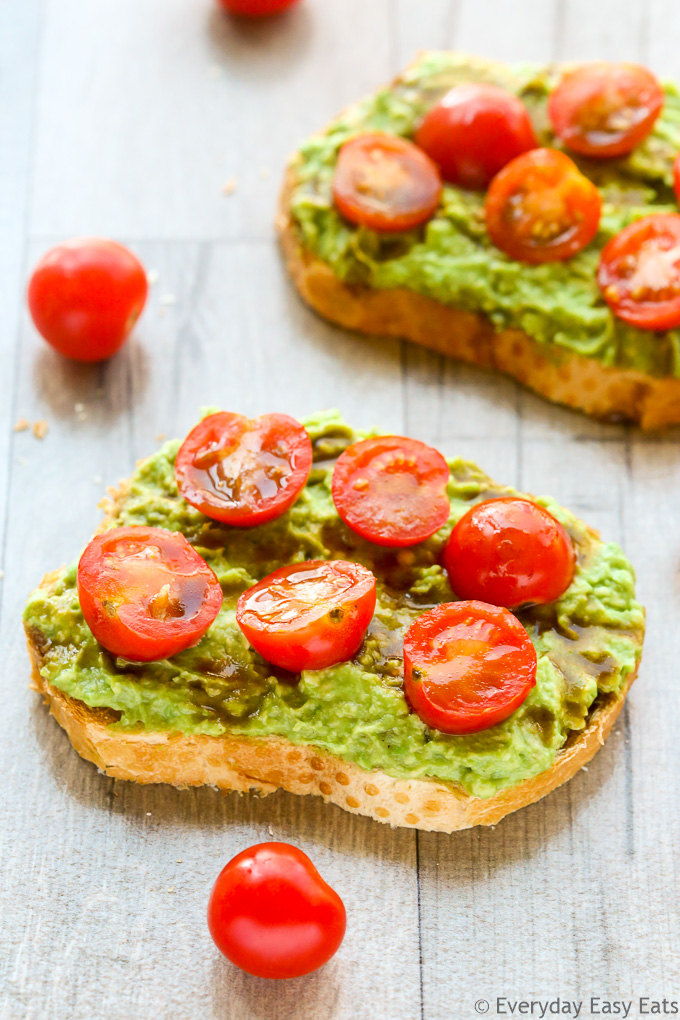 UPDATE: This post was originally published in January 2018 and has been updated to reflect new information and helpful content.
There are so many ways you can prepare avocado toast, and this tomato avocado toast is one of my favorites because it is so effortless and tasty. This pretty little number is made with the usual toasted bread topped with mashed avocado, but I like to amp up the flavor by mixing in a squeeze of lemon juice and a little salt and pepper with the avocado. The toast is then topped with halved cherry tomatoes and a light drizzle of balsamic and olive oil to finish it off perfectly.
How to Make Tomato Avocado Toast
To make this homemade tomato avocado toast recipe, simply:
Toast the bread: Toast up some bread slices until golden brown.
Prepare the avocado mixture: Mash up an avocado with some lemon juice in a bowl, then season with a bit of salt and pepper.
Assemble your avocado toast: Spread the mashed avocado onto the toast, then top with sliced cherry (or grape) tomatoes, balsamic vinegar, and olive oil.
How easy is that?! This is truly a fast and simple meal that is absolutely bursting with flavor.
The Benefits of Eating Avocados and Tomatoes Together
Pairing certain foods together, in a concept known as food synergy, helps to maximise their nutritional and health benefits. Combining the right foods can increase the body's ability to absorb their antioxidants, fiber, vitamins, and minerals.
One of these super-combinations is tomato and avocado. Tomatoes are rich in lycopene, an antioxidant known as carotenoid, which gives the tomato its red color. Consuming it with a healthy fat such as avocado makes it easier for the body to absorb lycopene, as fats make carotenoids more bioavailable.
Some of the benefits of lycopene include:
Reduction of inflammation
Cancer prevention
Prevention of heart disease and blood vessel problems
Prevention of age-related diseases such as cataracts
So now you can feel even better about eating this tomato avocado toast recipe! 🙂
Don't miss out! Click here to get exclusive discounts on my favorite healthy products and resources!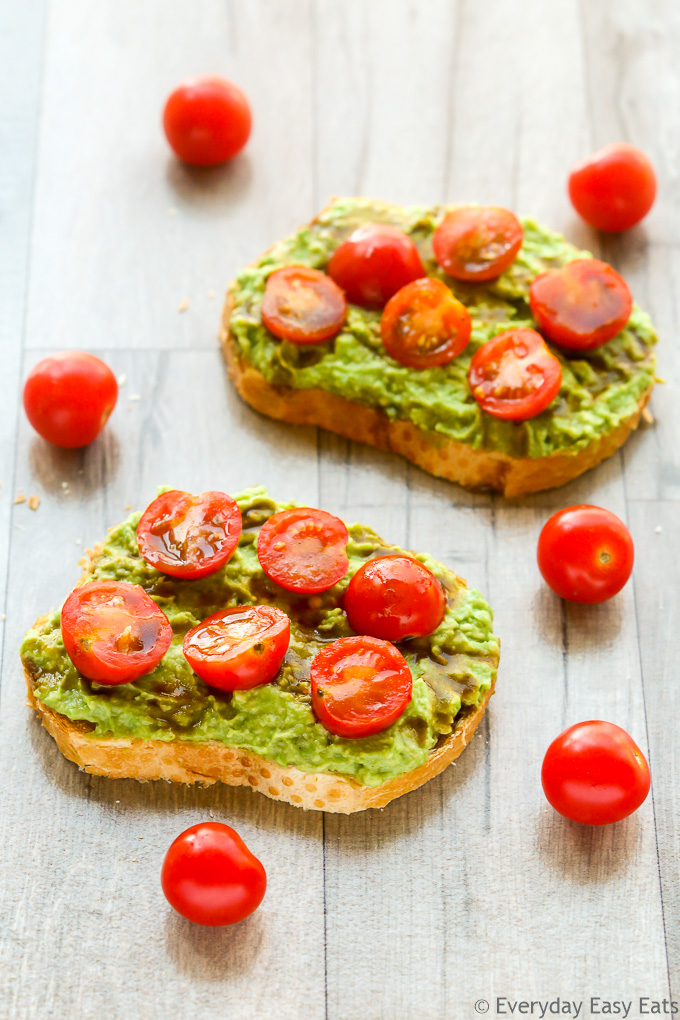 What to Serve with Tomato Avocado Toast
If you plan on having this for lunch or dinner, I recommend serving it with a bowl of soup for a more satisfying meal. Here are some of my favorite soup recipes that compliment the flavors of this recipe very well:
Tips for Storing Avocados and Tomatoes
Here are a couple of pointers I have learned through experience about how to store both avocados and tomatoes:
How to store avocados: Store whole avocados at room temperature. If they are very soft and ripe, you can prevent them from spoiling for a few extra days by putting them in the fridge, but you'll pay for it a bit in flavor. It's better just to keep avocados in your pantry or on the counter and enjoy them right away.
How to store tomatoes: Store tomatoes at room temperature. Tomatoes begin to lose their flavor and texture when put in the fridge, turning mealy, mushy, and flavorless. For best results, store tomatoes in your pantry or leave them right out on the counter.
For this Tomato Avocado Toast recipe, I recommend:
Here are a couple of pantry items that I suggest using to ensure this avocado toast recipe turns out perfect. All of these ingredients can be ordered online from Thrive Market, which is an online retailer that sells healthy, organic food at wholesale prices. I like to think of it like Amazon (online marketplace) meets Costco (wholesale prices) meets Whole Foods (all wholesome, junk-free foods).
Organic Balsamic Vinegar – Be sure to use high-quality balsamic when you are making recipes. This one is excellent because it is made in Italy with non-GMO and pesticide-free grapes, and is stored in wooden barrels until the fruit reaches syrupy perfection.
Organic Extra Virgin Olive Oil – You also want to only use top-quality olive oil. This one is made from 100% certified organic Koroneiki olives and is grown, harvested, and bottled on a single estate in western Crete. The quality of the olives is obvious when you taste the bright, fruity, and peppery flavor profile of the oil.
Pure Lemon Juice – I don't always have fresh lemons on hand, so I like to keep a bottle of organic lemon juice in my fridge. I use this one because it is 100% pure fruit juice (not from concentrate) and nothing else.
If you're interested in purchasing any of the above items, you'll need to get a Thrive Market membership. However, if you're a reader of my website, you will get an exclusive bonus when you sign up:
Click here to get a FREE gift, up to $22 value, when you purchase a 1-month or 1-year risk-free Thrive Market membership!
If you make this Tomato Avocado Toast recipe, let me know! Leave a comment with a star rating ★ below, because I love hearing from you! ♡
Tomato Avocado Toast
This Tomato Avocado Toast recipe is healthy, flavorful, and simple to make. It is ideal for breakfast, snacking, or even a light meal.
Instructions
Toast the bread slices in a toaster until golden brown.

Halve and pit the avocado. Scoop the flesh into a bowl and mash. Mix in the lemon juice and season with salt and pepper to taste.

Spread the avocado mixture evenly onto the pieces of toast. Arrange the sliced tomatoes on top.

Drizzle with balsamic vinegar and olive oil. Serve immediately.
Notes
To make this recipe gluten-free, use any type of gluten-free bread.
Nutrition
Nutrition Facts
Tomato Avocado Toast
Amount per Serving
% Daily Value*
* Percent Daily Values are based on a 2000 calorie diet.
© Everyday Easy Eats. All photos and content are copyright protected. Please do not use any of my recipes, text or images without prior permission.