Here are the best organic smoothie delivery services online! They send pre-made or ready-to-blend organic smoothies straight to your doorstep. All of the companies on this list provide smoothies that are made from real, non-GMO ingredients. Their smoothies are also free of any added sugars, fillers, additives, or artificial ingredients. And of course, I have included special discounts for my readers.
I cannot overemphasize the amazing health benefits of drinking smoothies. In my experience, they have led to improved digestion, weight loss, and glowing skin. Not only that, drinking smoothies is such a convenient way to incorporate more vitamins, minerals, and antioxidants into your diet.
If you want to simply your life and ameliorate your health, you need to use a smoothie delivery service. They eliminate the need to meal plan in advance, buy a bunch of ingredients, then wash, chop, and measure them out. All you have to do is sign up for a delivery service online. Then, everything you need to make ready-to-blend or even ready-to-drink smoothies is sent right to your front door.
However, not all smoothie delivery services are created equal. It is important to sign up for one that is reputable and only uses high-quality, organic ingredients. Fortunately, I've already done the research for you. The organic smoothie delivery companies below are absolutely worth the money and will not disappoint you. Keep reading to learn more about my top choices!
1. Frozen, Organic Smoothie Delivery: SmoothieBox
SmoothieBox is a smoothie kit delivery service that uses high-quality, organic produce with no added sugar or artificial ingredients. Their smoothies are packed with the balanced macronutrients you need to fuel your busy day. In addition, they will keep you feeling full and satisfied for hours.
Each box comes with 20 pre-portioned smoothie pouches. Each pouch contains a nutritionally-balanced blend of flash-frozen fruits, vegetables, and seeds. SmoothieBox's single-serving, ready-to-blend smoothie packs are available in five delicious flavors: Berry, Green, Strawberry Banana, Clementine, and Cacao. You can also choose to add a variety of smoothie boosters to your box. These include grass-fed collagen, SuperGreens, chocolate whey, vanilla whey, chocolate vegan, and vanilla vegan protein powder.
To make a smoothie, all you have to do is pour the contents of a smoothie pouch into your blender. Then, add some liquid and blend it all up until smooth. Depending on how much blending liquid you use, each smoothie pouch will yield two 8-12 ounce smoothies.
Each SmoothieBox that contains 20 smoothie pouches costs $160.00. This works out to $8.00 per smoothie pouch, or $4.00 per serving (plus the cost of any optional smoothie boosters). Additionally, shipping is always free. The smoothie pouches get sent to you in an insulated box with dry ice. This ensures that everything remains cool upon arrival.
You can choose to have a SmoothieBox delivered every 4, 6, or 8 weeks. You may pause, delay, or cancel your subscription at any time, without any hidden fees or penalties. If you're not completely satisfied with your order, they will either send you a replacement, offer you credit towards your next delivery, or give you a refund. Lastly, here is an amazing deal that SmoothieBox is offering exclusively to my readers:
Click here to get $30 off your first SmoothieBox with the code EASYEATS!

2. Pre-made, Organic Smoothie Delivery: Splendid Spoon
Splendid Spoon delivers 100% GMO-free, ready-to-drink smoothies straight to your doorstep. Their nutrient-dense smoothies are made with cold-pressed fruits and vegetables, nuts, seeds, plant-based protein powders, and superfoods.
With this service you don't even need to prep or blend anything – just pop open the bottle and sip. Their low-sugar smoothies are available in a variety of delicious flavors. These flavors include coffee frappé, coconut lime, mango guava, green matcha, and chocolate cherry. 95% of their smoothies are organic and they always source any ingredient on the EWG's Dirty Dozen™ list organically. The price ranges between $9.00 to $13.00 per 8-oz bottle, depending on the size of your delivery box.
Additionally, the company sells 100% organic wellness shots that are made with fresh, whole fruits and vegetables. They also offer ready-to-eat, nutritionally-balanced meals including soups, grain bowls, and noodles.
To get started, simply browse their user-friendly website to decide which plan you would like to sign up for. Then, customize what drinks and/or meals you would like to receive. You can choose to have your food/drinks delivered weekly, every other week, or once a month. You can skip or cancel your deliveries as needed. Alternatively, you can try their non-subscription option, the "On-Demand Box", if you do not want to commit to a subscription. Finally, they offer free and fast shipping on all orders.
Click here to check out Splendid Spoon for yourself!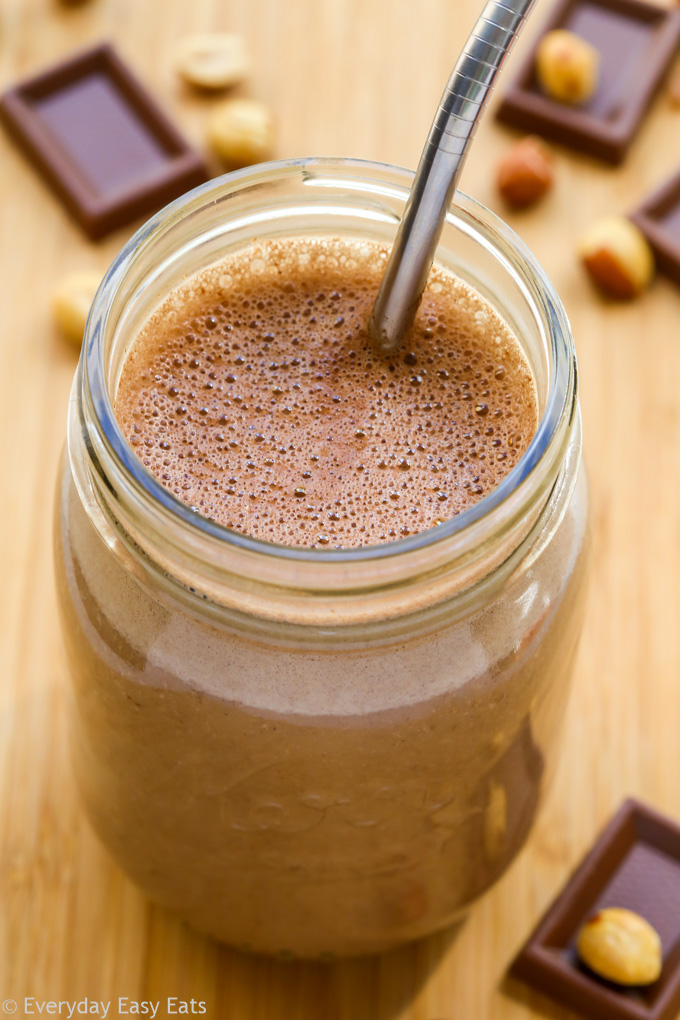 3. Natural, Organic Smoothie Delivery: Bumpin Blends
Bumpin Blends sends dietician-designed superfood smoothie cubes to support specific symptoms straight to your door. You can select blends based on your unique nutritional needs. Their smoothies are designed to support anything from headaches and bloating to anxiety and trouble sleeping. You can take a 2-minute quiz on their website to find the right blends, personalized just for you.
All of their smoothies are made with organic, natural, and whole-food ingredients. They offer 23 mess-free, perfectly-portioned smoothie flavors that are tailored to your body and lifestyle. Their smoothie blends come in mouth-watering flavors like cookie dough, apple crisp, cinnamon chai, and peanut butter cup. The company also provides a 24/7 hotline to text a nutritionist with questions, for advice, or to request recipes.
To make a smoothie, simply pour six pre-blended cubes into the blender, add one cup of liquid, and enjoy! Each blend is portioned make one 16-oz smoothie or two 8-oz smoothies. The price per smoothie blend varies between $9.57 and $12.57, depending on the size of your delivery.
You can choose to have a bi-weekly or monthly subscription. You can update your flavors or skip your delivery. Their delivery boxes are packed with dry ice in an eco-friendly, dissolvable cooler. That way, the smoothie blends will stay nice and frozen until they arrive.
Click here to get free shipping on all orders from Bumpin Blends!
4. Non-GMO, Pre-Blended Smoothie Delivery: Evive
Evive delivers pre-blended frozen smoothie cubes to your front door. Their non-GMO smoothie blends are made with healthy, organic ingredients.
They offer two different lines of smoothie cubes that are packaged into single-serving wheels (like an ice cube tray). Their Energizing Line consists of classic smoothies are made with organic fruits, vegetables, and superfoods. Their Extra Protein Line features protein smoothies that contain 15+ grams of plant-based protein to support active lifestyles.
To make a smoothie, pop the frozen cubes into a shaker bottle or mason jar. Add your liquid of choice, such as plant-based milk or water. Then, let the mixture stand for about 20 minutes. Once the cubes have melted, just give your container a shake and enjoy!
The price works out to $4.50 to $5.00 per wheel for their classic smoothie flavors. For their extra protein flavors, the cost ranges between $5.50 to $6.00 per wheel. You can decide to have a box containing either 15 or 25 products, which gets delivered using a subscription system. You can change your flavors and skip orders as needed.
Click here to try out Evive for yourself!
5. Organic Smoothie Delivery: Blendtopia
Blendtopia is a 100% organic smoothie delivery service that sends ready-to-blend smoothie kits to your doorstep. All of their products are USDA Certified Organic, Non-GMO Project Verified, vegan, gluten-free, soy-free, and dairy-free.
Their smoothie blends are shipped frozen in insulated packaging on dry ice in individual, pre-portioned pouches. Each smoothie pouch contains organic frozen fruit and vegetables, as well as 1.5 ounces of frozen superfood chips. The superfood chips are comprised of proprietary blends of organic superfoods for all-in-one convenience.
With Blendtopia, it is so easy to make a quick, nourishing, and flavor-packed smoothie. Simply empty the contents of the smoothie pouch into your blender. Then, simply add 12-14 ounces of liquid of choice and then give your blender a whirl! One smoothie pouch will make one 20-ounce or two 10-ounce smoothies.
Their smoothies are available in the following targeted functional health benefit varieties: Detox, Energy, Glow, Immunity, and Strength. They also offer the following low-carb, Keto Certified smoothie blends: Berry (immune boosting), Green (cleansing), and Chocolate Chai (immune boosting). All of their blender-ready superfood smoothie kits are packed with nutrient-dense foods rich in vitamins, minerals, phytonutrients and antioxidants.
Blendtopia offers one-time purchases as well as customizable subscriptions on all of their smoothie kit boxes. You can order a box that contains either 8, 12, 16 or 24 smoothie blends. The price ranges between $5.99 to $7.99 per smoothie. If you choose to subscribe, you will receive free shipping on every order for the lifetime of your subscription. You can choose to get a delivery every 1, 2, 4 or 6 weeks. In addition, you may change, pause, skip, or cancel your subscription at any time.
Click here to learn more about Blendtopia!
Important note: As of June 28, 2023, Blendtopia no longer sells its products online. However, if you want to try Blendtopia, their products are now sold in stores. You can look at their website, to see if they are being sold at a store location near you.
Final Thoughts
To conclude, although organic smoothies can be hard to find, there truly are terrific smoothie delivery services available. You just have to do a bit of research and then sign up for one that suits your preferences. This will enable you to have easy access to clean, high-quality smoothies, no matter where you live!
More At-Home Delivery Services
If you would like to learn about other healthy delivery companies, check out these other helpful articles:
Do you use an organic smoothie delivery company, or do you prefer to make your smoothies from scratch at home? Let me know in the comments below!
This article was originally published on May 15, 2021. It has been updated throughout to include new delivery services, helpful information, and exclusive offers.