Are you wondering how to start a food blog? Then you have come to the right place! In this easy step-by-step tutorial for beginners, I will show you how to create a food blog on WordPress, with no technical experience required.
If you want to start a food blog but don't know where to begin, this guide is for you. I built my food blog, Everyday Easy Eats, using the tools and method I've outlined below, so I know you can do it too!
To begin, you will need a domain name and you will also need to host your domain name. A domain name is essentially a web address and hosting is like renting space on the web to display your blog. If you plan on starting a blog, then using Bluehost for your domain and hosting needs may be your answer. Bluehost was the company I started my blog with and I have had nothing but positive experiences with them. It was so easy to get my blog up and running when I was first starting out, and their customer service is outstanding.
Here are some of the reasons why you may want to start your own blog with Bluehost:
Bluehost is extremely affordable as they offer very inexpensive web hosting, which starts at just $3.95 per month.
It is so simple to use. Literally anyone can create a blog easily with my tutorial below.
You can get a free blog domain for the first year.
Bluehost web hosting offers fantastic technical support. Anytime I have ever called them for assistance, the agent always went above and beyond to help me and was very pleasant to work with.
WordPress is automatically installed through Bluehost for free.
You will get a free SSL certificate (those typically cost $79.99/year)
Bluehost offers a money-back guarantee on their hosting packages. That means if for some reason you aren't happy with Bluehost, you can cancel within 30 days for a full refund. (Domain fee excluded, which you'd pay for elsewhere anyway.)
There are many web hosting companies out there, but I honestly believe Bluehost is one of the best. Many bloggers choose Bluehost for their web hosting needs for good reason. If you are interested in learning how to start a food blog WordPress through Bluehost, continue to the tutorial below.
Step 1: Set Up Web Hosting For Your Blog
To begin, Click here to go to Bluehost to start your own blog. (The link will open in a new tab so you can reference these instructions as you work.) It will bring you a sign-up page that looks like the image below. Click on the green "Get Started Now" button.
Next, select your hosting plan. Bluehost has super low rates and has a few different plan options to choose from. When you are asked to pick your plan level, I recommend selecting the Basic Plan. It is really all you need for now and you can always upgrade to a different plan later (and just pay the difference). The plan is paid in one lump sum instead of monthly, but it will save you quite a bit of money.
Step 2: Register Your Domain Name
Now you get to decide what you want your blog to be called, which is what your domain name will be. A domain is a web address. For example, my blog is called Everyday Easy Eats and www.everydayeasyeats.com is my domain name.
To figure out what you want your domain name to be, brainstorm a few different ideas and write them down. You want to have a few options to choose from, just in case one of them isn't available. To register a new domain name, enter your desired domain name on the left and click "Next".
Step 3: Enter your account and package information
On the next page, first enter your account information. Make sure you use a working email address because this is where your login information will be sent.
Next, enter your package information. If you get your domain directly through Bluehost, you will get a free domain for the first year as long as you sign up for at least 12 months worth of web hosting. I personally signed up for the 12-month hosting plan through Bluehost when I started my blog. If you want an even better deal, you will get the best value from purchasing the 36-month account plan, as your monthly rate will be lower over the long run.
I recommend unchecking the other add-ons (such as Site Backup Pro, Search Engine Jumpstart, etc) for now, as you might not need them and they can always be added later if need be.
The total at the bottom of the page is the amount you'll pay today. You won't have to pay again for 12, 24 or 36 months, depending on the account plan you chose.
Step 4: Enter payment information
Fill in your payment information, confirm that you have read the fine print and then click Submit.
Skip the upgrades & special offers
Once you hit submit, you'll be asked if you want to add any upgrades or special offers. I skip them by clicking the "no thanks" link.
Locate & save your welcome emails
After completing your purchase, you will be sent multiple welcome emails. If you don't see them in your inbox, check your spam folder. It's important to locate them because your login information is included.
Activate your domain
In one of the welcome emails, you need to activate your domain (if you chose a new one). Simply open the email and click the button inside to complete the activation process.
Step 5: Create a password
At the end of your purchase, you will be welcomed and asked to choose a password. Just click the "Create your password" button to set up a secure password. This password will allow you to login and get started.
Once you have entered your password, make sure you write it down and keep it in a safe place so you can refer to it easily in the future. Then, confirm that you have read the fine print and then click "Next".
Once you have set up a password, you can login and start setting up your site.
Step 6: Select a Theme
Next, you will be asked to select a theme for your website. You can choose to use a free or premium theme. A free theme comes pre-packaged and gets automatically installed. By doing this, you can start designing your website easily and you can always change your theme later if you want to.
I personally chose to go with a premium theme for my website. When choosing a premium theme, remember that it has has two parts: the framework (the bones) and the design (the face). I went with The Genesis Framework and StudioPress' Foodie Pro Theme for Everyday Easy Eats. In my opinion, it is an excellent theme for food bloggers because it is beautiful, easy to navigate, comes with a recipe index, and is easily customizable.
After you install your theme, you can modify your design with custom colors, fonts, widgets, navigation menus, and add your logo and photo.
Step 7: Start Building Your WordPress Site
When you use Bluehost, WordPress gets automatically installed so you can start working on your WordPress site right away. Yay! Simply click on the blue "Start Building" button to go to your new WordPress site.
You will then be taken to your WordPress dashboard, which is the back-end of your website. This is where you will create your blog content behind-the-scenes.
At this point, I recommend skipping the blue buttons (Business & Personal) and choosing "I don't need help" to start with a clean slate.
Step 8: Design & Use Your Blog!
Congratulations! You are officially the proud owner of a self-hosted WordPress blog. Woohoo! Now you can work on designing the site to your liking and producing content that you and your readers will love.
When you are ready to go live, click the Bluehost tab on the left menu and then click the "Launch" button.
Bonus Tip: Use a Recipe Plug-In
If you're going to be publishing recipes on your food blog, I highly recommend using a recipe plug-in. This is essentially an extra tool you download within WordPress that helps you create a recipe card with nutrition information, cooking times, servings, ingredients and instructions in each of your posts.
A recipe plug-in helps your recipe stand out from the blog post and enables your readers to print the recipe if needed. I personally use and recommend WP Recipe Maker. Here's an example of how this plug-in makes a recipe look in a blog post: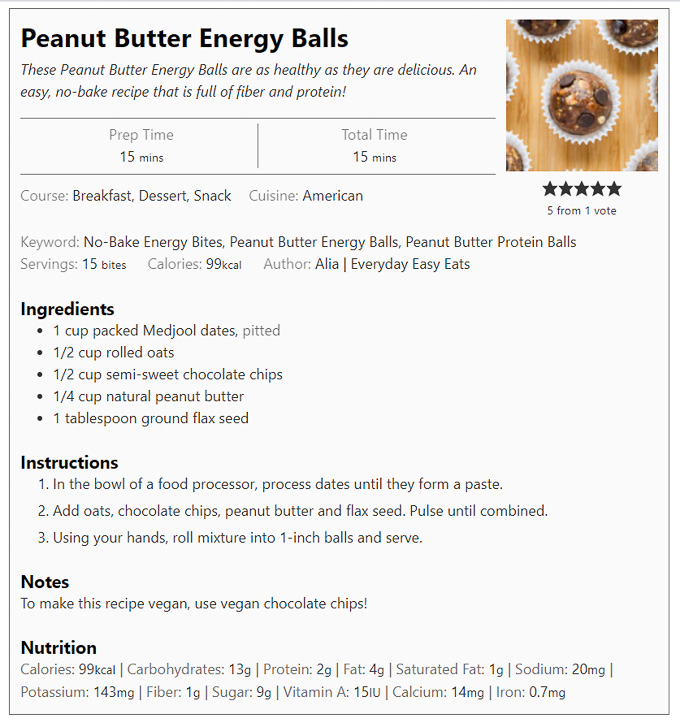 And that's it! I hope you enjoyed my tutorial on how to start a food blog. If you need any help during the set-up process, Bluehost offers amazing, 24/7 technical support, so feel free to give them a call. You are also welcome to send me an email if you have any questions and I can help you out too. Good luck!